Meet Meredith McCrindle: She's one of Scotland's most talented musicians – but how did this American ex-pat end up on Scottish shores? Discover how the acclaimed harpist fell under the spell of her adopted homeland and followed her dreams.
From Texas to Ayr
Born in Texas, USA, Meredith McCrindle is an incredible musician and has enjoyed an international career that's seen her play in prestigious venues to celebrities and royalty alike. An acclaimed professional harpist and clàrsach (Celtic harp) player, Meredith boasts a repertoire that spans genres as diverse as classical, jazz, pop and traditional folk.
However, far from the glittering lights of America's 'Lone Star' state, it's in the small Scottish coastal town of Ayr that she has chosen to put down her roots. For some, this might seem like an unusual choice of location for such accomplished musician to settle down. But for Meredith, Scotland has always felt like home and is the perfect place to continue her musical career.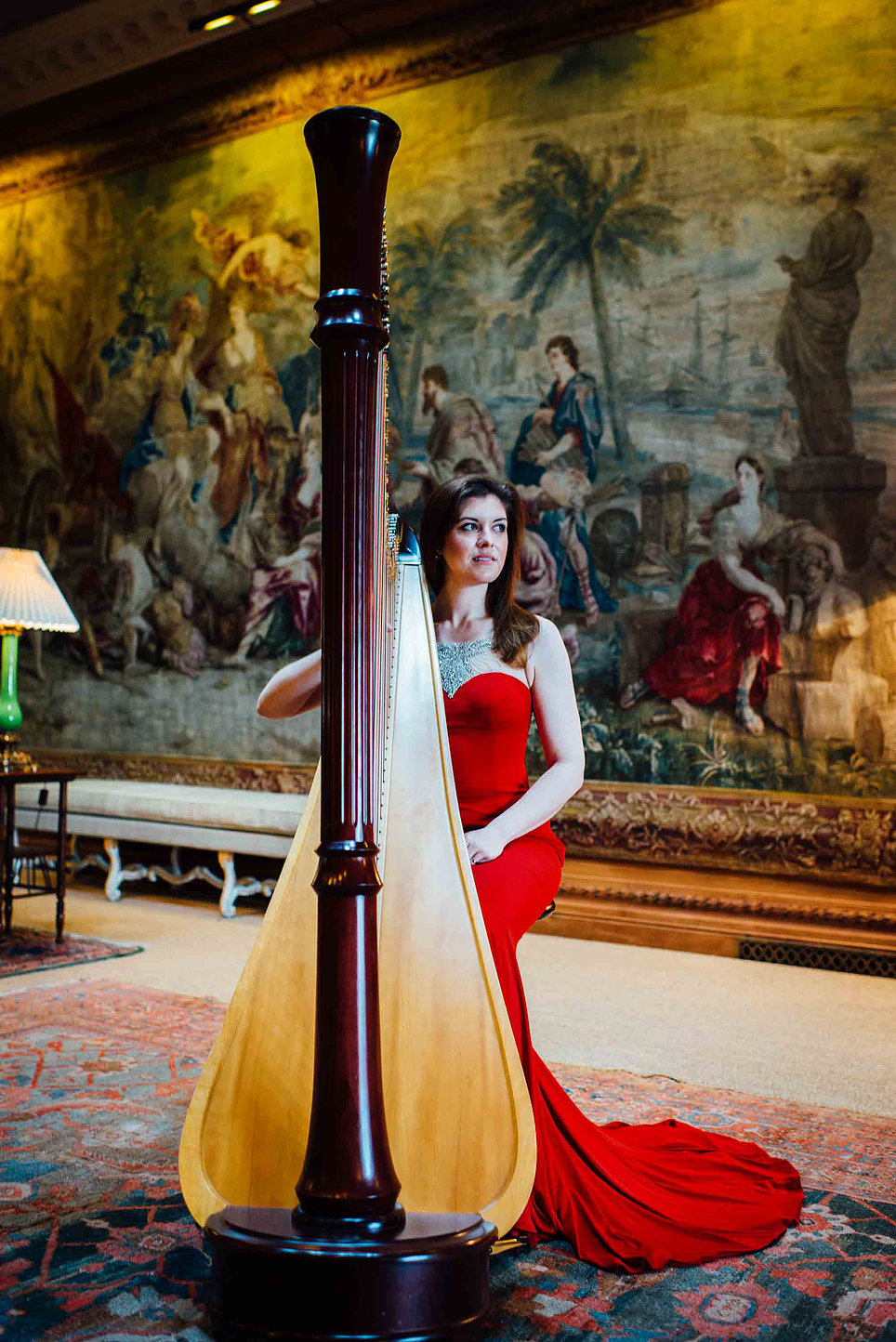 Like many Americans, Meredith has always been hugely proud of her Scottish heritage. She feels a particular affinity for the many Scottish migrants who settled in and helped shape her home state of Texas. However, while these genealogical ties had long exerted a powerful pull on her to come 'home', it wasn't until her sophomore year at Loyola University in New Orleans that Meredith would choose to relocate to Scotland.
In 2005, Hurricane Katrina devastated the city of New Orleans and much of the surrounding region – devastation that Meredith felt first-hand. Forced to flee to her family home in Houston, it would be nearly half a year before Meredith was able to return New Orleans and help rebuild the city. But as much as Meredith loved New Orleans it marked a turning point in her life which saw her desire a change of scenery – to a place where she could once again feel safe and secure.
More than anything else, Scotland felt safe. It was the first place that I really felt an overwhelming sense of peace and calm – that I was somewhere I belonged. I was so pleased to be in the land of my ancestors, Scotland
Drawn to Scotland
When planning a potential relocation, Meredith initially settled on a postgraduate course in London. However, as with so many, the siren song of Scotland proved irresistible. Instead, Meredith spontaneously accepted a place at the University of St Andrews where she would study Management in the Creative Industries.
Once here, Meredith had no trouble at all fitting in and was instantly set at ease by the warm open-heartedness to newcomers – a quality shared by her fellow Texans back home. Couple that with other Scottish classic traits such as honesty, humility, the famous Scottish 'banter', and a fierce commitment to equality, and it's easy to see why Meredith has come to love Scotland.
Even now, she is still struck by the resilience and strong sense of community – both in Ayr where she lives with her family – and across the nation as whole. It's been especially heartening for Meredith to witness communities pull together and look out for one another during the coronavirus pandemic.
But, while they play a key role in her love of Scotland, it isn't all about the people for Meredith. The landscape, vibrant cities, culture – and even the rain! – have combined to create an environment that has inspired her to realise her dreams and build a life for herself. For Meredith, Scotland really is the land of opportunity
Scotland is magical, rugged yet soft and the rain makes everything greener. The culture is rich and the history long. Scotland has a great way of combining the old with the new as well. Scotland celebrates is heritage but also builds upon the greatness of its past with a modern outlook into the future
Carving her career path
Since completing her education at St Andrews – one of the world's top-rated universities – Meredith has carved out an impressive career as a professional musician both in the UK and abroad. But, Scotland remains the backdrop to many of her professional highlights. Even now she still gets a thrill at the chance to perform in one of the country's beautiful castles – just one of many unique opportunities that wouldn't be possible anywhere else but Scotland.
Even her adopted hometown of Ayr is a source of inspiration, allowing Meredith to flex her creative energies in new and innovative ways. As well as carving out a career as a performer and music teacher, Meredith plays a major role in her local arts and culture scene as a businesswoman, organiser and storyteller.
In 2011 she and director, Simon, opened Ayr Guitar, which has quickly become Scotland's premier destination for professional and amateur musicians alike. She is also the founder of Ayr Festivals, an organisation dedicated to celebrating the life and work of Scotland's National Bard, Robert Burns. It's Meredith we have to thank for Tamfest, a family-friendly Halloween event held on Ayr's High Street which brings to life what is perhaps Burn's best-loved poem, 'Tam o' Shanter'.
Since debuting in 2015, Tamfest has attracted thousands of spectators from around Ayrshire and beyond, and it continues to go from strength to strength. This year marks its second digital festival featuring unique performances, workshops and a specially produced documentary exploring the poem's legacy and connection to the town, as well as the area's local heritage and natural beauty.
Having accumulated so many strings to her already impressive bow, you'd think Meredith would consider slowing down, but according to her, the story is just beginning.
A place for family
Scotland has not only served as the springboard to realising her musical ambitions. Meredith also praises the quality of life she has experienced here for helping her balance raising a young family while embracing a multi-faceted creative career.
Blessed with good schools, fresh air, a beach, a beautiful town, great restaurants, history and heritage – not mention a castle of two nearby to explore at the weekends, it sounds as if Meredith really has found the perfect place to fulfill her life goals.
Her advice to others thinking about taking the leap and starting afresh in a new country?
The quality of life is my favourite thing about living in Scotland. I'm a firm believer that you make your own destiny and anything is possible. Here in Scotland, it's a dream-fulfilled – for me and for my family.
We couldn't have put it better ourselves, Meredith. In fact, it's music to our ears.