Meet:
Simon Thacker
Inspired by his home country and a myriad of international musical influences, acclaimed Scottish guitarist Simon is bringing his unique sound to Celtic Connections for the first time.
People think they know the possibilities of a genre. I delight in showing them that they don't.
Try and get Simon Thacker to explain what kind of sound he creates on his guitar strings, and he will tell you that he shuns any kind of pigeonholing.
A musical maverick in more ways than one, Simon – in the simplest terms – is a guitarist, composer, ensemble leader and improviser who combines classical, folk and contemporary styles – yes, that was the simple version... He's also a tutor of classical guitar for students at both Edinburgh Napier University and Edinburgh College, proving that there is definitely more than one string to his bow – or in this case, guitar.
These are all just labels, though – peel them off, and beneath you'll find a passion for "tracing the origins" of music, both on a local and international level. Indeed, Simon is best known for his unique compositions and collaborations with musicians from around the world. But where, exactly, did it all begin?
Even from a very young age it seemed obvious to me that every culture has something unique and yet something universal at the same time.
Not far from Scotland's capital city, you'll find a region called East Lothian, the area Simon was raised in. With castles, rugged beaches, pretty market towns and rolling farmland it's the ideal place to bring up a family. From his earliest days at primary school, Simon developed an unrivalled and eclectic taste for music. He was listening to heavy metal at 7 years old, and through high school aced all his exams in classical guitar.
More than anything else, it's his family that Simon thanks for encouraging this growing appetite for any and every musical genre. He credits his mum for having an incredible knack for randomly picking up amazing albums: from flamenco to Hendrix and pre-war blues, allowing his obsession with musical origins to deepen. He may have had small-town beginnings, but this boy never recognised artistic borders.
I was always obsessed by music when I was younger. Even now I always look backwards to go forwards – I want to find the parts of a musical genre that have been lost.
Growing up in rural Scotland was also important for kindling his childhood creativity, especially when it came to questioning tradition. Having rolling hills and wide open spaces nearby has, without a doubt, inspired the way Simon thinks of musical structure. Thanks to the scenery of East Lothian, Simon considers his surroundings "a blank, near silent canvas that can be filled with sound" in any way he likes.
It was with this upbringing – inspired by local landscapes, encouraged by family and the education he'd received, and listening to a huge mix of music – that Simon's professional career began to take shape.
After a period touring as a classical guitar soloist, playing with groups like the Royal Scottish National Orchestra (RSNO), Simon decided it was time to embrace originality and focus on spontaneous collaborations. His first was with a mutual connection, Indian composer Shirish Korde, who agreed to write a concerto with him. Bringing together a Western composer who was looking east, and an Eastern composer looking west, Simon was taken in by the "inverse symmetry" of what they could create together.
This excitement of challenging musical boundaries and borders has spurred Simon on in the decade since.
Scotland is an inspirational country to create in – it has unique traditions, mythology, folklore, symbolism and languages to draw on… It certainly has a very distinctive aura.
From exploring his own musical backyard in the Creative Scotland supported Karmana (2016), where he and acclaimed Polish cellist Justyna Jablonska mould a hundred years of Scottish history into a six-minute instrumental narrative, to the international ensembles he's brought together over the years, Simon's story is one of artistic innovation.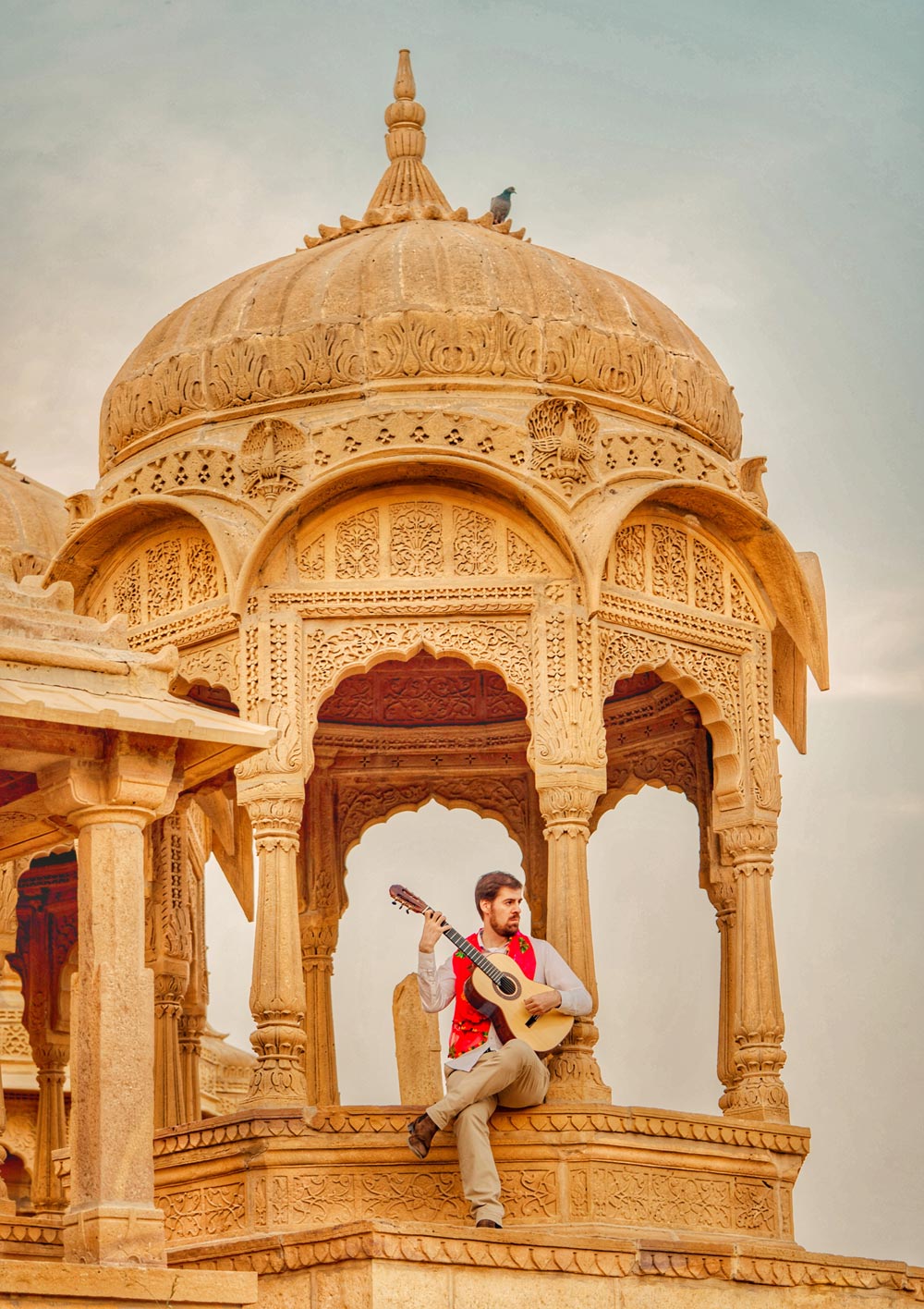 For example Svara-Kanti, his first ensemble, brings together some of the best artists from the melodic traditions of the Indian subcontinents (Punjabi, Hindustani and Bengali). Finding the perfect musicians to collaborate with can take "weeks of YouTube trawling", Simon explains, all with the aim of dismantling preconceived notions of genre.That desire to go beyond what's been done, to pioneer through performance, is mirrored in reimaginings of the Romani, Sephardic and Morroccan sounds that are found in his latest album Tàradh (2019), a term taken from Gaelic witchcraft. Quite apt for a man who's creating fresh flavours from a melting pot of musical influences.
It's this intercontinental, innovative creativity that caught the eye of the Celtic Connections organisers, who've invited Simon and the North Indian line up of Svara-Kanti to play in 2020.
Celtic Connections is Europe's biggest winter music festival with an extremely open, internationalist and welcoming vibe. It's an amazing thing for me to be involved with.
From 16 January until 2 February, Scotland's biggest city will be buzzing with over 2,000 artists from folk, roots and world music backgrounds coming together to celebrate Celtic cultural influences. Not only that, but this stand-out festival also gives musicians the space to collaborate on an international stage, encouraging them to be spontaneous and create entirely new sounds together.
For years the ethos of collaboration has driven Simon to inspire and be inspired by scores of world cultures and traditions. And indeed, it's a commitment to being outward-looking that means that, as Simon continues to make music into a new decade and tutor Edinburgh's future talent, he'll be based in Scotland.
Why? Because Scotland, he says, is a country which "understands the importance and value of intercultural collaboration" and how working with others – even if you don't speak the same mother tongue, as with many of Simon's ensemble performers – you can transcend both cultural and societal boundaries through art.
This isn't fusion – what interests me is going somewhere no one has gone before. It's like developing the DNA of something so it becomes something else.
Just as Scotland welcomes the rest of the world, so too does this classical guitarist invite all cultures, ideas and collaboration in his quest for harmony. By looking outward, Scotland-based Simon seems to be reimagining music for a future without borders.
Simon's new album Tàradh is out now. 2018's Scottish New Music Award winning double album Trikala will be released on streaming on 15 January.