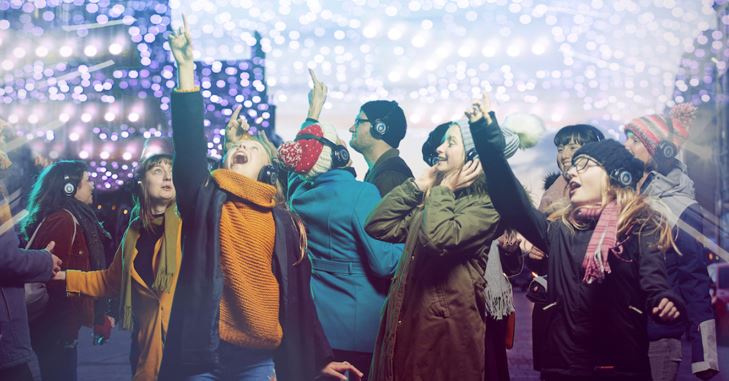 It's that time of the year again: the nights are drawing in, it's getting a little darker and a little colder and you've already started looking out the hot water bottle. However, this time of year also means the launch of the latest Scotland's Winter Festivals campaign, when we get to celebrate three major dates on the Scottish Calendar. Starting with St Andrew's Day on 30 November, Scotland's Winter Festivals also covers Hogmanay and Burns' night and is an excellent example to really embrace everything that is great about Scotland.
The theme of this year's St Andrew's Day is a call to everyone to carry out a small act of kindness for someone else. It doesn't have to be a huge act to make a huge different to someone. If we all come together and perform one small act of kindness, they can all add up to make one huge impact!
Scotland is known around the world for being an open, welcoming and inclusive country and this campaign really celebrates our shared values and inclusive nature. Whether it is buying a coffee for someone in line, volunteering at a local charity, spending time with an elderly neighbour you're really only limited by your imagination when it comes to doing a good deed.
However you choose to celebrate St Andrew's Day this year, there are a huge amount of opportunities to get involved in the fun. As well as exciting national events happening up and down the country between 16 November and 3 December, there will also be an amazing programme of smaller, community-led events that are open to everyone.
As well as this, we are also partnering up with the folks at Fair Saturday – a global foundation dedicated to improving the world through arts and culture. More than 70 different events will take place across the country not only helping to raise funds for good causes, but also promoting fairness and sharing – values that perfectly match our campaign aims.
Jordi Albareda, Fair Saturday Director and Founder, said:
"When we began the Fair Saturday movement, we wanted countries all over the world to embrace its ideals of creating social impact though arts and culture. It is fitting that Scotland is hosting the first nationwide Fair Saturday festival outside of Spain and we hope the public will mobilise behind our aim of creating a better future for all."
Many of the events taking part in the programme are actually free and attendees can simply make a donation on the day. The great thing about this is that it means you can enjoy a great day out and make a difference for someone else at the same time!