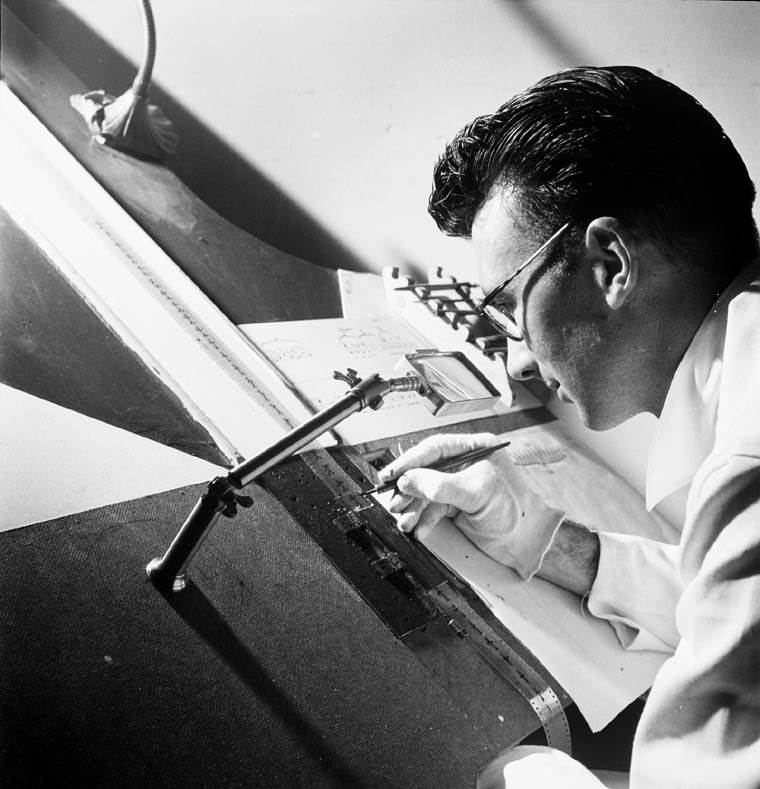 Best known as a director of animated films, Norman McLaren was a pioneer and an innovator throughout his long and distinguished career. Among his many accomplishments, he developed new ways of thinking about animation, including hand-drawn animation, drawn-on-film animation, pixilation and graphical sound.
The highlight of his career came in 1952, when he won the 'Best Documentary' Oscar for Neighbours. As well as his Oscar triumph, McLaren has also won awards at ceremonies around the world including the Palme d'Or at the 1955 Cannes Film Festival and a BAFTA in 1969.
With the beginning of the Edinburgh International Film Festival this month – the longest continually running film festival in the world, it seemed the perfect opportunity to look at McLaren as part of our Canada 150 series.
Early life
Norman McLaren was born in Stirling on 11 April 1914 and went on to study set design at Scotland's renowned Glasgow School of Art. McLaren's early exploits in the world of film were actually done without access to a camera – as a result, many of his famed experiments included actually scratching and painting onto reams of film stock to create his desired effect.
It wasn't until 1933 that McLaren put together his first real film, which he titled Seven til Five. This was followed in 1935 by Camera Makes Whoopee, which was a more elaborate take on his earlier film, filled with specialist shots that were possible due to him buying a Cine-Kodak camera.
Both these early films allowed McLaren the chance to find his feet in the film industry, with both going on to receive awards at the Scottish Amateur Film Festival.
The post office
His unusual work soon caught the eye of famed documentary maker, John Grierson. Grierson was head of the UK General Post Office (GPO) film unit at the time, and was so taken with McLaren's talents that he offered him a position after he had finished his studies.
McLaren worked for the GPO for the next three years, playing a central role in the creation of four films. His time working in this professional format helped McLaren pick up several new skills to complement his university experiments, allowing him to create his own unique style.
In 1939, McLaren moved to North America, working thanks to a grant from the prestigious Solomon Guggenheim Foundation. He spent two years in New York, making another four drawn-on-film animated works before moving on once again. Grierson – now head of the newly-founded National Film Board of Canada (NFB) – lured McLaren north of the border with an opportunity too good to pass up.
A Canadian love affair
After moving north to Montreal, McLaren was asked to open an animation studio and train Canadian animators at the NFB. It was around this time that his love affair with Canada began, and with the exception of a couple of short trips, he never left the country again.
The fact that Grierson singled out McLaren for the role was testament to the impressive catalogue of work that he'd built up. During his time at the NFB, he put together everything from animated shorts reminding Canadians to mail their Christmas cards, to maps for Allied war propaganda films.
In a little over a year, McLaren had taken the animation studio so far that he was unable to keep up with the success. His talents became so sought after that he was forced to recruit a team to help him.
McLaren trawled through art schools throughout Canada, working to put together a team of recruits to help out in the ever-expanding NFB. He would eventually go on to educate a generation of new Canadian talent, teaching them his skills before setting them off to create their own masterpieces.
Oscar success
It was during his work with the NFB that McLaren created his most famous piece, the Oscar winning Neighbours. Despite a running time of just 8 minutes and 6 seconds, the film wowed people around the world, picking up a slew of awards alongside the Oscar. Its success was perhaps due to it being a powerful anti-war film, with a strong social message.
For the film's soundtrack, which McLaren also created himself, he scratched the edge of the film roll, creating blobs, lines and triangles which the projector then read as sound. Incredibly, one of the film's biggest fans was none other than painter, Pablo Picasso, who famously stated that it was 'the greatest film ever made'.
UNESCO work
Alongside working on his own projects, McLaren was also heavily involved with UNESCO during the 1950s and 1960s. He travelled to both China and India for UNESCO, leading programs to teach locals a range of animation techniques.
Today, McLaren is largely remembered for his experimental work of combining sound and video – creating several unique and ground-breaking techniques that are still used. As well as this, Canada's National Film Board renamed its Montreal Head Office building in honour of McLaren.
Also, in 2009, McLaren's complete works were added to UNESCO's 'Memory of the World' programme in recognition of the work he did for them. The programme lists the most significant documentary pieces in the world, and is testament to McLaren's massive stature in the industry.