Ceud mìle fàilte. That is Gaelic for one hundred thousand welcomes. More than just a greeting, this phrase is a symbol, to tell you that whoever you are, wherever you are from, Scotland will welcome you.
Welcoming one and all, showing kindness to each other, embracing new ideas and protecting the planet for the future are values that we, as Scots are proud to share through the new film, Scotland is Open.
We wanted to showcase the best that Scotland has to offer, but there was no way we could fit it all into the 80 second film. That is why we have put together this peek behind-the-scenes so you can learn a little more about the filming process and the stories behind moments captured.
Architecture
Featured in the film are the distinctive tenement buildings of Queen's Drive, Glasgow. Situated within the south side of the city, they are among the city's most distinctive examples of Victorian architecture. Queen's Drive was designed by William McNicol Whyte and built around 1886. Not many of McNicol Whyte's works have been identified however his Balmoral Crescent tenement, 78-118 Queen's Drive and Inverclyde Gardens, 137-59 Broomhill Drive reveal his flamboyant and elegant style.
Sustainability
Sustainability is one of the driving values for #ScotlandIsNow and it is also a key aim for development in Scotland. Therefore it was imperative that the production team for the shoot tried to introduce sustainable practices wherever possible in the shoot. Only local vegan and vegetarian food was served to the cast and crew, served with biodegradable cutlery and drinks came in their own biodegradable cups. The clothing worn by the narrator throughout the film was also made by the ethical and sustainable clothing company Lucy & Yak.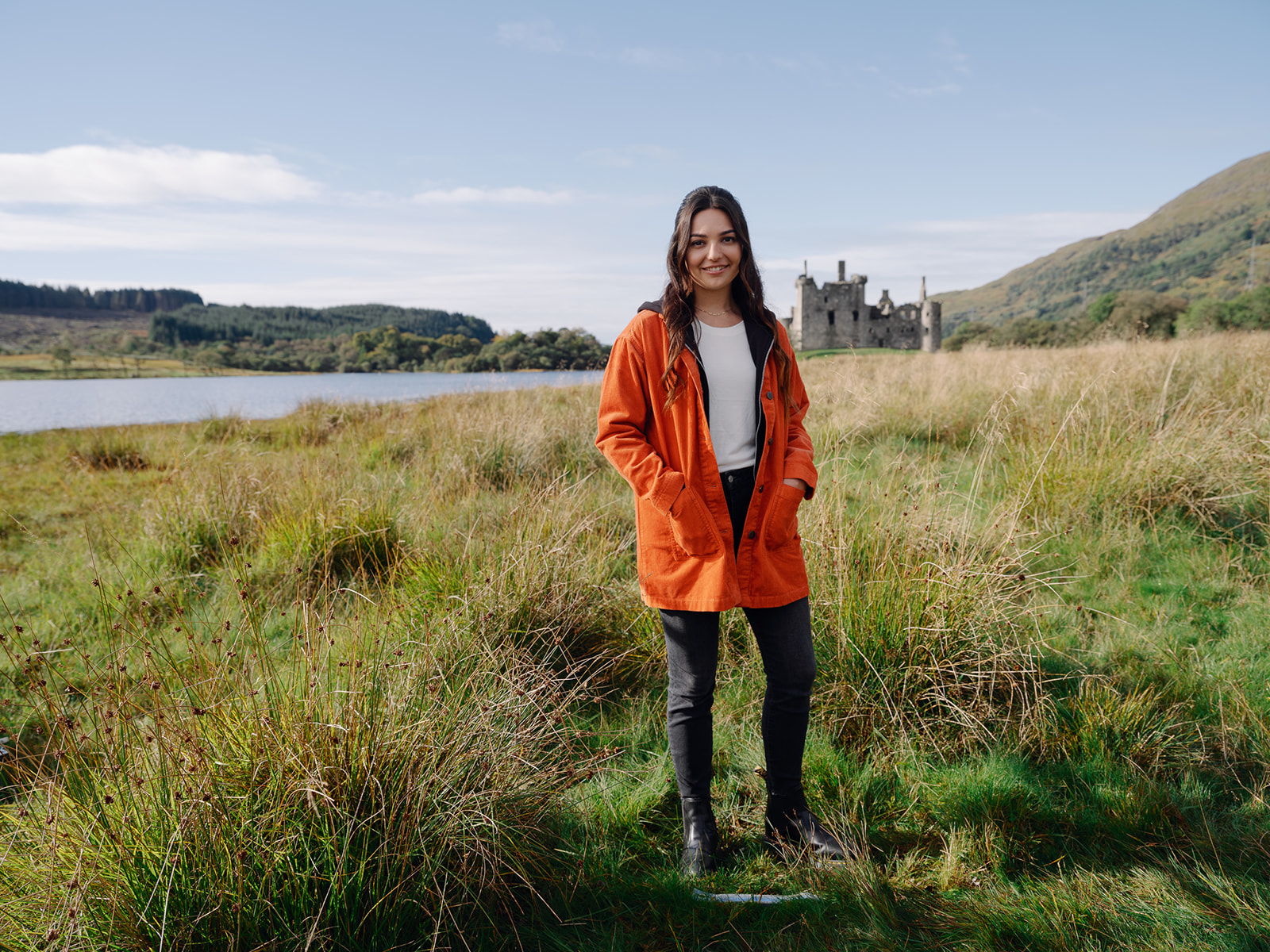 Hospitality
Scotland is recognised around the globe for our warm welcomes and hospitality, so it was inevitable that one of our famous hotels would feature in the new film. The hotel in question is Mar Hall, one of 27 five-star hotels across Scotland. The building was designed in 1828 by Sir Robert Smirke, the architect responsible for designing the British Museum in London. In 1916 the building was commissioned as a hospital, the Princess Louise Scottish Hospital for Limbless Sailors and Soldiers. The hospital treated veterans returning from the First World War. Today, the hotel houses a swimming pool, gym, and 18-hole golf course, the perfect luxury getaway.
History
Another building featured in the film is the ruined structure of Kilchurn Castle. The castle is one of the most photographed and picturesque in Scotland, first held by the Campbells of Glenorchy (later of Breadalbane). It is located on a peninsula in Loch Awe and while it can normally be accessed on foot, high water levels sometimes turn the site into a temporary island accessible only by crossing the water.
Innovation
In the animated sequence, created by Edinburgh-based company The 2D Workshop, there is a satellite visible behind the narrator, inspired by one of AAC Clyde Space's small-scale satellites. Scotland's space sector is rising faster than anywhere else in the UK and it might surprise you to learn that Glasgow manufactures more satellites than any other city in Europe. Due for launch in December 2021, the replacement Hubble telescope - James Webb Space Telescope - is being developed with the expertise of Edinburgh's Astronomy Technology Centre. Scotland is definitely the place to be for all things space right now.
Directing
We had two directors work together for this shoot, Oscar Sansom and Ainsley Bowman. Ainsley trained right in the heart of Scotland's capital city, Edinburgh! Ainsley went to Art School in Edinburgh and specialised in 'Intermedia', covering video, sound design, installations and performances. This was her introduction to working in film. After Ainsley left Art School, she was set on film making and wanting to explore that more. Armed with ideas but not the practical skills to make them, she went on to study how to edit, operate cameras, lighting, etc. in Berlin before eventually coming back to Scotland and directing music videos, now based in Glasgow. She has worked with artists such as Celeste and HYYTS, and has even recently worked on a documentary with the BBC.
If you now find yourself wanting to learn more about Scotland, or perhaps come and see it for yourself, then take some time to browse through The Official Gateway to Scotland | Scotland.org. With information on living, working, visiting and studying in Scotland, as well as insights on trade and investment, discovering what Scotland has to offer is only a click away