Forestry and Land Scotland work on behalf of the Scottish Government to manage Scotland's beautiful forests and wilderness. One of their most important jobs, aside from keeping our green spaces accessible for visitors, is protecting and enhancing Scotland's natural biodiversity. Whether it is encouraging healthy habitats to grow, conserving rare plants and our many ancient monuments, or protecting the iconic species that make up Scotland's wildlife, Forestry and Land Scotland are at the heart of all things wild.
Scotland is recognised around the world for its beauty, but some of that beauty came at a price. In the second half of the 20th century, where many areas of Scotland were experiencing falling incomes and poor job opportunities, projects were created to plant new forests across some of the less picturesque of Scotland's landscapes. These landscapes were predominantly peatlands and bogs, before they were drained and planted out into flourishing forests. However, what was not understood at the time was how important these landscapes were to protecting all of Scotland's wildlife.
The wealth of wildlife
The soil found in Scotlands peatlands and bogs holds the equivalent of 140 years worth of Scottish greenhouse gas emissions. This is wonderful when the peatlands and bogs are protected and maintained but can have terrible consequences when they are destroyed. So naturally, Forestry and Land Scotland are making sure that the protection and restoration of these precious peatlands are part of their plans for Scotland's future.
Rarely found outside of Scotland, blanket bog is an important habitat for many of Scotland's native birds, such as the Greenshank, Hen Harrier and Black Grouse. It also improves water quality and acts as part of a natural flood management system. With a greater understanding of how peatlands can absorb CO2, and with the ecological and climate change benefits of active bogs now widely recognised, Forestry and Land Scotland is identifying suitable sites for an ambitious challenge of "forest to bog" restoration work to repair the damages caused in the late 20th Century.
Loch Dail na Copiag Restoration Project
One such site is the 153 hectare area around Loch Dail na Copiag in the Highlands Local contractors were supported to invest in specialist equipment and "up-skill" their workforce in order to carry out the specialist work, creating the beginnings of a new sector within Scotland's broader Nature Preservation and Conservation industries. To combat concerns about how much exposed peat would be present, the project was timed around the winter so that by the time the peatlands thawed the following spring, the site at Loch Dail na Copaig was already sprouting numerous new plants ready to absorb and capture any carbon captured during those winter months.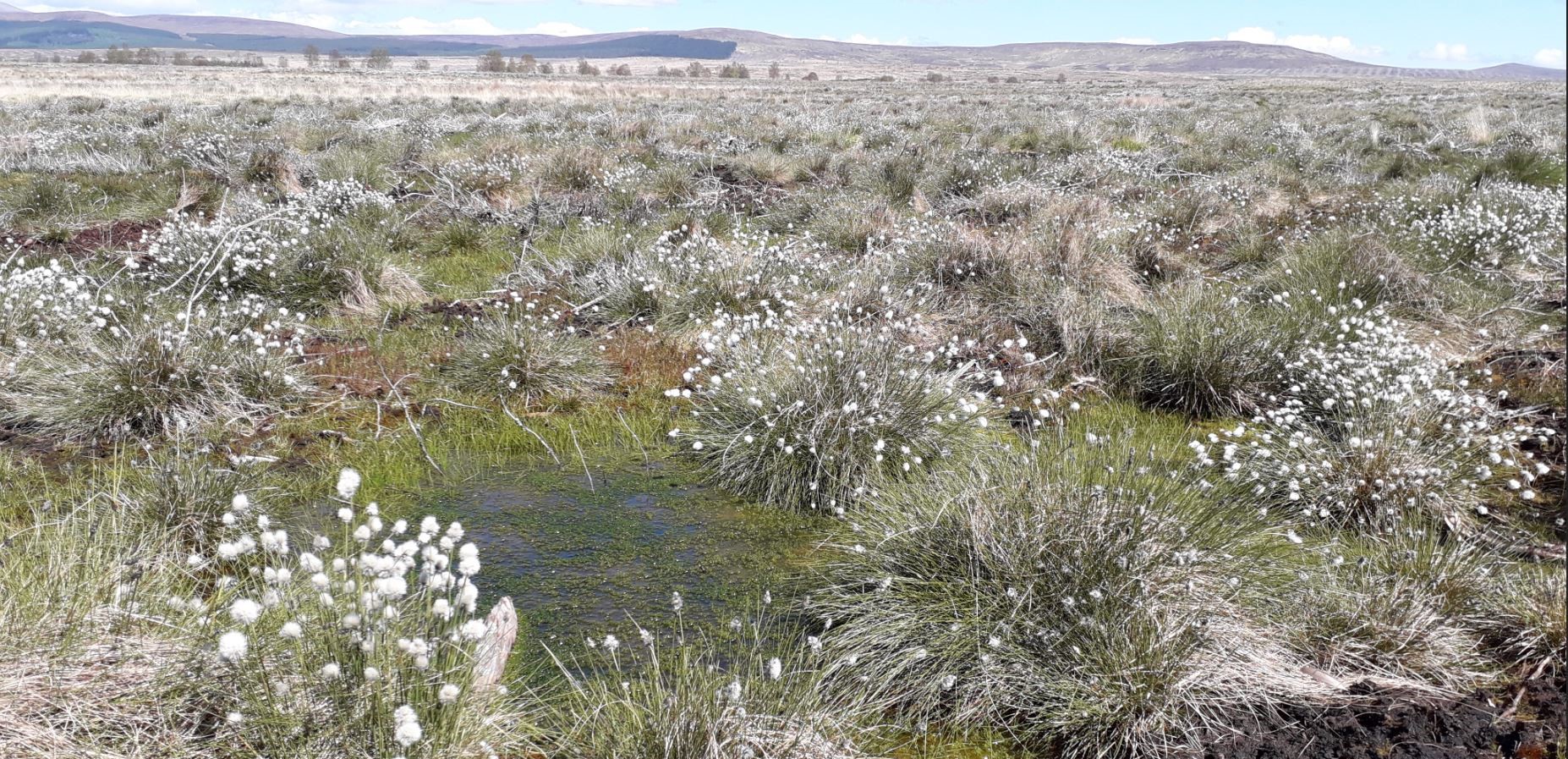 Not only content on creating new jobs and restoring natural habitats, Forestry and Land Scotland have also been using their peatland projects to encourage local wildlife back to the sites. At Loch Dail na Copaig, two native bird species, Lapwing and Greenshank, were both observed on the site that first summer and have continued to be regular visitors. The appearance of the Lapwing marking a particular victory as the species has had red list conservation status in the United Kingdom since 2009. Numbers of other bird species such as Meadow pipits, Redpoll and the native Red grouse have gradually increased as the peatland's vegetation is re-established.