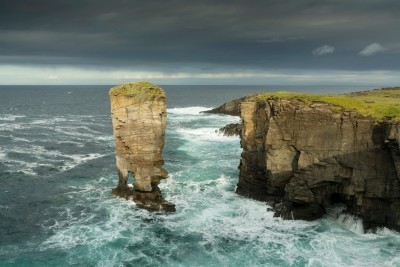 Yesnaby Castle sea stack on the west coast of Orkney Mainland.
The revolutionary Scotrenewables SR2000 turbine turns previous designs on their head. That's because, rather than having turbines fitted to the sea bed, the turbine blades are suspended beneath a floating platform. This not only dramatically cuts installation costs, but also reduces the amount of time and money needed to maintain and service the machinery through simplifying accessibility.
Incredibly, the energy generated equates to more in 12 months from this single turbine than the entire wave and tidal energy sector has done in Scotland in the 12 years preceding the launch of this turbine.
The SR2000 turbine was installed in the Fall of Warness tidal races, Orkney in August 2017 and the team at Scotrenewables said their success is evidence that tidal power generation could be rolled out more widely. This is because it's estimated that the seas around the UK could one day be capable of generating 20% of its electricity needs.
The European Marine Energy Centre (Emec) is a test centre in Orkney where more than 30 different devices have been tested since it was established in 2003. However, the 64m long SR2000 has so far proved to be the most successful of them all. It has regularly generated the equivalent of 7% of Orkney's electricity demand, but can power up to 25%, at certain times.
Jonathan Lindsay, Operations and Technology Director at EMEC, said:
"Wind energy has had about 50 years from when it first started, whereas wave and tidal has really only been over the last 10 years or so and has actually made quite a lot of progress in that time. As we move forward we will see bigger and better machines coming along."
This amazing milestone for the tidal energy industry really demonstrates the untapped potential of this emerging renewables sector. Scotland's remarkable marine energy resource has placed us front and centre in developing this industry with global potential.
As Scotland continues to embrace and lead the way towards a wholly renewable electricity system, it's more important than ever that we have a diverse range of renewable electricity sources. We've already seen huge growth in onshore wind and offshore wind over recent years and this new milestone from a tidal energy turbine is another welcome addition to an ever-increasingly important sector.