They educate. They raise awareness. They hold authorities to account and they take action against injustice and inequality around the globe. They are the countless groups and individuals who advocate for people without a voice. They are Human Rights Defenders. 9 December, is International Human Rights Defenders Day, a special day recognised around the world that calls for better for support and protection of the people who spend their lives combatting human rights injustices.
In Scotland, internationally recognised human rights have a meaningful everyday impact on all the people who live here. We understand the importance of these rights, which is why we work to ensure they are increasingly fulfilled at home and enacted around the world. One example of this is the Scottish Human Rights Defenders Fellowship – which is based at the University of Dundee. Established in 2018, the aim of the Fellowship is to support those defenders who are at risk, by giving them respite from daily dangers and threats inherent in their everyday work.
The Fellowship has previously welcomed individuals from countries all around the world to Scotland. Whilst here, they get an opportunity to take part in study, training and research to support their human rights work. As well as this, they also get an invaluable opportunity to network with civil society organisations and government officials in both Edinburgh and London.
We got the chance to speak to this year's world changing Fellows who will continue to work for human rights in their respective countries once the Fellowship concludes. Having arrived in Scotland in October, Konstantin Baranov of Russia and Laura Miti of Zambia began a three-month visit, supported by campaign groups Front Line Defenders and Amnesty International.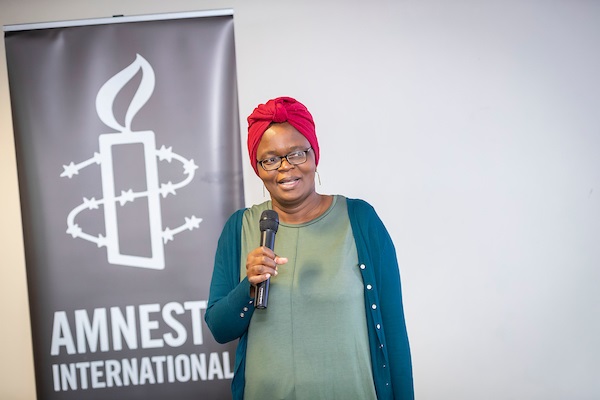 Laura Miti
"The opportunity to build relationships with Scottish organisations is invaluable"
For Laura Miti, from Zambia, the Fellowship has been an opportunity for her to take a break from the emotionally demanding work at home. But it's also allowed her to make important links with individuals and institutions that will enrich her work. Her mission is to mobilise demand for public resource accountability in Zambia through her work with the Alliance for Community Action (ACA).
Coming to Scotland for the fellowship is an opportunity for Laura to build on her existing expertise as well as sparking relationships with Scottish human rights and equality organisations that can help her work back home:
"The opportunity to build relationships with Scottish organisations is invaluable. Civil society work is predicated on the assurance of some level of solidarity from and cooperation with the international family of activists".
Laura has been drawn to defending the rights of others her whole life, long before she became aware of the term Human Rights Defender. Her passion for equality and justice came with an early interest in the political affairs in her country. She says that she quickly began recognising the terrible circumstances in which people around her lived – particularly those in more deprived communities. While she studied education at university, she naturally gravitated towards civil society and found that it was more of a calling than a job.
Laura also benefited from caring and open-minded parents, who allowed her the space to develop what were, not commonplace interests for a young girl in Zambia. Laura took all of her initial learning about human rights from the world around her and she believes there are lessons Scotland can teach the world with regards to human rights activism.
Good Global Citizenship
International Development is a key part of Scotland's contribution to the global community and we place a great deal of importance on being a good global citizen. We firmly believe that Scotland can play a unique role in finding solutions to the common challenges facing our world today.
"In engaging with government officials and Fellowship organisers, I have noticed that human rights is part of the fabric of Scottish society. This is a lesson Scotland can teach the world. Human rights do not just happen. They must be constantly and continually defended and activated especially for those who cannot easily or routinely claim them".
As well as the opportunities extended to Laura through the fellowship, she has also had the opportunity to experience Scottish people and culture and her impressions of the country have been overwhelmingly positive.
"Scotland is a country well-aware of its identity and values. Honest and reflective".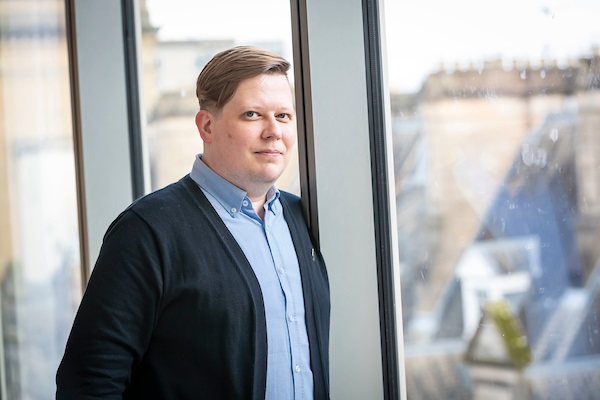 Konstantin Baranov
"Scotland has a vibrant civil society"
This year's second fellow, Konstantin Baranov, from Russia, developed a passion for human rights defence from an early age. Today, he advocates for the importance of civil society actors getting involved with international organisations. He believes that learning about civil rights at a younger age is important, especially in countries like Russia, where many people just try to fit in.
"People need to be more responsible and active citizens to hold the authorities to account. This is why we really need human rights education and awareness raising. And this can be done much easier at a young age, when your mind set is still flexible and not so rigid, when you're more open to new ideas and perspectives".
Konstantin's advocacy stems from the belief that if you want things to change positively in a country, you should look to ways of upholding and raising international standards. He suggests that civil society actors should not only look at ways of influencing their own countries from the outside, they should work to raise international standards, or prevent the erosion of those standards globally.
It is exactly this that enables people like Laura and Konstantin and the countless others fighting for human rights to carry out their important work. Building on this notion that states must look outside of themselves to progress, Konstantin explains that he also thinks Scotland has something to teach the world with regards to human rights:
"Scotland has a vibrant civil society and achievements on specific human rights issues, such as children's rights or gender equality. The way that Scottish society tries to uphold these values in a situation where the official UK policies are going in another direction is truly inspiring."
Having said this, and having the opportunity to build relationships and share expertise with Scottish human rights and equality organisations, we asked Konstantin what the value of these opportunities is to him and his development as a Human Rights Defender.
"This was quite a unique opportunity. With some of these groups, in particular with Amnesty International Scotland, we have discussed various opportunities of engaging with the Scottish authorities on further developing their external policies, and how human rights can underpin these external relations."
Like Laura, as well as Konstantin's experience of learning and developing in Scotland, he has only positive views of Scotland, with his teenage ideals about the country turning out to be abundantly accurate.
"Scotland is a beautiful country with historical and cultural heritage, which I enjoyed a lot. I would love to see more of it in time, and I think that people here are friendly and open. From my teenage years, I had this romantic idea of Scotland, and I could see most of my ideas about the country to be true."