Scotland was recently voted 'Most Beautiful Country in the World' by readers of the acclaimed 'travel bible' Rough Guides. This is one in a list of several accolades which mark us out as one of the most beautiful countries in the world. Of course, this comes as no surprise to us, but we may be a little biased on that! We have tonnes of incredible spots of natural beauty packed into our borders, giving the millions of people who visit us every year plenty to see and do.
From pristine beaches to beautiful lochs, breath-taking coastline to magical castles, visitors are spoiled for choice when it comes to creating memorable experiences. This is because Scotland has the ability to spark the imagination of its visitors, taking them on unbelievable journeys. Whether you ramble through our highland landscapes, or stroll around our urban centres, Scotland is sure to take your breath away.
It is impossible to cram all of these locations into one feature, but we thought we'd share a few of the many highlights with you. So check out these Scottish hotspots and get ready to be amazed.
Best Beaches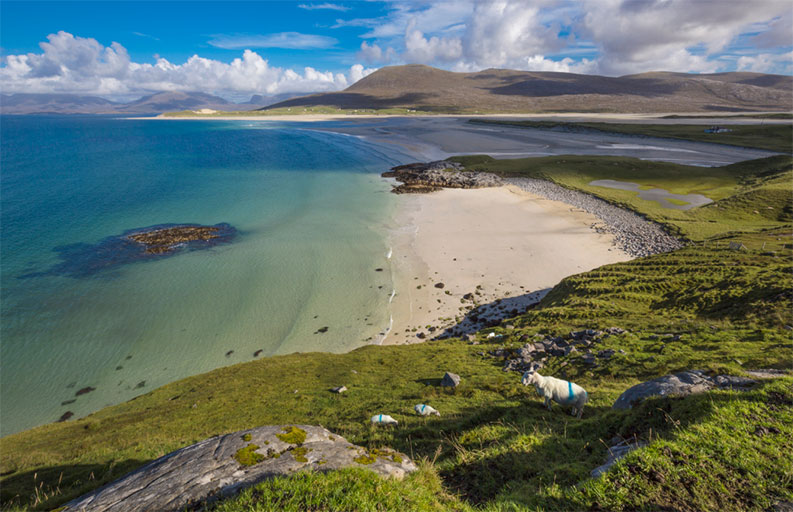 Scotland boasts more than 10,000 miles of coastline and dotted along it you can find some amazing beaches. Amongst these is Luskentyre beach on the Isle of Harris, which regularly makes the list of best beaches in the world. Although the weather is a little different, Luskentyre beach is often mistaken in photographs for the Caribbean!
Flying into the Isle of Barra is a unique experience, as the airport's runway is a nearby beach. The airport, which only operates during low tide, was once voted 'World's Most Stunning Landing Spot'. Tombolo beach on St Ninian's Isle, Banna Min beach in Shetland, Dornoch beach in Sutherland, Calgary beach on the Isle of Mull and Balmedie beach in Aberdeenshire are just some of the other beautiful beaches on offer.
Fan of Scottish literature would be wise to check out Yellowcraig beach in East Lothian. This beach offers views to the 1885 lighthouse on Fidra Island, the inspiration for Robert Louis Stevenson's famous tale, Treasure Island.
Dark Skies and Northern Lights

Did you know that Scotland has some of the darkest skies in Europe! This may seem like a strange thing to boast about, but it makes us the perfect spot to view the unending majesty of the night sky. Galloway Forest Park, in the Scottish Borders, was named the UK's first 'Dark Sky Park' in 2009. From here over 7,000 stars and planets are visible with the naked eye and the bright band of the Milky Way can be seen arching across the sky.
Scotland is also an ideal place to see the Northern Lights, one of earth's most spectacular natural sights! The Lights (also called Aurora Borealis) are nature's very own theatrical performance, dancing across the sky in various shapes, sizes and colours. Towns in the north of Scotland, including in Shetland, Orkney, Aberdeenshire and the Moray coast are great spots to see this show.
History and Heritage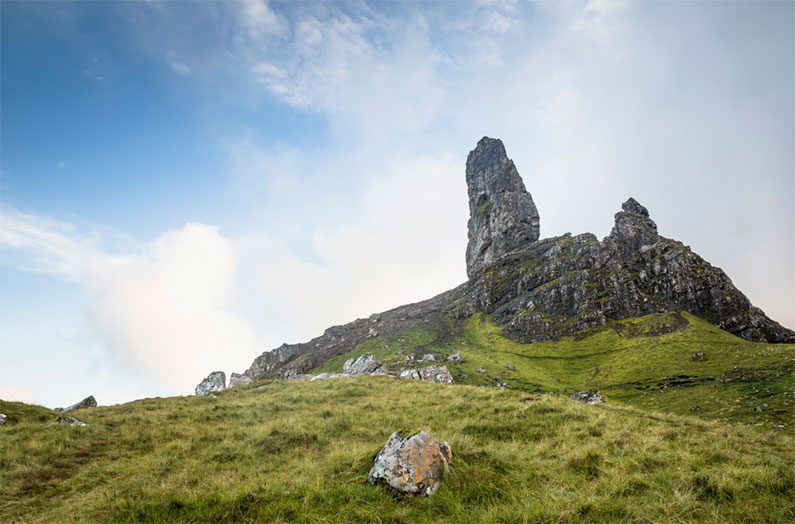 We're bursting at the seams with incredible landmarks steeped in rich history and folklore. The Old Man of Hoy, on Orkney (pictured at the top of this page) and the Old Man of Storr, on the Isle of Skye are two must see examples of our stunning rugged countryside. These towering stacks have wonderful tales surrounding them and they provide real life exclamation points to the sheer beauty of the surrounding landscapes.
Castles are the jewels in the crown of Scotland's heritage and can be found around every corner. Many of these imperious buildings are also linked to incredible stories of Scotland's past, each with their own story to tell. Whether it's a ruin, or still standing strong, any visit to Scotland is not complete without a wander around one of these mighty structures.
Cinematic Excellence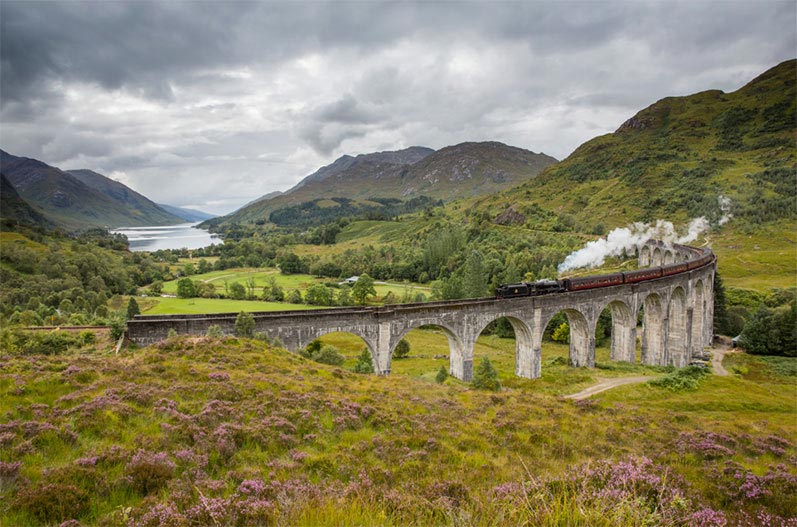 With such jaw-dropping views, it won't come as a surprise to learn that Scotland was voted one of the world's best cinematic destinations. The Glenfinnan Viaduct in Inverness-shire is used in four of the Harry Potter movies; West Sands Beach in St Andrews was the backdrop for the famous beach run in Chariots of Fire; Rosslyn Chapel in Midlothian was mentioned in Dan Brown's novel, The Da Vinci Code, and also featured in the Tom Hanks movie of the same name.
Scotland is also the inspiration behind TV series Outlander, based on Diana Gabaldon's best-selling novels. Although the show's settings, such as Craigh na Dun or Castle Leoch, are fictional, real settings around Scotland are used as filming locations. In total there are nearly 30 spots you can visit around Scotland and VisitScotland even has a map to help you out. This means there are lots of opportunities to immerse yourself in the world of Claire Randall and Jamie Fraser.
Wonderful Walks and Drives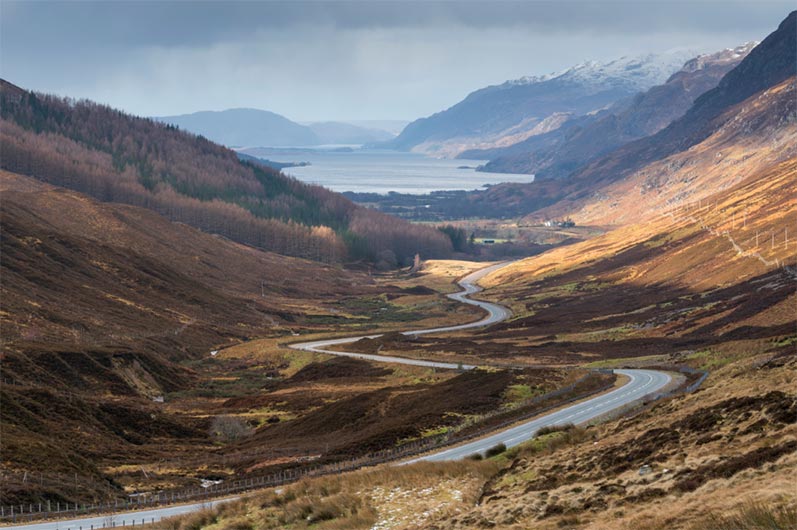 If you love nothing more than rambling through the countryside, strolling through urban centres, or clambering up hills, then Scotland has plenty to offer. The rugged coastline from Portpatrick to Killantringan in Dumfries and Galloway is a popular route for walking enthusiasts. Don't forget about the famous West Highland Way either, a 96 mile long route which starts at Milngavie on the edge of Glasgow and stretches to Fort William at the foot of Ben Nevis.
Looking for something a little less strenuous? Then a stroll around the Kelpies in Falkirk could be just what you need. In Edinburgh you can also saunter along the Water of Leith walkway, which passes through the picturesque Dean Village. A walk to the top of Arthur's Seat, also in Edinburgh, is another must-do. The peak affords panoramic views of the capital city and out to the Firth of Forth, where the new Queensferry Crossing bridge stands alongside the iconic Forth Rail Bridge.
If you prefer to take in the views from the open road, then don't worry, we also have you covered. Known as Scotland's 'Route 66', the North Coast 500 route boasts epic scenery, stunning coastal views and beautiful beaches. The 516 mile loop begins and ends at Inverness Castle and brings together the very best of the north Highlands of Scotland. The route regularly makes the list of the world's best driving routes and should be on every driving enthusiast's list.