Japan and Scotland may be on opposite sides of the globe, but the links between them, particularly in the business world, are many and varied.
The Fathers of Japanese Industry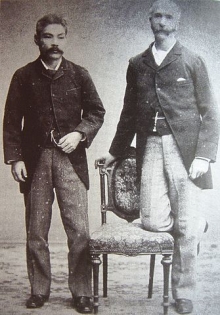 Thomas Blake Glover, born in Fraserburgh in 1838, was affectionately known as the 'Father' of Japanese industry. His work in and around Nagasaki in the 1860s led to far-reaching developments in coal mining, railway and shipbuilding. He also played a role in the establishment of what later grew into the industrial giant Mitsubishi (Glover is pictured here with the brother of the founder of Mitsubishi, around 1900).
Glover wasn't the only Scot to make the 6000-mile journey. Glasgow-born Captain Albert Richard Brown was commissioned by the Japanese Government to chart the coasts around Japan. Also, Henry Brunton, an engineer from Muchalls near Aberdeen supervised the installation of a scheme of lighthouses for the entire coast of Japan. This scheme was, you guessed it, designed and manufactured by two more Scots, David and Thomas Stevenson.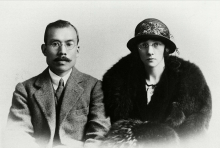 Moving forward a couple of generations, 1920 witnessed one of the most symbolic marriages between the East and the West. Jessie Roberta Cowan from Kirkintilloch married Masataka Taketsuru, whom she had met while he was studying whisky making at Glasgow University. Together, they founded the Nikka Whisky company in Yoichi, Hokkaido, Japan's second largest whisky distillery. Taketsuru's work earned him the title 'Father of Japanese whisky'. Read more about Scotland's national drink in Japan.
A Yen for Excellence
Today, trade between our two nations continues to flourish. Chief among those exports are office machinery, radio/TV communications, textiles and food and drink. In 2015, Scotland's total food and drink exports to Japan were valued at almost £100 million. Within this category, Japan went a long way to helping Scottish malt whisky exports top a billion bottles for the first time since 2001. Scotland's whisky exports to Japan account for 3/4 of all food & drink exports to the country.
Japan also has a healthy taste for Scottish textiles with Johnstons of Elgin and Hawick Cashmere finding success through local retailers. Cumbernauld-based Mackintosh runs a successful flagship shop in Tokyo, and Hunters has recently opened a store in the fashionable district Ginza.
Did you know that Scotland is Japan's preferred partner in life science, with a growing number of research collaborations and Japanese companies expanding into Scotland? Offering state-of-the-art facilities and invaluable expertise, Scottish Biomedical has entered into lucrative collaborations with Kyorin, Kyowa Hakka Kirin and Mitsubishi Pharma. They've also developed YRING, the Yoshitomi Research Institute of Neuroscience in Glasgow, which brings together leading biomedical researchers with the shared aim of finding a cure for schizophrenia.