Where to live in Scotland
If you're wondering where the best place to live in Scotland is for you, then look no further. Here's a detailed guide to Scotland's 15 regions, covering everything from education and lifestyle to work and accommodation. Let us help you find your perfect fit.
With beautiful green spaces, low crime levels and quality health services, the question isn't really "should I move to Scotland?" Rather, it's "what area of Scotland should I move to?"
The people of Scotland are more loyal residents to their homeland than any other part of the UK, with 83% of us saying that given any opportunity, Scotland is where we'd most like to live. In the same survey, almost a quarter of us said we'd never move away! There must be a reason that, even with Scotland's temperamental climate, we wouldn't swap it for the world. With all the beautiful green spaces, the low crime levels and the high quality of health services, the question isn't really "should I move to Scotland?" rather, it's "what area of Scotland should I move to?"
From the breathtaking beauty and peaceful country living of the Scottish Highlands to the hustle bustle and frantic excitement of city-living across the central belt, Scotland has options for every kind of person and any type of lifestyle. Based on how happy 24,000 Scots said they were about where they lived in RightMove's Happy at Home Index, here is a countdown of the top five places to live in Scotland:
5. Edinburgh
Quick facts:
Edinburgh is Scotland's capital city.
It's located on the southern shore of the Firth of Forth.
It's the second most populated city in Scotland with an estimated population of 495,000.
It's home to the Scottish Parliament and Holyrood Palace, Queen Elizabeth's second home.
It's the largest financial centre in the UK after London.
Leisure
Residents of Scotland's capital city have everything right on their doorstep. The quiet, leafy and relatively inexpensive suburbs are only ever up to a thirty minute commute to the iconic Edinburgh Castle and the wealth of choice in shops, museums, theatres, restaurants and bars in the city centre.
Transport
With an award-winning bus network, the second largest train station in the UK and an international airport, the transport links within the city, to the rest of Scotland and the UK and, indeed, the rest of the world – are excellent.
Education
There are four recognised universities in Edinburgh, including the prestigious and research-leading University of Edinburgh and Heriot-Watt University.
Employment
In terms of employment prospects, Edinburgh is home to the highest percentage of professionals in the UK, with 43% of the population holding a degree-level or equivalent qualification. The main industries are financial services, scientific research, higher education and tourism.
4. Perth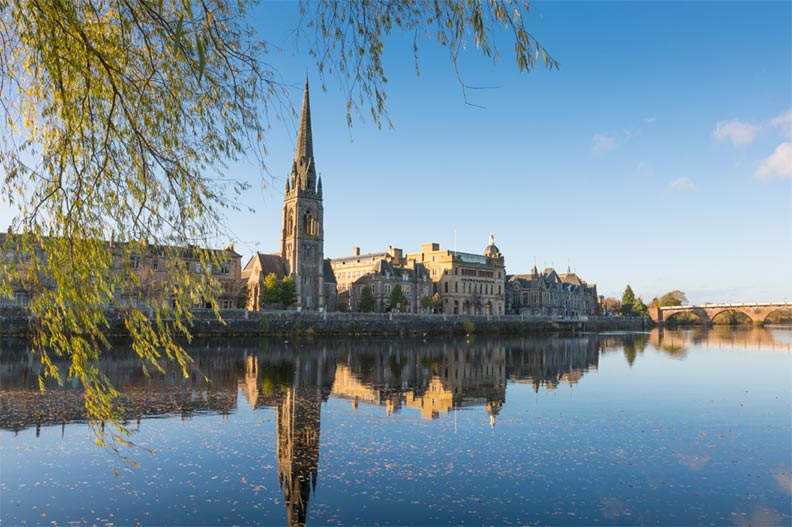 Quick facts:
Perth is located on the banks of the River Tay.
Perth is the main city in the wider historic county of Perthshire.
It has a population of around 50,000.
There has been a settlement at Perth since prehistoric times.
It is referred to as the 'Gateway to the Highlands' because of its location.
Leisure
Perth is home to one of the oldest museums in Scotland, two theatres and a wide choice of shops, bars and restaurants in the city centre. The city hall is often used as a concert hall and there is a local professional football team. Perth is also within easy reach of the Cairngorms National Park which is a centre for hill walking, mountain climbing, skiing and camping. Fantastic for outdoorsy types!
Transport
Due to its central location, the road network that connects to Scotland's other six cities meets in Perth. Uniquely, It is an easy driving distance of Edinburgh and Glasgow, as well as Aberdeen and Inverness. There is a train station with regular trains to London and a reliable bus network connecting the city and local towns.
Education
The Perth College Campus of the University of the Highlands and Islands and a number of learning centres run by UHI, are located throughout Perthshire, offering a range of degrees.
Employment
Perth has a diverse economy with a lot of work in the public sector, small and medium sized enterprises, as well as self-employed business people. Developments in the areas of renewable energy, insurance, manufacturing, leisure, health and transport are creating jobs in the area.
3. Dundee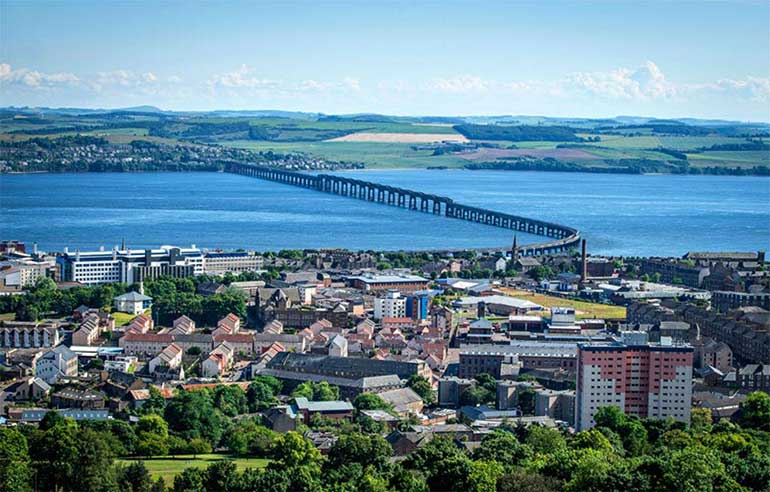 Quick facts:
Dundee is located on the north bank of the Firth of Tay, which feeds into the North Sea.
It has a population of around 148,000.
Dundee is the first UNESCO City of Design for its contributions to medical research, comics and video games.
Dundonians are the happiest people in Scotland with the way their town and homes are decorated, according to RightMove Happy at Home Index, 2015.
Leisure
Dundee is a cultural hub, with its main attractions being Dundee Contemporary Arts centre – which houses two art galleries, a print studio, a visual research centre and a cinema; and Caird Hall, the principal concert venue and home to Scotland's only full-time company of actors – Dundee Rep Ensemble.
Transport
Dundee is easily accessible from Edinburgh and Glasgow due to its central location. It has a main train station with rail links to most of the UK, and a frequent bus service both around and out of the city.
Education
Dundee is home to two universities; the reputed University of Dundee which is known for its medicine and dentistry programmes, and the modern and contemporary Abertay University, which is renowned for games design and other technology courses.
Employment
The economy in Dundee is mostly supported by jobs in healthcare, medicine, biotechnology and research. It is also a key retail destination.
2. Falkirk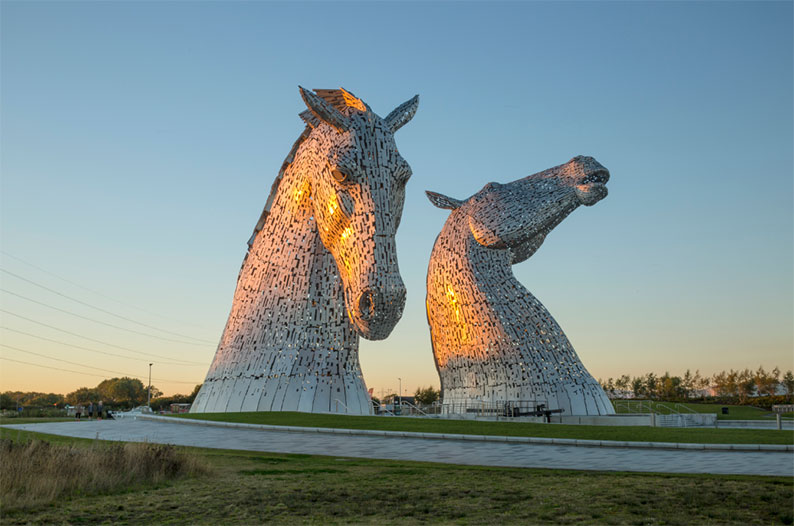 Quick facts:
Falkirk is located in the central lowlands within the county of Stirlingshire.
It lies in the Forth Valley, almost exactly half way between Edinburgh and Glasgow.
It's the only place on this list that is a town rather than a city.
Falkirk has an approximate population of 32,000.
Falkirk residents find the cost of running their home the most manageable in the UK, according to RightMove Happy at Home Index: 2015.
Leisure
Falkirk is home to the Kelpies (pictured above), the largest equine sculptures in the world, and the Falkirk Wheel, the world's only rotating boat lift. The Kelpies can be found in Helix Park, a community project which has a state of the art play park, lagoon, a splash play area, a wetland boardwalk and various different walking and cycling routes. Falkirk also has ample cafes, bars, restaurants and shops in the town centre.
Transport
As Scotland's most central town, Falkirk is bang smack in the middle of Glasgow and Edinburgh. There are two train stations with regular services to both cities, making them easily commutable. There is a regular bus service around the town and linking to other nearby areas, including Stirling.
Education
The University of Stirling is nearby and reachable by bus, train or car. Forth Valley College has a number of campuses in Falkirk and surrounding areas.
Employment
The main jobs in Falkirk are in the retail and service industries, the public services and the public sector. There is also a large petrochemical plant in neighbouring Grangemouth which employs many Falkirk residents. Due to the favourable cost of living in Falkirk and its central location, Falkirk is a good place to live to commute into Edinburgh or Glasgow for work.
1. Inverness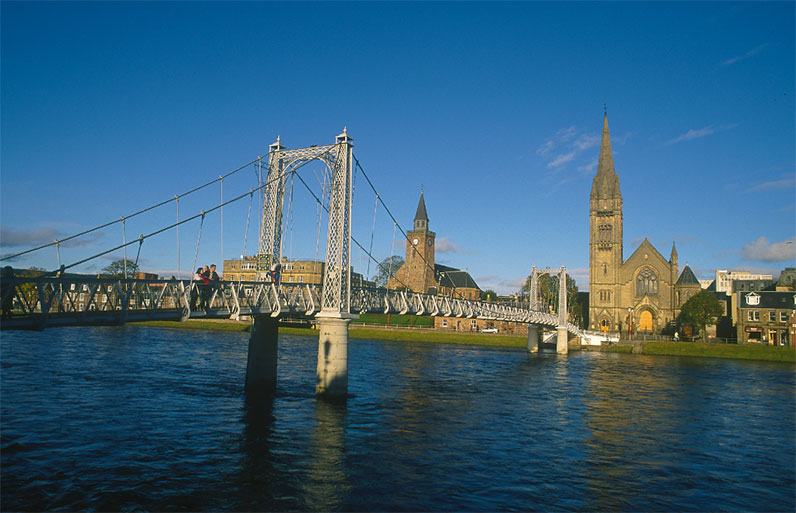 Quick facts:
The name Inverness is Scots Gaelic for 'Mouth of the River Ness'.
Inverness is regarded as the capital of the Highlands.
It is the northernmost city in the United Kingdom.
The population is approximately 62,000.
Inverness has been voted as the happiest place to live in Scotland for two years running.
Leisure
What attracts many tourists to Inverness is, of course, the legend of the Loch Ness monster. In terms of residents, there is plenty to keep your weekends filled. There is Inverness Castle, a museum and art gallery, numerous picturesque walking and driving routes around Loch Ness and the Highlands, a busy music and theatre scene, and it is within a half hour reach of the Cairngorms National Park, Glencoe and Glenshee for skiing, mountaineering and other outdoor pursuits.
Transport
There is a regular bus service travelling in and around Inverness, a train station that connects Inverness with local smaller towns, as well as longer routes to Aberdeen and further south to the central belt. There is a service to London six times a week. Inverness also has its own domestic airport, offering daily flights to cities all over the UK.
Education
The University of the Highlands and Islands has around 8,500 students based across the Highlands and Islands. One of its largest partners, Inverness College UHI has over 6,000 students and is based at Inverness Campus.
Employment
Most of the traditional industries such as distilling and farming have been replaced by high-tech businesses such as design, manufacturing and health science. The Scottish Natural Heritage is also a main employer for the area.
So that's the low down on the top 5 best places to live in Scotland, based on how content current Scots are with their home and their local community. Only you will know what best suits your lifestyle, your family and your career so choose carefully then come and join us in the best wee country in the world!