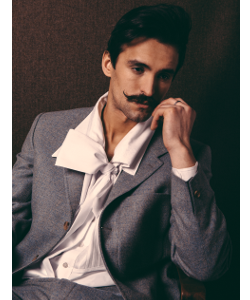 By Vixy Rae, Creative Director of Stewart Christie & Co.
Some of Scotland's greatest cultural icons of the past 700 years were given a fashion makeover at an event to celebrate the strength and depth of the country's creative and textile sector.
In the depths of winter, creating an event to bring History, Creativity and Tailoring together was the perfect way to lift the spirits. The Edinburgh Portrait Gallery provided the perfect setting to bring together ideas and showcase them whilst raising money for Maggie's Centres. Sponsored by Glenfiddich the evening brought together the past and the present. Stewart Christie crafted outfits for each legend and in collaboration with Edinburgh College's first year HND Fashion students showcasing their shirt creations to complete each look.
Glasgow's favourite son, architect, artist & romantic, Charles Rennie Mackintosh is now renowned as one of the most important designers of the art nouveau movement and in 2018 we celebrate 150 years of his innovative design. Wearing a lovat blue tweed two piece suit with exaggerated detail and soft structure by Stewart Christie. This was a departure from the formal morning wear of the period, giving him a really modern look at that time.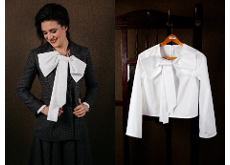 The spirit of Maggie's, with styling from the eighties, when it's founder was designing and writing. The outfit, a hand crafted tweed circle skirt and square cut jacket, was hand made from a puppy tooth grey and black flannel finished worsted cloth giving both depth and texture. The evening was not just about historic legends but was to inspire the notion that by our actions and creations we can all make a difference to others and the world around us.
Laura Lee, Maggie's Chief Executive, said:
Everyone at Maggie's is proud of our Scottish heritage, and as Scotland has produced a huge number of innovators and inventors I feel it is right that Maggie's, an organisation that has pioneered a different kind of cancer support, is honoured amongst them in such a creative way. From our first Centre in Edinburgh we have grown into a network of 22 cancer centres including eight in Scotland, where thousands of people visit every year to make the most of our essential support at what is possibly the hardest time of their lives. Support which we provide through the generosity of voluntary donations so we are also incredibly grateful to have been selected as beneficiaries of the special event at the Scottish National Portrait Gallery.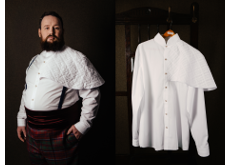 Born in 1849 in Dufftown, being a direct descendant from the Clan Grant, William Grant is one of Scotland's best known distillers and entrepreneurs and an obvious Scottish legend in his own right. A hard working family man, whose drive and self belief created one of our best loved exports. Stewart Christie dress his Doppelgänger in formal Grant tartan trews. Whilst on the mezzanine floor the whisky bar, allowed guests to sample the new project drams alongside their new IPA cask creation.
Neil Barker, Managing Director of William Grant & Sons UK, said:
"We are passionate about celebrating and supporting the independent spirit of those who match William Grant's experimental and ambitious creativity, so we couldn't be prouder to sponsor the Creative Legends event. Everyone at William Grant & Sons, which remains family-owned to this day, continues to be inspired by William Grant's vision to make the 'best dram in the valley'. 130 years later, his vision and legacy to drive progress the right way, without any shortcuts, continues to motivate us all. William would have been honoured to be part of this event, shoulder to shoulder with Scotland's greats."
James McCallum (portraying Tam O' Shanter) and Vixy Rae (as herself) were the leading creative forces behind bringing together all the aspects of the event. The energy of the evening and the collective buzz helped drive the silent auctions and the live bidding from generously donated lots from many top brands and establishments. The evening raised over £16K in a matter of a few hours, quite an amazing achievement and a very proud conclusion to a fun evening for all.
Alongside Stewart Christie's tailored pieces, the Edinburgh College first year HND students created a shirt for each of the legends. The evening saw the Incorporation of Edinburgh tailors, one of the cities oldest trade guilds awarding a prize to the best and most innovative shirt. Jelena Pogodina was awarded a cash prize for her creation for her chosen character Mr William Grant. Her creation created a tone on tone tartan pattern in white poplin forming an incredible shoulder panel for her well tailored piece. It was a pleasure to have William Grant's Grandson attending the event and adding his seal of approval to the creation too. Stewart Christies' master tailor was so impressed with her work, if she continues to follow her passion she may even have a job with them in the future. With such positive response from all guests it seems they may need to dress more legends next year. So look out for the next creative legend event, and get involved.
Vixy Rae, Creative Director of Stewart Christie & Co, said:
"It has been such a wonderful opportunity to bring together so many creative ideas and so many talented individuals for this special evening with VisitScotland. We are celebrating both the heritage of craftsmanship, and the innovation of creative talent from Stewart Christie and from the Edinburgh College. The collaboration with the Edinburgh College has been something which Stewart Christie are extremely proud to be involved in. We realise there needs to be support from the business sector to inspire young people in their studies. We feel it is important to have their work recognised and appreciated from an outside perspective too. The Creative Legends event brings together so many different aspects of tailoring and garment making, giving a historical reference point to all the ideas and mixing them with a modern twist. Having William Grant & Sons sponsor the event brings an extra dimension to the evening, stimulating the real wealth of Scottish heritage and taste."
Hear from Dan Fearn, Director at Stewart Christies & Co as he discusses Scotland's craft, creativity and tailoring.