The prosthetic, which was developed by pioneering Scottish company, Touch Bionics, is one of the most sophisticated, electrically-powered prosthetics available right now anywhere in the world.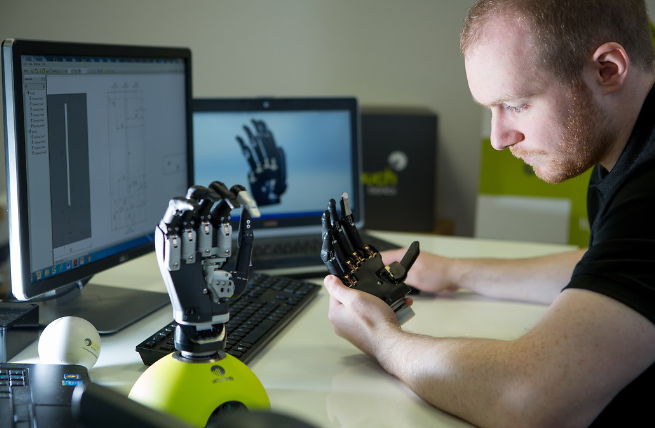 Josh's new arm has given him an incredible new lease on life, and has allowed him to now be able to do things that other kids of his age get up to. However, while throwing, catching and playing around have amazing new possibilities, the fact is that Josh is now able to do things that many of us take for granted.
Acts such as tidying his room or preparing some food, which some kids may hate doing, are now incredibly liberating experiences for Josh. The extra hand not only makes all sorts of things possible but means they take less time than it would otherwise with one arm.
It's perhaps best left to Josh himself to describe exactly what it means:
"I made myself a bagel yesterday. I can open bottles and packets with it, I can stack up blocks and I can build Lego with it. It will make me feel I'm the same as everyone else. It will make me happy".
How does it work, we hear you say, well Josh controls his i-limb through a handy app on his mobile phone. The app is programmed with a range of different pre-sets and Josh chooses the appropriate one for the action he is about to do – for example, grip a cup. Once selected, Josh controls the prosthetic by flexing his muscles, which sends a signal to the i-limb via his nerves. He can even use the index finger to operate smartphones and tablets with a finger specially adapted to use on touchscreens.
The impressive tech required to create this modern marvel has taken decades to reach this point. It's really only in the last decade that we have seen an emergence of technology capable of producing a prosthetic arm like the one Josh now has. However, long before Josh could even be considered for a prosthetic such as this, there were years of painstaking research and innovation by the folks at Touch Bionics.
David Gow is the founder of Touch Bionics and he is a pioneer in the world of electronic prosthetics. As far back as 1998 he was revolutionising the industry as he fitted another Scot, Campbell Aird, with the world's first electronic shoulder. Since then, the company has gone from strength to strength, fitting electrical hands and wrists as well as shoulders.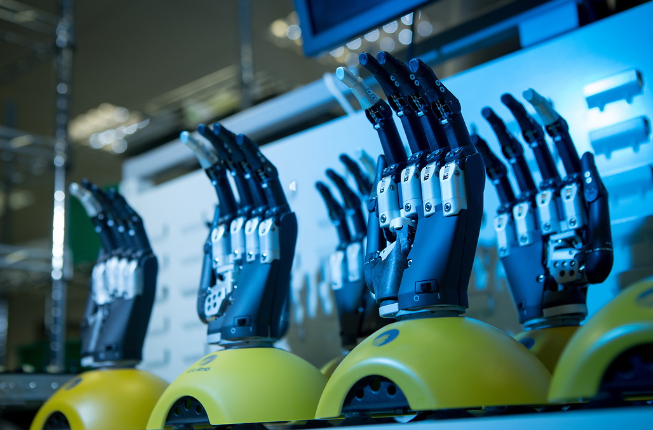 In 2007, Touch Bionics launched the world's first-ever powered prosthetic hand to include articulating fingers. Simply put, this prosthetic allows the wearer to hold, manoeuvre and grip objects using individual digits. This innovative hand became known as the i-limb, and it fundamentally changed the prosthetics industry, as well as many people's lives.
This product has since undergone significant development, incorporating slimmer, lighter materials; more atomically correct designs and even software that allows the wearer to change and calibrate the grip of their i-limb.
The company also provides life-like silicone prosthetic coverings that feel and behave in a similar way to human skin. Each covering mimics the three dermal layers found in human skin. The colour and skin tone is also an essential factor, with each covering individually matched to the individual wearer.
Touch Bionics
Touch Bionics is a provider of world-leading prosthetic technologies and supporting services designed to ensure the best possible outcomes for people with upper limb deficiencies. Their advanced products include myoelectric prosthetic hand and prosthetic finger solutions, as well as highly realistic passive functional prostheses that match the natural appearance of the wearer.
All around the world, there are countless people just like Josh who are using and relying on the i-limb. The impact of this pioneering marvel is revered by experts and the users alike. It's little wonder that, in 2008, Time Magazine named Touch Bionics' i-limb as one of the top innovations of the year.
Scotland is Innovation. Scotland is Now