Whether it's the warm and cosy environment of a local pub, or on giant stages inside massive arenas, traditional music is a cultural phenomenon in Scotland and around the world.
Scotland is world renowned for its traditional music – sometimes referred to as folk music – and its origins can be traced back thousands of years. Today, this music remains just as popular and culturally relevant as it has ever been.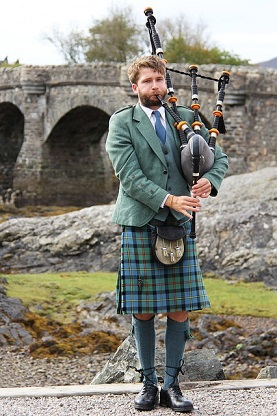 Of course, for many people, the mere mention of this style of music usually means one thing – the bagpipes. However, while this iconic instrument does play a major role in Scottish traditional music, it's just the tip of the iceberg.
For example, did you know that the earliest mention of the bagpipes in Scotland can be traced as far back as the 15th century? But – as impressive as that legacy is – traditional music and instruments existed many centuries before this. Sure, it may be more than 600 years old, but the bagpipe is still a relative newcomer on the Scottish music scene!
On the Isle of Skye, evidence of a stringed instrument called a lyre was found that dates as far back as 2300 BCE – making it the oldest surviving stringed instrument in all of Europe. On top of this, stone carvings from the Pictish period (around 700-900 AD) also depict people playing harp-type instruments.
It's fair to say that music has always been an integral part of Scottish culture. Going back as far as the medieval period, one of the most important roles throughout Scottish communities was an individual known as the bard. Bards relied on a strong oral tradition and acted primarily as the community's musician, poet and storyteller. However, they were also known to fulfil the role of local historian and at times even the lawyer.
More often than not, these multi-talented individuals were funded by a local patron – usually a monarch or nobleman – and amongst their main duties was the job of writing songs that commemorated their employer.
Over time, the tradition of the bard began to fall out of favour, but the cultural significance of their role remained. Because of this, the term bard has come to take on a new meaning in the modern period – being used as a term of recognition for famous authors or poets. It's for this reason that Scotland's national poet, Robert Burns, is commonly referred to as 'The Bard'.
Robert Burns
Robert Burns is Scotland's national poet and his work is celebrated around the world. From 'Auld Lang Syne' to 'Red,Red Rose' - find out more about the man known as 'The Ploughman Bard'.
Modern(ish) music
Did you know that legendary folk musician, Bob Dylan, once publicly stated that his greatest inspiration was Scotland's own Robert Burns. He also famously sung that "the times, they are a-changin'". Well, while many of the instruments, venues and accompaniments of Scottish music have indeed changed with the times, the genre has steadfastly remained true to its traditional roots.
Today's Scottish bands employ many of the same techniques that their bardic ancestors did. Sometimes these innovative artists even fuse traditional methods with the latest technology and ideas to create some truly remarkable sounds.
Fancy a listen? Let us introduce you to some of Scotland's best traditional/folk music bands:
Elephant Sessions
Elephant Sessions are a multi-award winning 5-piece formed in the Scottish Highlands in 2012. Renowned for their incredible live shows and gigging extensively around the UK and the rest of the world, Elephant Sessions have quickly built up a huge following. The band have been described as effortlessly creating a progressive style of music that combines the best in traditional, funk and electronica.
Mànran
The word 'mànran' is Gaelic, meaning 'melodic sound' or 'sweet tune' and this definition couldn't be more true of this band. Made up of 7 members, Mànran were formed in 2010 and are recognised as one of the most iconic Scottish traditional music bands. Using a mixture of traditional and modern instruments, Mànran produce songs both in Gaelic and English that delight crowds around the world.
Capercaillie
When talking about Scottish traditional music, the first band that many people think of are Capercaillie. This legendary 8-piece have been producing music for nearly four decades. and are known for adapting traditional Gaelic music and songs with modern instruments and techniques. Capercaillie are also one of the few Scottish traditional music bands to have broken through into mainstream playlists.
Breabach
Based in Glasgow – Scotland's UNESCO City of Music – Breabach are a contemporary folk band with a hugely imaginative and innovative style. With more than 15 years of performing under their belts in some of the world's most iconic venues, Braebach are widely known for paying ultimate respect to the roots of traditional Scottish music while giving it a whole new lease of life.
Hò-rò
From humble beginnings in Scotland's highlands, Hò-rò are fast becoming one of traditional music's most respected bands. Made up of seven members and known for their incredibly energetic performances, Hò-rò are undoubtedly a force to be reckoned with. The band are known for playing a diverse style of music that perfectly embodies the beauty and poetry of Scotland's music history.
Blazin' Fiddles
Blazin' Fiddles do exactly what their name suggests, combining the country's hottest contemporary fiddlers with the sympathetic arrangements of piano and guitar. The fiddle has long been a staple in the Scottish traditional music scene and this band use it to incredible standards to create a fiery blend that will live long in your senses. No one has captured Scotland's rich fiddling history like this band!
Festival fun
Now we've given you a little taste of Scotland's incredible traditional music you may well be keen to catch some of these acts in the flesh. Well, if live music is your thing, the great news for you is that Scotland is packed with amazing traditional music festivals. These events take place up and down the country and offer a unique insight into the vibrant nature of Scottish culture and music's all-important place within that culture.
Here are just a few of Scotland's traditional music festivals:
Celtic Connections
Celtic Connections is the UK's premier celebration of all things Celtic music. This annual event takes place in January, when more than 2000 musicians descend on the city of Glasgow for 18 days to celebrate Celtic music and its connections to cultures all around the world. Celtic Connections is renowned for its collaborative ethos, consistently bringing together incredible one-off line ups for once in a lifetime performances.
The Royal National Mòd
Known as 'the Mòd' for short, this incredible festival of events is Scotland's main celebration of Scottish Gaelic song, literature, arts and culture. Usually taking place in October, the Mòd has been happening in Scotland since way back in 1892 and remains a staple of the Scottish cultural calendar. The Mòd is best known for its formal competitions across a range of categories, with the winners being invited to perform in a ceilidh after each day.
The St Magnus International Festival
The St Magnus International Festival takes place in Orkney and is the northern islands' annual celebration of the arts. Initially developed by Sir Peter Maxwell Davies in 1977, St Magnus has become a must see event for tourists and locals alike. Taking place during the magical midsummer period, St Magnus is a unique combination of stunning sights, world-class performances and energetic community participation.
HebCelt
Taking place on Scotland's stunning Outer Hebrides during the month of July, HebCelt is a multi-award winning festival that effortlessly blends together Gaelic culture with traditional Scottish music. The festival is known for filling its stage with an incredible mix of local talent, home-grown acts from the rest of Scotland and the best artists from around the world. The beauty of HebCelt is that it has an incredible global appeal while still maintaining a strong community identity.
Shetland Folk Festival
The Shetland Folk Festival is the UK's most northerly folk festival. Concerts are organised throughout the isles, consisting of some of the best International, British and Shetland music that the world has to offer. Taking place at the end of April, the event offers up a music-filled weekend like no other for everyone who enjoys a good spree.