In this student real life story, Derek - who is one of our Saltire Scholars - tells us about Scotland's incredible New Year's celebrations, after experiencing Edinburgh's Hogmanay.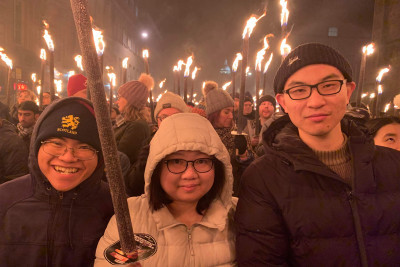 My name is Derek (I'm on the left) and I'm one of Scotland's Saltire Scholars. This means that I receive £8,000 towards tuition fees for any one year of study on a postgraduate Masters degree at any of Scotland's universities. I also get to take part in activities over and above my studies, acting as an ambassador for the scholarship and for Scotland. As part of this, I got the chance to take part in a series of activities to celebrate the New Year, or—as it's called in Scotland—Hogmanay.
One moment, you're part of an enchanting river of light, flowing from Edinburgh's Old Town all the way to Holyrood Park and forming the figure of a handshake. The next, you're on Edinburgh's busiest streets, dancing with your friends in a celebration, as magnificent fireworks light the midnight sky. Now, you're about to plunge yourself into the icy-cold waters of the Firth of Forth, kicking off the new decade with the majestic Forth Bridges in the background.
It was a festival unlike anything I've ever experienced
It might sound a little surreal, but this is actually just a brief snapshot of Edinburgh's Hogmanay, which spans over three amazing days of New Year's celebrations. Admittedly, I found the planning and logistics a bit overwhelming at first, as there are multiple events which occur seemingly back to back. However, there are essentially three core events that you don't want to miss: the Torchlight Procession (30th Dec), the Street Party (31st Dec), and the Loony Dook (1st Jan).
For the Torchlight Procession, we decided to arrive at our starting point (South Bridge) about one and a half hours early. This was mainly so that we would be near the front of the line and, despite the cold weather, it was well worth the wait!
One by one, our wax-based torches were lit, and we marched down the Royal Mile—although I found it quite surprising that we were trusted with fire. Once we reached Holyrood Park, we were arranged to form a figure of a handshake, which was then photographed from a helicopter above us. After the procession, there was a small concert, and fireworks emerged from nearby Calton Hill.
The next evening, we arrived early for the Street Party, wandering around Princes Street to see several of the varied street performances, before dancing our way to the Johnnie Walker Stage. After a few hours, we shuffled over to the Waverley Stage, where there was live music, and stayed there for the rest of the night.
There were fireworks every hour, each one more elaborate than the previous, leading up to midnight when a spectacular display lit up the night sky.
On New Year's Day, we took the bus to South Queensferry to watch the Loony Dook, where people dress up in hilarious costumes and walk into the freezing cold waters of the Firth of Forth. Admittedly, coming from Canada, I was not afraid to do this, but I was recovering from a cold and decided to be responsible. What really caught me by surprise was that so many people had come just to watch the Loony Dook - I'd much rather take part!
There's something magical about holding a torch - gazing at fire feels like a raw glimpse into our origins - and that was my favourite part of Hogmanay. At the Street Party, the hourly fireworks leading up to midnight were impressive, and I enjoyed the variety of entertainment, from street performers to DJs and live music. Most of all, it was amazing to share these moments with my friends!
Top Tips on: Edinburgh's Hogmanay
For the Torchlight Procession, I would recommend arriving early to be included in the final photo and to see the concert/fireworks at the end.
For the Street Party, wander around early but then find the stage that suits you best for the rest of the night (since it's difficult to move from stage to stage as the night progresses).
For the Loony Dook, plan your travel arrangements in advance, as we had to wait several hours for the bus back to Edinburgh.