18 year old Rebecca Weir is believed to be Scotland's first ever female coppersmith.
18 year old Rebecca Weir is making a real dent in Scotland's whisky industry – that's because she is believed to be the first ever female coppersmith. Rebecca joins a centuries-old tradition, handcrafting the giant copper stills that are at the very heart of Scotland's whisky-making process. One thing is for sure, Rebecca wasn't afraid of getting stuck into what has previously been a male-dominated industry:
"I wasn't put off by gender stereotypes – I don't think that should stop anyone from doing what they want to do. I thought it sounded really interesting and I knew I had to go for it. […] I'm the first female coppersmith in Scotland, I am proud of that! […] I'd like to encourage more girls to get involved because, although it's male-dominated, girls should have equal opportunity and should feel like they can come in and do the job just like the men could".
Rebecca's apprenticeship is a four-year programme and includes several different elements. As well as spending time at the copperworks in a hands-on capacity, she also spends much of her time in classrooms and lecture theatres, gaining a broad knowledge of engineering techniques. She knew that University wasn't really for her, and believes that Scotland's Modern Apprenticeship scheme was the perfect option.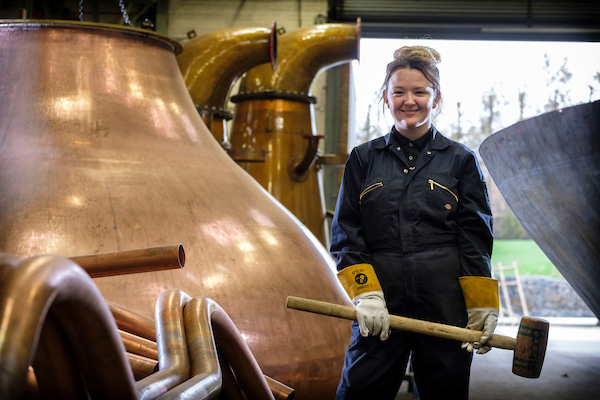 "I would definitely recommend an apprenticeship. Changing my mind from doing university to doing an apprenticeship is one of the best things that I've done. My friends and family were so happy and they were really supportive – so I think I've done the right thing. […] The most fulfilling part is when you see the final piece. You have your good days and you have your bad days but it all pays off at the end when you see the finished piece – you feel proud to be contributing to one of Scotland's most iconic industries".
The great thing about her job is that it also takes her all over the country, opening up parts of Scotland that she had never visited before. The stills from Diageo Abercrombie are sent to whisky distilleries around the country and Rebecca has already visited a fair few of them during her apprenticeship.
"In the past few years I've taken a bigger interest in Scotland than I have previously. There are a lot of places that I've been to see with my job, but also outside of work too. […] The thing I love most about Scotland is the scenery up north, there is so much to do – so many different places and sights".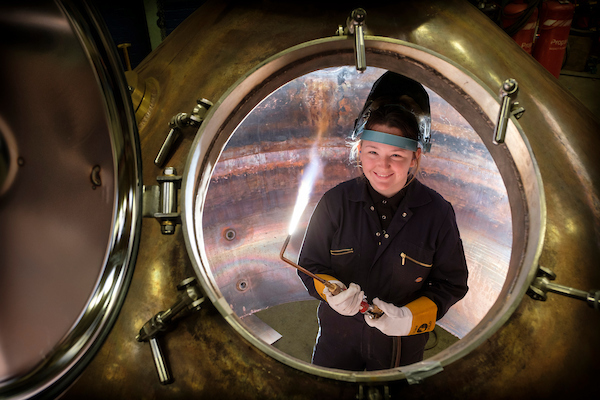 When asked what her main aim is after the apprenticeship ends and she becomes fully trained, Rebecca is quick to keep her feet on the ground. She admits that she just wants to learn as much as she can, do a good job and hopefully move up the career ladder. However, she also realises that she has an important role to play as the first of her kind in the industry, though she hopes it won't stay that way for long.
"I'd say one of my big aims is to inspire other girls to come into these types of industries. Why not come into an industry like this just because it's male dominated, it doesn't mean that they can do the job better than you can – if you try your best, you can do it".
Whisky in Scotland
With over 100 active distilleries in Scotland spread across five whisky regions, with many offering fascinating tours, there are lots of whiskies to enjoy and plenty of opportunities to learn how it's made. Each whisky has its own unique flavours and character and whatever your palate, we're sure there's one for you - you just have to taste a few to find it!
Scotland is Progressive. Scotland is Now.