Linda Lin, from Chongqing in the south west of China, is an investment manager for the Scottish investment powerhouse, Baillie Gifford, who've been operating out of Edinburgh since the early 1900's.
Linda is now responsible for Baillie Gifford's sizeable investment in China. She admits that although many people in China may not necessarily know the name Baillie Gifford, they have been active in the Chinese market for many years and are significant shareholders in many well-known Chinese companies such as Baidu, Tencent, Ali Baba and Ctrip.
Linda splits her time between Scotland and China, and can spend up to four or five months of the year travelling around China on business. Although she loves spending time back in her home country of China, she is quick to point out that Scotland has held a special place in her heart since the very first time she set foot in the country.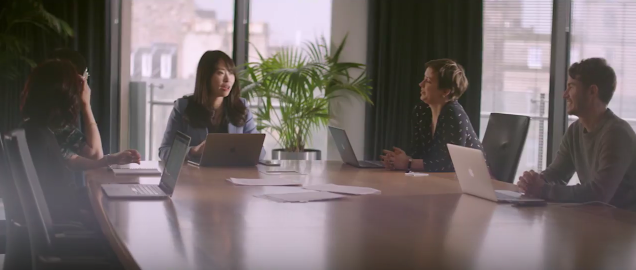 "My first time in Scotland was during a family holiday back in 2005 and it was a truly wonderful time. We travelled from Edinburgh to St Andrews and spent a few days in the Highlands – it was lovely. […] When I came to planning my postgraduate studies I found that Edinburgh is one of the most important cities for asset investment. There are a lot of very famous investment companies in Edinburgh, like Baillie Gifford, Standard Life, Aberdeen Asset and First State, so I chose to study in Edinburgh".
When asked what it's like to be an international student here in Scotland, Linda is very quick to talk about all the amazing experiences she had during her studies and how they played a part in her decision to stay in Scotland after graduating. In particular, Linda talks about the great places to eat and drink in Edinburgh, but also the way in which the city becomes one of the most exciting places to be during the festival months.
Linda concedes that she was slightly apprehensive when she first planned to come to Scotland. Her biggest worry was that the weather would dampen her spirits and stop her from enjoying the great outdoors. However, she was pleasantly surprised by what she found when she arrived and thinks that Scotland has the perfect balance of work and play for anyone.
"I think Scotland has a great work/life balance! If you think about how long you are stuck on some form of transportation when you are working in London, New York, Beijing, Shanghai, Hong Kong, but in Edinburgh you have a city that you can walk around in half an hour. I walk to work every day so I can enjoy the sunshine and I don't need to waste time travelling between home and work. Also, during the weekend there are lots of activities I can do, from hiking to golfing, horse riding, skating and so much more. I think Scotland is a wonderful place for you to have a balanced lifestyle".
Royal Botanic Garden Edinburgh
The Royal Botanic Garden Edinburgh (RBGE) was founded in 1670 as a physic garden. It is now a world-renowned centre for plant science, horticulture and education, boasting a rich living collection of plants.
For Linda, there is no doubt that, as her life progresses, she plans to spend more and more time right here in Scotland and she sees it as the perfect place for her family for years to come.
Scotland is Multicultural. Scotland is Now.