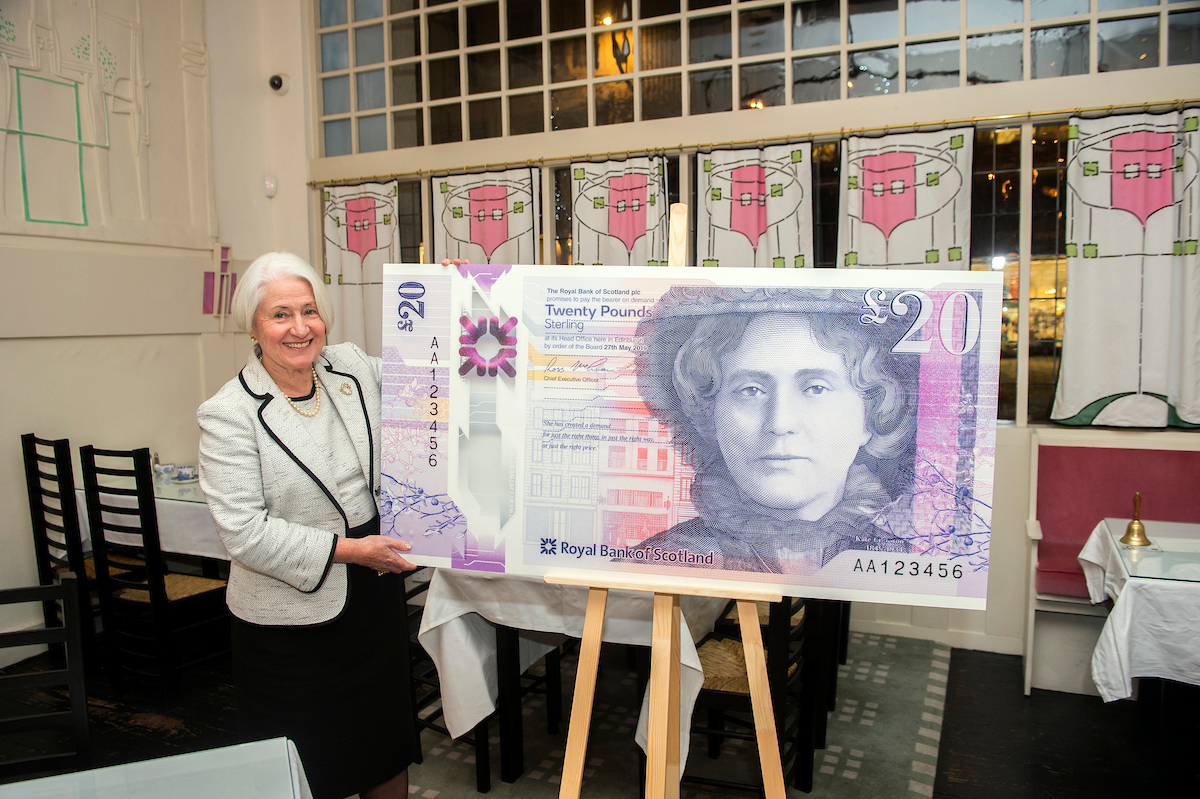 Of course, this is nothing new to the bank, which has long been an innovator in banknote technology. In 1727, the year RBS was founded, the bank issued the first note to feature a human face, a portrait of George II; in 1777 it became the first bank in Europe to issue multi-coloured banknotes (black, red and blue) and in 1826 it became the first British bank to issue a double-sided note.
Famous faces
Their new, polymer notes feature design ideas drawn from a countrywide People's Money consultation. While the reverse side of their new £5, £10, and £20 notes celebrate Scotland's open spaces and wildlife – featuring mackerel, otters, and red squirrels, the faces of the notes will celebrate Scottish women.
The £5 note will feature pioneering Scottish writer, poet and naturalist Nan Shepherd (1893-1981). Author of fiction and poetry, as well as a celebrated non-fiction book titled 'The Living Mountain' (1977) about her experiences walking through Scotland's famous Cairngorm Mountain range, Shepherd is today recognised as a major contributor to Scottish Modernist literature.
The £10 note carries an image of writer, mathematician and astronomer Mary Somerville (1780-1872). Famously lauded as the 'Queen of British science' upon her death, Mary Somerville was hugely influential throughout her life and was nominated to be the first-ever female member of the prestigious Royal Astronomical Society.
Up for the cup!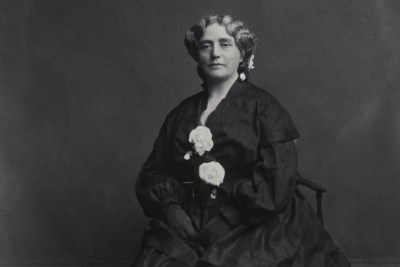 The new £20, due to go into circulation in 2020, celebrates one of Scotland's pioneering female entrepreneurs; Glasgow tea room queen Catherine 'Kate' Cranston (1849-1934), and her world-famous Willow Tea Rooms, in Glasgow's Sauchiehall Street.
A legend in her own right, Miss Cranston not only changed the way women socialised in Scotland, she also ushered in the pioneering interior look known as the 'Glasgow Style' through her patronage of architect Charles Rennie Mackintosh and his artist wife Margaret.
Before Miss Cranston opened her chain of Glasgow tea rooms, it was not the done thing for ladies to socialise without a male chaperone. Her business model, and visionary taste in modern design, freed-up a whole generation of modern ladies to break with Victorian and Edwardian convention and experience a new kind of freedom.
Ahead of her time
The daughter and sister of existing tea room owners, Miss Cranston used her business acumen and design flare to put Glasgow on the world stage and helped transform the city. Gone were the dim and dusty old-style meeting places, replaced by bright and airy interiors, light years ahead of anything found anywhere else in Europe.
Royal Bank of Scotland's senior archivist, Ruth Reed, added:
Not only was Kate Cranston revolutionary in how the tearooms offered women a place to meet unaccompanied by men, she is great example of how good entrepreneurship has a positive knock-on effect in so many other ways in communities, such as employing and commissioning local talent.
The driving force
Miss Cranston's entrepreneurial spirit is as alive today as it ever was. Her famous Willow Team Rooms have just reopened after a massive, £10m restoration project.
The driving force behind the tea rooms' renaissance is modern day Scottish entrepreneur Celia Sinclair, who has enjoyed a successful career in senior executive management and commercial property development.
Celia, who is chair of the Willow Tea Room Trust, was absolutely delighted that the image of Kate Cranston is featuring on the Royal Bank of Scotland £20 note:
She was serious about training – she ran all of her own courses and all her staff had to toe the line. She grew her own flowers for the tearooms, fresh foods were supplied by her own dairy. I think there were many women like Kate Cranston around at that time, but history simply doesn't remember them, but now I am glad to say we are with this very fitting tribute.
Banking on female talent
As well as providing space for tech start-up companies at its Entrepreneurial Hub, at its Edinburgh HQ, RBS also operates its own Open Experience Unit, which, via its 'Girls Can Code' employee network, aims to redress the gender imbalance in the Scottish tech sector.
The bank recently welcomed more than 200 businesswoman and female school students to its HQ to take part in its Growing Inclusive Leadership in Tech (GILT) conference.
While 15% of women work within the tech sector, figures from the Women's Engineering Society show that 95% of all leadership positions in the industry are held by men.
FinTech – financial technology – is already one of the fastest growing sectors of the UK economy, contributing £6.6bn to GDP in 2015 and employing over 61,000 people.
After London, Scotland already turns out the most FinTech-related graduates in the UK – 12% of the annual pool of 97,000 graduates.
Powering ahead
Alison Rose, CEO of the RBS's Business, Corporate and Commercial wing, believes that if Scotland wants to continue to strengthen its position as one of the best places to start and grow a business, then no-one can be left behind:
Statistics show that women make up only a third of all entrepreneurs in the UK. To better drive the UK's economy, we need to understand, and tackle the barriers and reasons as to why this is.
That's an ambition we're sure Miss Cranston would heartily approve of.