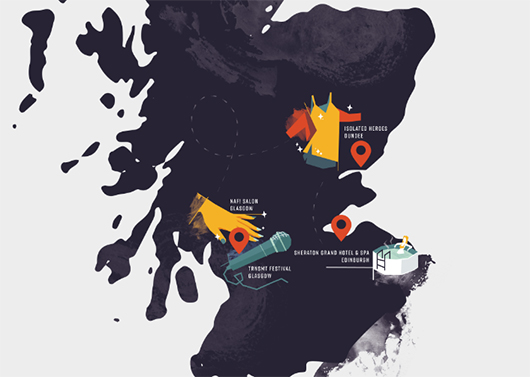 We recently welcomed our third lifestyle vlogger to Scotland to take part in their own #ScotStory. Lindsey Hughes is based out of Los Angeles and has a massive following of fans across YouTube, Twitter and Instagram. Lindsey's lifestyle mantra is simple, encouraging her hundreds of thousands of followers to 'live your best life'. Lindsey has over 400,000 YouTube followers alone, all tuning into her regular lifestyle and travel videos on her channel 'livinlikelindsey'.
Lindsey has been vlogging about her life for more than seven years and made the trip to Scotland in the hope of learning more about Scotland and her connections with the country. While she was here we introduced her to some of the amazing things Scotland has to offer everyone who visits. As well as running her livinlikelindsey channel, Lindsey also has a separate YouTube channel specific to fashion and beauty. While here Lindsey travelled to Dundee and Glasgow, sampling the very best of what each town is most famous for.
Day 1: Edinburgh
Lindsey arrived in Edinburgh and made her way right into the city for her first day in Scotland. Her accommodation for the night was the incredible Sheraton Grand Hotel in the very heart of Edinburgh. The hotel is situated directly opposite the famed Usher Hall and also has some jaw-dropping views of Edinburgh Castle. All of these incredible sights can be taken in from the Sheraton's rooftop pool and spa area. After a long journey from L.A. Lindsey got some time to relax and get herself ready for her first adventure the following day.
Days 2 & 3: Dundee
After a night of rest and relaxation, Lindsey was ready and raring to begin her Scot Story. First up was a two-day visit to Dundee, an hour north of Edinburgh. Dundee is Scotland's fourth-largest city, and was recently named the UK's first ever UNESCO City of Design. The honour was given to Dundee to acknowledge its various contributions to areas including comics, journalism, medical research and video game design. Amazingly, Dundee now accounts for a massive 10% of the entire UK's digital-entertainment industries. In 2018 the city will also become home to a new V&A Museum of Design. This will mark the first time that a design museum has been established in the UK outside of London and cements Dundee's place as a must-see Scottish destination, especially for design aficionados like Lindsey.
Alongside these impressive statistics, awards such as 'UK's coolest little city' (GQ magazine) and 'one of the hippest places to live in Scotland' (The Times), means it was an easy decision to start Lindsey's Scot Story here. Lindsey set up shop for the two-day stay at the fancy Urban Quarters, a collection of serviced apartments. These are situated right in the centre of Dundee's 'cultural quarter' and provided a great base of operations to explore the city. After the short train journey from Edinburgh, Lindsey headed out to meet Samantha Paton, founder of Isolated Heroes.
Isolated Heroes is a unique fashion brand started by Samantha after she finished university. She has grown from sketching designs in her bedroom as a child and has now become a fashion phenomenon. Over the course of the last five years Samantha and her designs have come to the attention of some of the world's biggest celebrities. Head stylist of the MTV Video Music Awards asked her to create signature pieces for the award show last year. On top of this, she can now count the likes of Miley Cyrus, Paloma Faith and Lily Allen as regular customers! Lindsey got to spend a few hours with Samantha talking about her unique style and, of course, trying on a few pieces.
The following day Lindsey got the chance to explore the city and soak up the atmosphere in Dundee. As you might expect, being labelled as a hotbed of design greatness means that Dundee has a plethora of quirky and inimitable sights. Recently, local student Russell Pepper decided to re-vamp Dundee's old and neglected doorways on hidden streets around the city. The result is some amazing street-art, including a piece created by Detroit designers 'Thing Thing'. The acclaimed designers visited the city to exhibit their work at the Dundee Design Festival and jumped at the chance to add to the 'exhibition'.
Days 4 & 5: Glasgow & TRNSMT Music Festival
After a couple of days enjoying the city of Dundee, Lindsey was ready to move on to the next stage in her trip. Another short journey, west this time, brought her to Glasgow for another two-day stay. Glasgow is a port city, situated on the River Clyde and is also Scotland's largest city. Among other things, it is famed for its Victorian and Art Nouveau architecture, a rich legacy of its 18th and 19th century prosperity due to trade and shipbuilding. Today Glasgow is a cultural hub and home to national institutions such as the Scottish Opera, Scottish Ballet and the National Theatre of Scotland.
As well as this, Glasgow also has a thriving music scene and is recognised as a UNESCO City of Music. Many of Scotland's most famous musical talents hail from Glasgow, including Texas, Franz Ferdinand, Belle and Sebastian and Paolo Nutini. Glasgow is also home to the TRNSMT music festival, a weekend long festival that takes place on Glasgow Green. The festival was the main reason for Lindsey's trip to Glasgow, but we also managed to squeeze in as much of the city's culture as we could into a short stay.
After checking into Hotel Indigo, a unique boutique hotel in the heart of Glasgow's city centre, Lindsey's first stop was at the NAF! Nail salon. NAF! is not your average salon; if you're feeling in the mood for a chic manicure, some intricate nail art or something in between, NAF! are there for you. They are a locally-run business that prides themselves on their distinctive nail skills, friendly chat, fab customer service and, of course, catchy playlists.
Over the next two days, Lindsey immersed herself in the music festival, but also made sure to take some time to explore the city. Lindsey spent her evenings dancing and her days discovering the city. Amongst the must-see areas are Glasgow's West End, home to the historic University of Glasgow, the picturesque Botanic Gardens, Kelvingrove Park and Charles Rennie Mackintosh's Mackintosh House. As well as this Lindsey also explored one of Glasgow's oldest areas, Merchant City. The area dates back to the 1750s when it was home to the warehouses of wealthy merchants. Today the merchants' warehouses have been turned into cool boutiques, art spaces, bars, restaurants and loft apartments.