"Awesome coastal trails, wicked wildlife watching and fabled fish and chip shops - [visitors can spend the day] spotting otters and orcas from craggy headlands, then ease into the evening at one of Lerwick's local pubs".
Praising the multitude of amazing experiences scattered across the archipelago, the Lonely Planet was quick to single out some of the hallmarks of Scottish island life; where time moves more slowly and visitors can spend the day embracing everything it has to offer.
We may be a little biased, but we weren't surprised Shetland secured such a prestigious accolade, after all, Shetland is an incredibly beautiful place. Brimming with birdlife and archaeological remains, it also boasts a unique cultural identity shaped by the Vikings.
Above all It's also a great place to live, thanks to low pollution levels and well-performing local industries in the fishing, agriculture and energy sectors. In fact, it regularly features in and has taken the top place in the Bank of Scotland's annual Quality of Life survey.
Find out more about Shetland and the Top 10 Lonely Planet Best in Europe on VisitScotland.com
But all these things which make this group of islands so appealing to both visitors and residents are by no means unique to Shetland. The same could be said of almost all of the outer islands in Scotland where the natural beauty is unparalled and the heritage sites some of the finest in the world.
Lets cast the limelight on Shetlands two closest contenders: Orkney and the Outer Hebrides. Although not nearly as remote as Shetland, both groups of islands offer that same edge-of-the-world experience spent roaming perfect beaches and windswept cliff tops, exploring ancient archaeological sites and getting up close all kinds of wildlife. Read on for taster of the places and attractions every first-time visitor should know about.
Orkney

The Ring of Brodgar at Stenness, Orkney
This windswept archipelago brims with history and wildlife. Horse-riding and wildlife-watching to world-class diving; a history that stretches from World War II and back to the dawn of civilisation – you can experience all this without leaving Britain, in the archipelago that lies just beyond mainland Scotland.
It is comprised of 70 islands and skerries, of which 20 are permanently inhabited. In addition to the Orkney Mainland there are three groups of islands. The North and South Isles lie respectively north and south of Mainland.
Find out more about Orkney at VisitScotland.com
The Orkney Mainland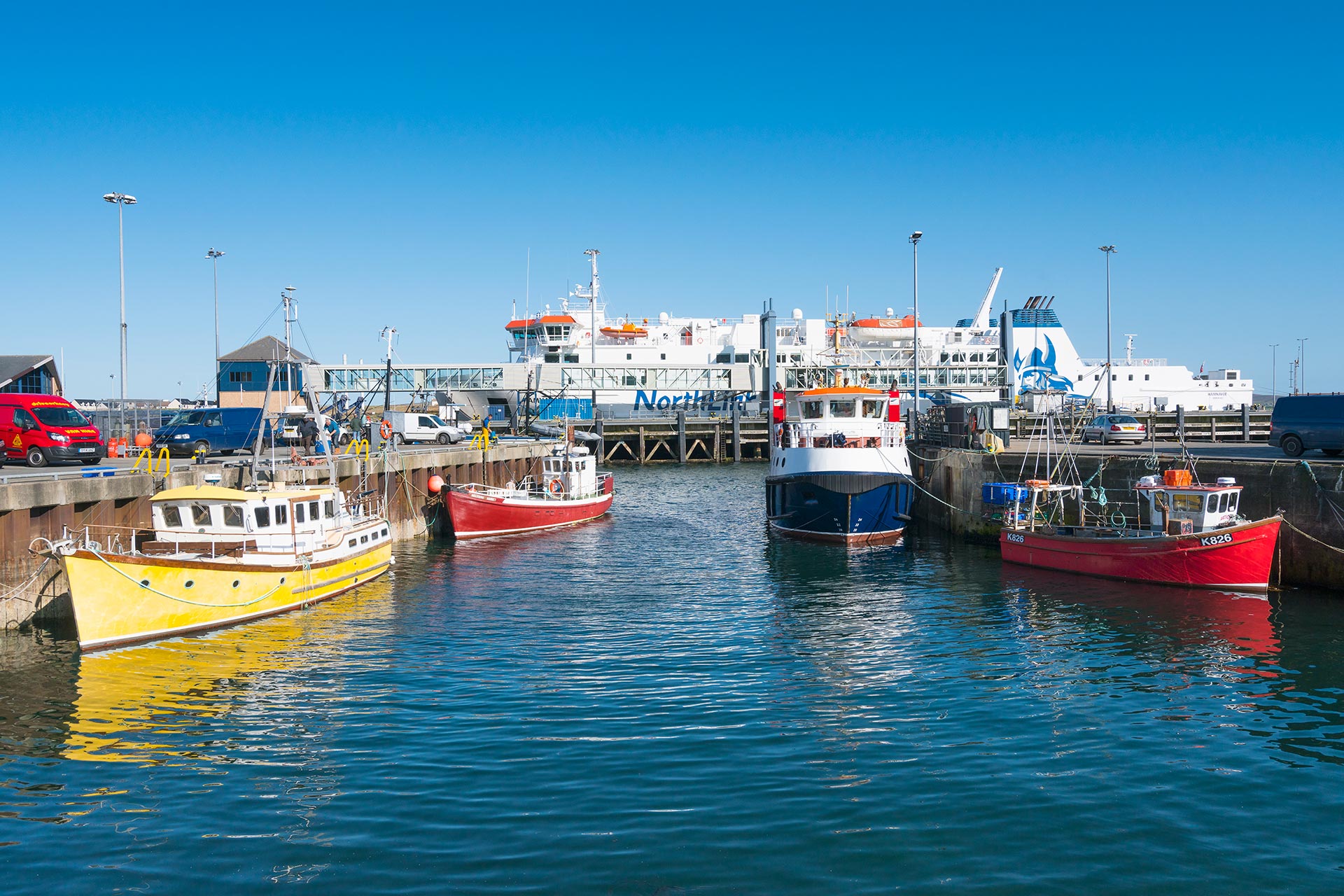 Stromness Harbour, Orkney
Kirkwall is the antithesis to buzzing metropolis, which is, of course, its main appeal. It is the location for the northernmost cathedral in Britain: St Magnus, named after Magnus Erlendsson, the 11th-century martyr. Just across the road, you can explore a pair of ruins: the Bishop's and Earl's Palaces. These elaborate structures speak of the tangled history of Orkney, tussled over by Norse and Scots warriors. Like many Orkney sites, the palaces are open only in summer. Another intriguing attraction is the Wireless Museum.
Follow the road from Kirkwall to Stromness to find a trio of sites that reach back 5,000 years: the Standing Stones of Stennes, the Ring of Brodgar, and Maeshowe, a burial site constructed five millennia ago.
Learn about Orkney's ancient inhabitants at Skara Brae, an excavated Stone Age village. This huddle of tiny pod-like homes is remarkably well preserved thanks to a blanket of sand, which protected the village for thousands of years until a fierce storm revealed it in 1850.
Explore Burray and South Ronaldsay, two islands connected to the Mainland by causeways, constructed by Italian prisoners during the Second World War. They provide protection for Scapa Flow – the vast, deep natural harbour guarded on its south-west flank by Hoy. Don't miss the pretty port of Stromness, to the west of Mainland, and the arrival point from Scrabster on Scotland's north coast. Learn about its seafaring history at the Stromness Museum and pay a visit to the welcoming Pier Arts Centre in Stromness, the former offices of the Hudson's Bay Company and now a gallery and community hub.
Find out more about Orkney's Mainland at VisitScotland.com
Hoy & the North Isles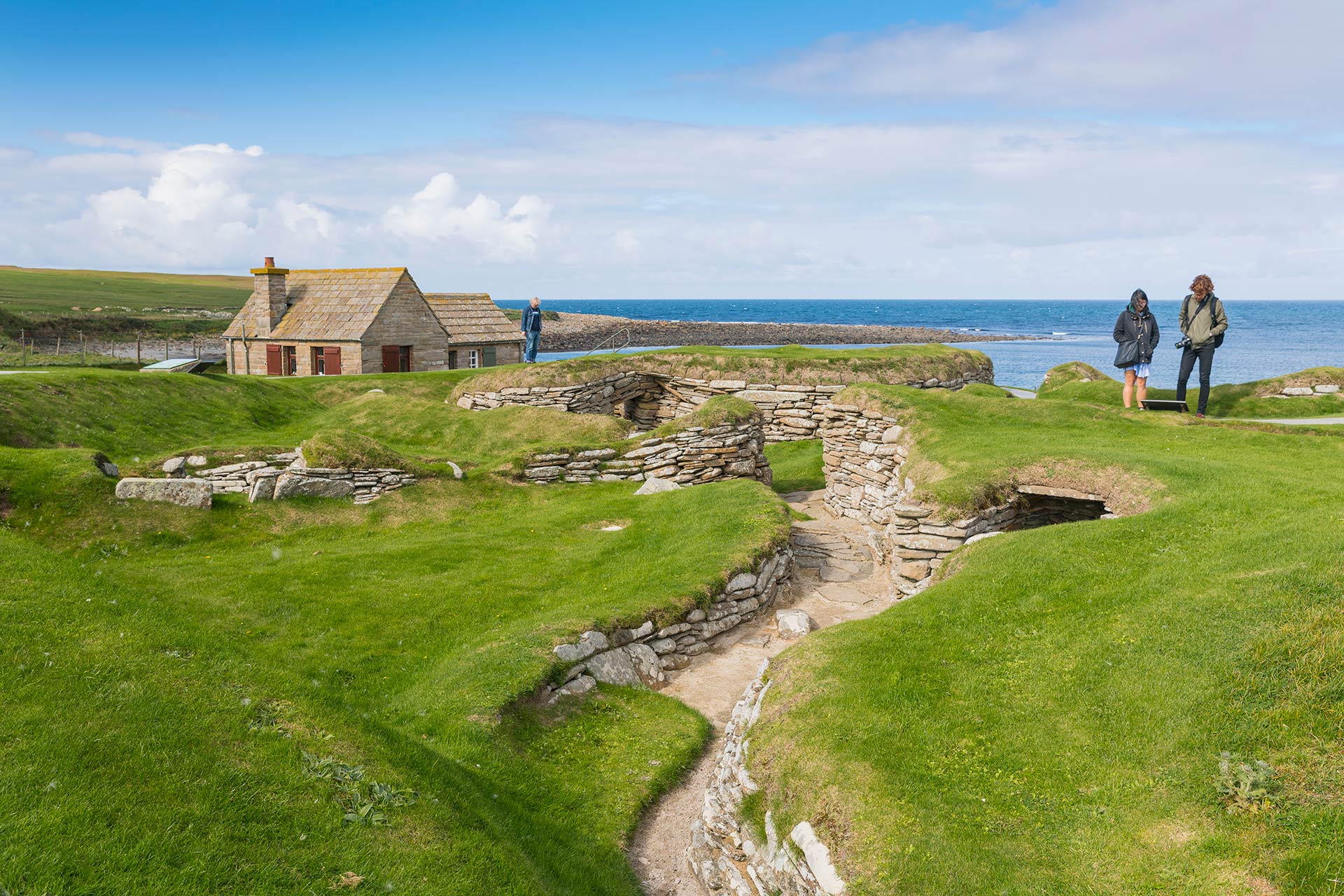 Skara Brae by the Bay of Skaill, Orkney
Orkney's second-largest island, Hoy is distinct because of its dramatic terrain – rising to the archipelago's highest peak, the 1,571ft Ward Hill. Close by are the highest sea cliffs in Britain, and out at sea the 450ft stack, the Old Man of Hoy.
The North Isles including Shapinsay, Wyre, Egilsay and Rousay are sparsely populated but perfect for keen birdwatchers and those seeking true peace and tranquillity. Discover the pristine sandy beaches of the aptly named island of 'Sanday', watch the waves crash against North Ronaldsay Lighthouse, and see the Orkney's oldest archaeological site on Papa Westray at the Knap of Howar, one of the oldest houses in Europe, dating from 3,500 BC. The 21st-century claim to fame is the air link to Westray, the shortest scheduled flight in the world.
Further north and east, Eday is notable for its airstrip which can provide access to the island for a day visit. Follow the Eday Heritage Walk through locations inhabited for 4,000 years such as the Fold of Setter.
Westray is among the most enchanting and accessible of the northern isles. You can reach it from Kirkwall in about an hour by ferry, or 12 minutes by air (20 minutes if the plane goes via Papa Westray). Explore sandy beaches and great coastal walks while staying in one of several cosy properties.The old school has been converted into the Westray Heritage Centre. Here you can see some of the island's archaeological treasures.
Find out more about Hoy at VisitScotland.com
Scapa Flow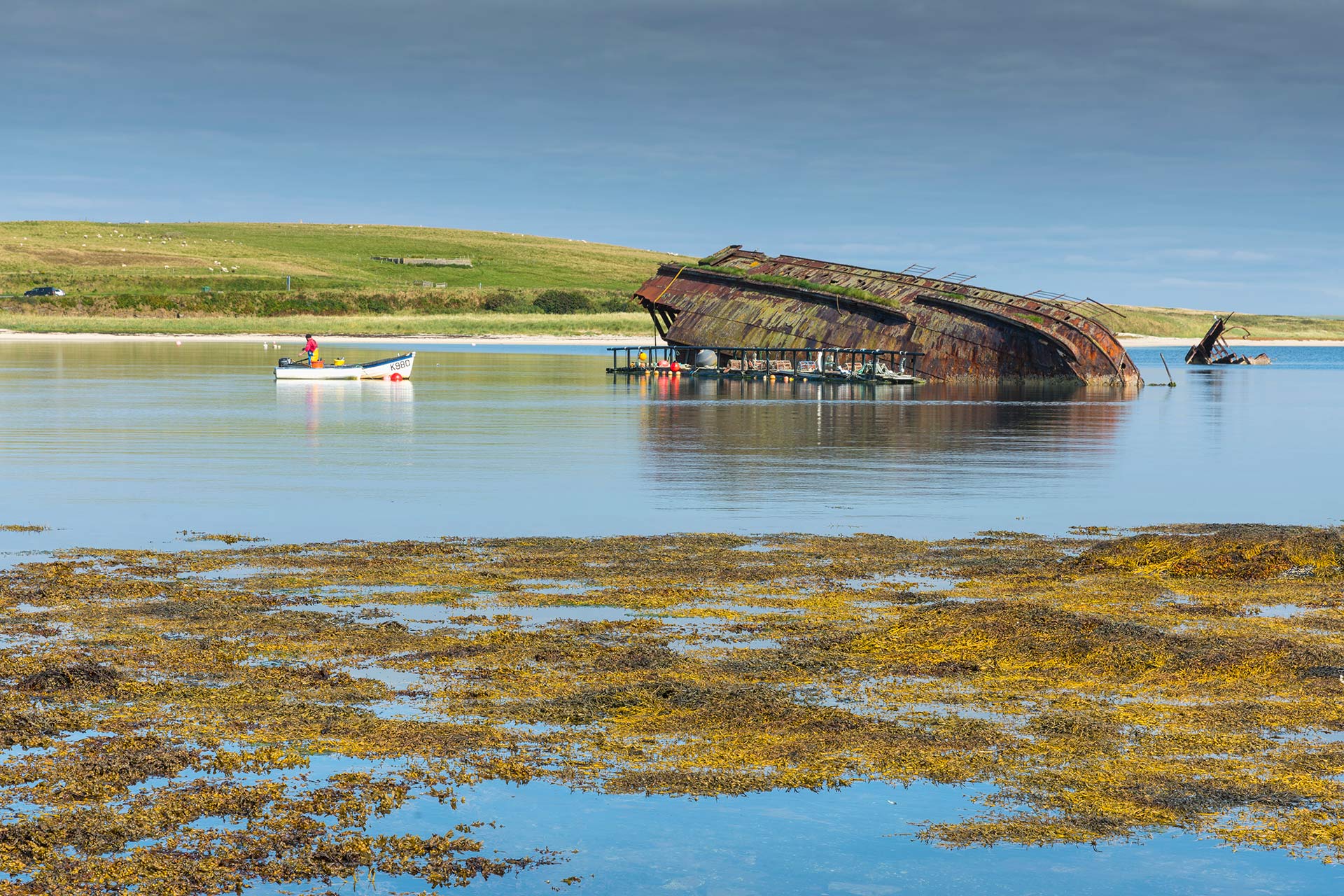 The Churchill Barriers at Scapa Flow, Orkney
Orkney's occupied a key strategic location during the First and Second world wars. The islands lie on the key shipping route around the north of Britain and the huge expanse of Scapa Flow provided a safe harbour. Lord Kitchener met his end, along with 640 other men, off Marwick Head on the north-west coast of Mainland. A memorial looks over the location; you can walk from the road in about 20 minutes.
After the First World War, a substantial contingent of the German fleet was held in Scapa Flow while peace negotiations were concluded in Versailles. Admiral von Reuter ordered his 74-strong fleet to deliberately sink or 'scuttle' themselves rather than surrender. Scapa Flow was also the site of Orkney's greatest tragedy: the sinking of HMS Royal Oak a few weeks after the start of the Second World War. Today a great green buoy marks the site of the wreck.
While officially designated as war graves, the site of the sunken German fleet is, however, open to experienced divers. Most dive operations are based at Stromness with other options listed by the Orkney Dive Boat Operators' Association.
Find out more about Scapa Flow at VisitScotland.com
The Outer Hebrides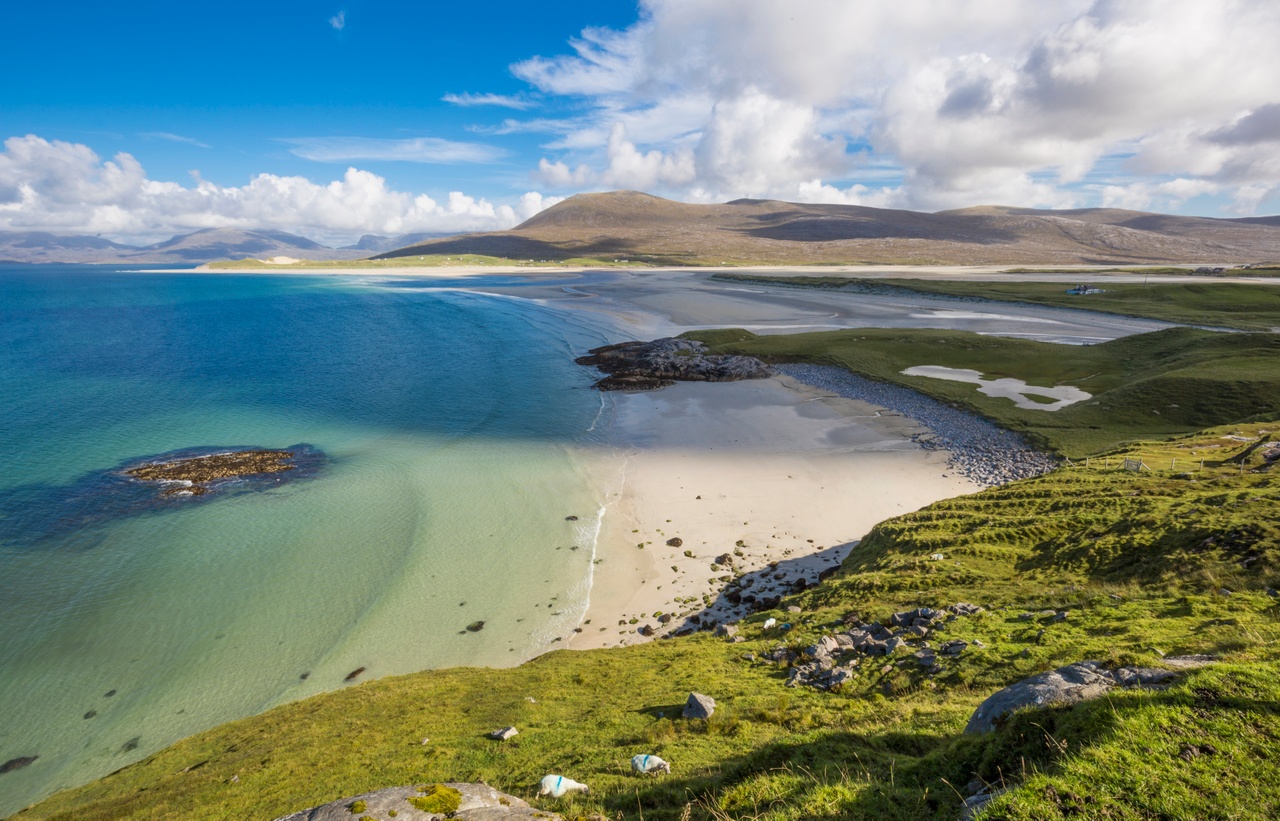 Luskentyre Sand, Isle of Harris
The Outer Hebrides are a thread of islands stretching 130 miles off the northwest coast of Scotland. Steeped in 5,000 years of UNESCO recognised heritage and endlessly photogenic, these iconic islands have never been more accessible than they are now. Rough Guides even included them in their list for the World's Greatest Road Trips for 2017.
There are 119 islands in total, but the five major inhabited islands are Lewis and Harris, North Uist, Benbecula, South Uist and Barra. Here is what you can expect on each.
Find out more about the Outer Hebrides at VisitScotland.com
Lewis and Harris

The Callanish Standing Stones, Isle of Lewis
Often described as two separate islands, Lewis and Harris are in fact two halves of the largest island in Scotland. Hailed as one of the top five islands in the world by a 2014 TripAdvisor poll taken from the votes of millions of travellers, it also secured the No.1 spot for favourite island in Europe - and it's not hard to see why.
Both parts of the island are places of extraordinary beauty, with glittering lochans, rolling dunes and machair, jutting peaks and some of Britain's most breathtaking beaches.
They're also a treasure trove of prehistoric wonders – the Callanish Standing Stones among them – and renowned for their world-famous handcrafted Harris Tweed. In fact, the Western Isles is the first region of the UK and only the second in Europe to be awarded World Craft City status, all thanks to Harris Tweed.
Find out more about Lewis and Harris at VisitScotland.com
North Uist & South Uist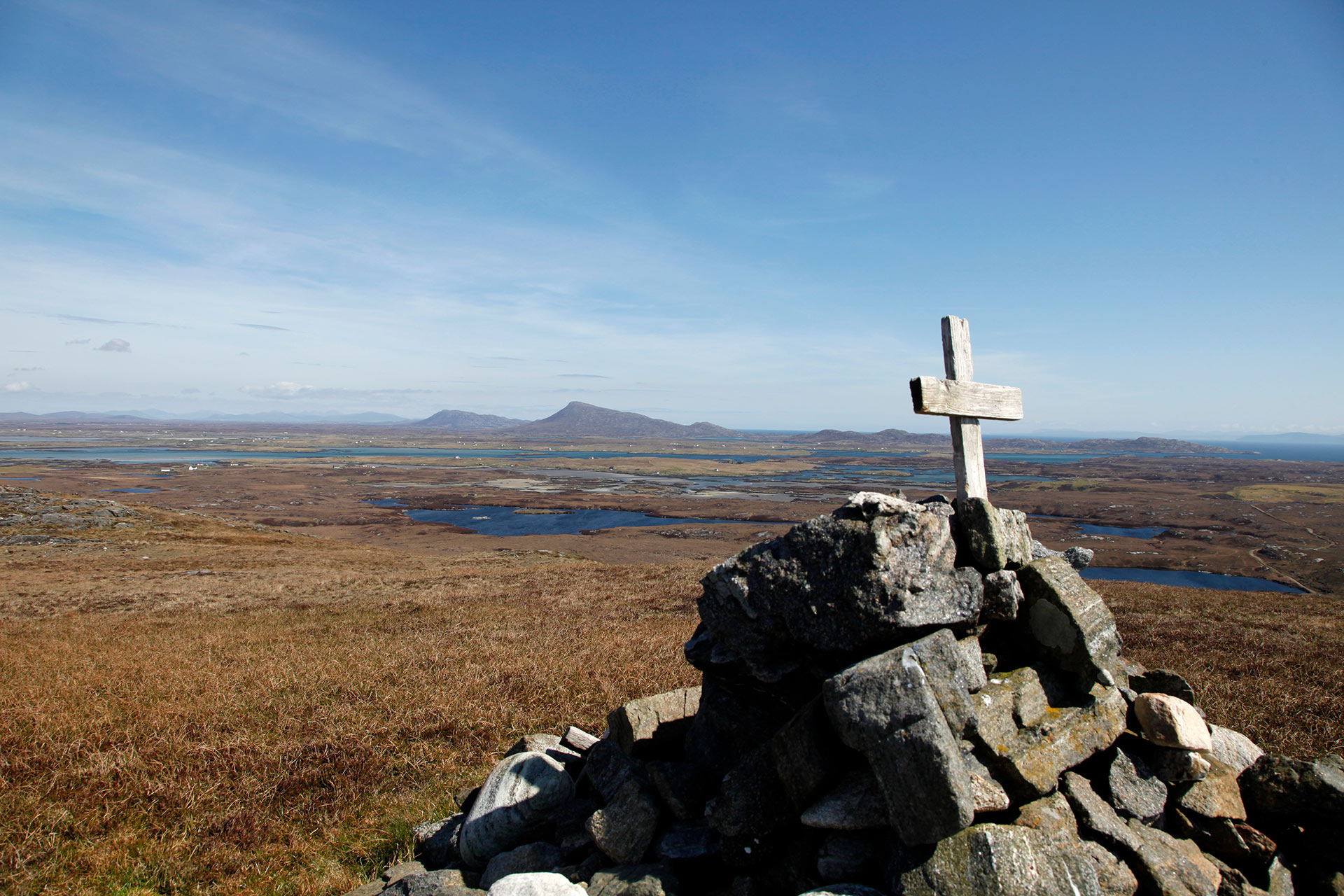 Viewed from the air, at first glance North Uist looks like an island entirely submerged by water. On the ground you are met by peaceful and fertile landscape that offers a less bracing alternative to the wild and hilly terrain of neighbouring islands such as Harris.
Its gleaming lochs and watery bog teem with trout and wading birdlife, while its outer edges are a beautiful vista of jagged rocks, white sand and aquamarine sea. It's the perfect antidote to the hustle and bustle of the daily grind. Head towards its north and west coasts for its most impressive beaches.
The far-flung island of South Uist is as remote as it is beautiful. Located on the western edge of Europe, South Uist is famous for its pure air and ever-changing skies. Dramatic and foreboding one minute, the sudden rays of sunshine transform this windswept outpost into an idyll of bleached beaches, turquoise sea, sparkling coves and brightly coloured delicate wildflowers.
Dominated by a remarkable array of rare birds, South Uist also boasts a rich human heritage. Follow in the footsteps of ancient inhabitants and vikings at remarkable archaeological sites, and discover a gentler pace of life practiced by the current generation of islanders who, stone thatched crofts and tiny villages, maintain many of their traditions and Gaelic language.
Find out more about North Uist at VisitScotland.com
Benbecula & Barra
Located between North Uist and South Uist, Benbecula is linked to both islands by causeways and bridges. Pancake-flat, dotted with lochans, centuries-old crofts and gently bobbing fishing boats berthed in the natural harbours, Benbecula possesses a stark beauty that draws anglers, birdwatchers, walkers and curious travellers. Take it all in from the top of Rueval (124m), the island's highest peak.
It's not every day you get to experience an aircraft landing or taking off from a beach, but for Janet, who works at Barra Airport, and her fellow islanders, the dazzling white sands of Tràigh Mhòr are exactly that: a runway for what is believed to be the world's only scheduled beach landing by a commercial aircraft. It's a unique introduction to Barra, an island which encapsulates so much of what makes the Outer Hebrides a true bucket-list destination.
Beautiful beaches, undulating dunes covered in sprouting wildflowers, rugged peaks and a tight-knit community with a proud heritage; Barra may measure just 14 miles in circumference, but it still packs an iconic punch.
As well as this, the island is the star of the book and movie 'Whisky Galore', about a ship carrying 20,000 cases of whisky that wrecked off the island's coast. the story is based on true events, and the local pub even has a few bottles stashed away from the real-life shipwreck that inspired the book. In short, its the perfect place to begin your Outer Hebridean journey.
Wandering the unspoiled terrain dotted with picturesque ruins, from crumbling cottages to a medieval kirk to Iron Age hill forts, discover an ancient sense of calm, rare in the modern world, before ascending the summit of Beinn Eolaigearraidh Mhòr for one of the finest views of the Outer Hebrides.