Growing up in Scotland and spending many summers taking in the Edinburgh Festivals, high school English teacher, Rory Brown, never imagined that one day he would actually take to the stage for a performance of his own.
Raised in the small town of Glenrothes, just across the River Forth from Edinburgh, Rory Brown had plenty of opportunity to soak up Edinburgh's world-famous festivals whilst growing up. However, his earliest memories of being in the city during the month of August were of intimidation at the sheer size and scope of what he saw – countless faces, costumes and accents from around the world all coming together for one month of revelry.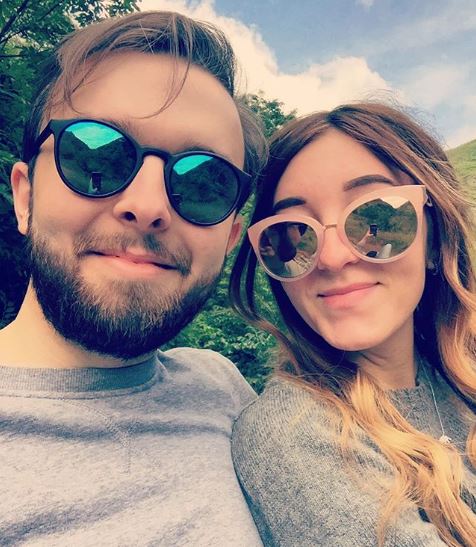 Now 27 and working as an English teacher at Broughton High School in the city, Rory has a completely different outlook on the incredible diversity the festivals bring to the city. These days, you'll find him soaking up everything they have to offer and doing his very best to squeeze in as many shows as he possibly can.
As a lover of books and Scotland's literary past, one festival has always been a little closer to Rory's heart than the rest – The Edinburgh International Book Festival. This year, the festival's significance became even more intense, as, for the first time, Rory achieved a life-long dream of moving from spectator to performer.
"I have always been in awe at just how manic and exciting it all is. I now make sure I go every year, especially to the Book Festival. The quiet brilliance of Charlotte Square is really something to behold – I think it might be one of my favourite times to be in the city".
Rory's appearance at the festival was to discuss an innovative new project involving a group of young male students at the school where he works. Together with an organisation called The Superpower Agency, Rory's students are being challenged to think about what it means to be a man in today's society: the pressures, concerns, role models and definitions of success.
The initiative has been quite a success so far – helping close the attainment gap between boys and girls, at the same as time as improving their verbal literacy skills. Despite the success of the project, Rory was still astounded to find out that he would be walking out onto stage to face an audience of more than 200 people.
While he'd dreamed for many years of being a part of the Book Festival, he'd always imagined it would be a part-time position in the bookshop or working in one of the bars. Where his co-panellists for the night were well-seasoned in the art of performing to a large crowd, Rory had never before taken part in such an occasion, and it's fair to say he was a little daunted by the prospect.
"To be honest, when Gerald from the Super Power Agency asked me to take part I don't know that I ever imagined it would actually happen. To walk out onto that little stage, in front of more than 200 people was like nothing I'd ever experienced. I have to be honest; I was utterly terrified – and both my co-panellists were poking fun at the fact that I was so nervous. However, once we got started, everything started to flow, and we had a really honest and interesting conversation".
Of course, Edinburgh has an incredibly proud literary history that stretches back many centuries – so it makes sense that the Book Festival has become such a hit with authors and audiences from around the world. The first UNESCO City of Literature, Edinburgh has inspired everyone from Robert Louis-Stevenson and Sir Walter Scott to Irvine Welsh and Iain Banks.
Binging on the classic and contemporary novels that had Edinburgh at the heart of their story, Rory has always been fascinated by the fact that he could read about a location in the pages of a book and then actually visit the place right after. It is this fascination that played a large role in his decision to study at the University of Edinburgh, as well as come back to teach here at the first opportunity.
In performing at the Edinburgh International Book Festival, Rory has joined a list that includes such literary luminaries as Margaret Atwood, Toni Morrison, Ian Rankin and J.K. Rowling. Being mentioned in the same sentence as these incredible individuals, it is fair to wonder how he feels to be amongst such esteemed company?
"I don't think I'll ever forget the feeling of sitting in the authors' yurt, with my author lanyard, marvelling at just how surreal it all was. Of course, this wasn't helped by the fact that the space was filled with the faces of the very people I had spent much of my life reading in school or university. As if that wasn't enough, as I was sat there minding my own business, First Minister, Nicola Sturgeon wandered in and sat down nearby – like I said, utterly surreal".
So, with a relationship with Edinburgh that now spans living, working, studying and now performing, Rory appears to be in the perfect position to provide insight into just what makes the city, and the country, so special
"Edinburgh is just so welcoming, and the festivals bring an added level of inclusivity and diversity that is unmatched anywhere else. The city is the perfect size to get around with little effort and there is always something exciting going on around every corner. It also helps that you can walk from one side of town to the other in 30 minutes and you're never far away from something old and beautiful. I simply can't think of a time or a place that I've ever been in Scotland and not felt welcome".