Our national drink has been perfected by a process that spans back over 500 years and is enjoyed today in more than 200 countries around the world. From the peaty smokiness of an Islay malt to the lighter sweetness of a Speyside dram, with more than 100 unique distilleries there's a whisky to suit every taste.
While whisky may be one of Scotland's most recognised and best-loved exports, the process of producing the "water of life", as it is fondly known, may be less well-known. Situated at the very heart of the whisky-making process are the ornately shaped stills. Anyone who has ever visited a distillery can confirm that you become immediately in awe of the warm orange glow of the copper still when entering the still house.
Amazingly, the stills are handcrafted and almost no two stills resemble each other, although some details are always the same. Rather than being machine produced, the stills are created by the hands of incredibly talented coppersmiths. This most traditional of crafts, which was historically male-centric, recently achieved a new exciting first in the form of 18 year old Rebecca Weir. Rebecca is believed to be the first-ever female recruit onto the coppersmith trade in Scotland. She will join a long line of coppersmiths who have been using the same tried and tested methods to create the stills for many centuries.
Rebecca said of her new career:
"I wasn't put off by gender stereotypes – I don't think that should stop anyone from doing what they want to do. I thought it sounded really interesting and I knew I had to go for it. It's really exciting to be part of something which is so important to the whisky industry, I can't wait to get stuck in"
Rebecca, from Alloa, will be taking up the hammer and torch after Diageo Abercrombie recruited her as an apprentice coppersmith. Diageo Abercrombie is Scotland's oldest copperworks, having produced copper stills since way back in 1790. As an apprentice, Rebecca will learn how to hand-beat copper sheets and weld them into whisky stills. As well as this she will also be trained in state-of-the-art computer aided design techniques, mastering a blend of strength, skill and patience.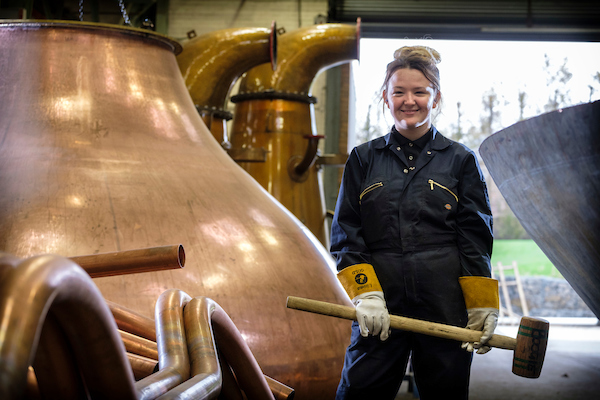 The new apprentice has a long journey ahead of her, with coppersmith skills taking up to 10 years to fully master. Rebecca's on-going training, which integrates college qualifications with hands on experience, will allow her to learn about the traditional coppersmith craft which has historically been passed from generation to generation. While a traditional product, whisky is still innovative and new ranges – which require stills in all different shapes and sizes - are constantly being launched.
Traditional copper pot stills are an integral part of the whisky production process. Every distillery in Scotland has different shapes and sizes of stills, and this plays a crucial role in creating the different characteristics of the spirit produced at each distillery. This means that each still has to be precision-crafted to ensure it exactly matches the still or section it is replacing. Hand-crafting with large wooden mallets and hammers remains at the core of the coppersmith's art.