Meet:
Chris Dyer
Part archaeologist, part crofter, part firefighter, part coastguard, Chris does it all. But what drove this Englishman to the northern extremities of Scotland and convinced he and his wife to start a new life in the Shetland Islands?
"I was born and grew up roughly 25 miles north of London. Every year, my family would make the trip to Arran, so our summers would be spent, fishing, bird watching and cycling in Arran and Kintyre, Islay and Gigha. My love for Scottish islands was born then!"
Chris Dyer has always had an interest in the past – so much so that he has not one, but two degrees in the subject. For more than 20 years now, he has worked in professional archaeology and is an accredited associate member of the Institute for Archaeologists (ACIfA). His career has taken him to sites across the UK as a field worker on various excavation sites.
However, after living in Yorkshire, England for a period, Chris's life took a surprising turn in 2006 when he was offered the chance to become Assistant Archaeologist for the Shetland Amenity Trust. Since moving to Shetland and specifically the island of Bressay – which has a population of just 350 people – he's been involved in the promotion, curation and interpretation of Iron Age, Viking and Twentieth Century military sites of historical interest. In this role he delivers an engaging series of walks and talks across the length and breadth of the islands.
Now, Scotland's Shetland Islands may seem like a far cry from city life – and you wouldn't be far wrong, as the islands are closer to the Arctic Circle than they are to London – but they are the perfect location for archaeologists like Chris Dyer. Shetland is home to incredible Neolithic sites that date back more than 6000 years, with many of these still in remarkable condition. It's fair to say that the chance to work in close proximity to these unique areas was a huge factor in Chris's decision to move here.
"The landscape is a tapestry in Shetland – over 6000 years of human history from Neolithic homesteads, Bronze Age burnt mounds, Iron Age brochs, Pictish wheelhouses, Viking longhouses, medieval castles and modern crofting vernacular architecture. The island of Bressay has it all".
Despite the wealth of archaeological sites that abound across the island landscape, Chris still manages to contribute to many other facets of island life. Living in such a small community, he loves the fact that there is such a close-knit feeling amongst the people, with everyone chipping in where necessary to ensure a smooth way of life.
What this has meant for Chris is that, in between his archaeological commitments, he has acted in many different roles on the island. Amongst these, Chris can add to his list of jobs his positions as a retained firefighter and volunteer coastguard, but it's all just part of island life. Everyone knows everyone else and so, when something is required or a post needs filled temporarily, there is always someone ready to step up and help out.
"The ferry is part of the daily commute and you naturally meet islanders going to work, school etc. This is a pleasant part of island life as people are brought together a couple of times a day on the ferry, back and forth to the island and news is exchanged and conversations had. I think being interested and enthusiastic in professions and practices creates a bond with the landscape and with the people – and that's something I've found important as an incomer to a community".
Perhaps chief amongst Chris's non-archaeological commitments is the work he does running the incredible Garths Croft. Purchased by him and his wife in 2014, Garths Croft is an impressive stretch of farmland that concentrates on native and heritage animal breeds, self-sufficiency and sustainable agriculture.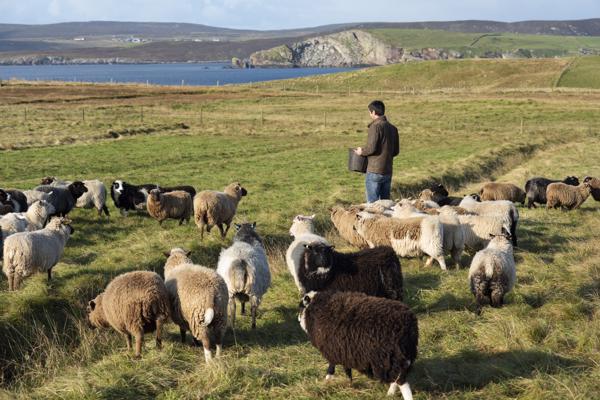 Crofting, in its simplest form, is a type of small-scale subsistence farming, consisting of a piece of land, with a house and some arable land as well as grazing space for several animals. Traditionally, crofters in Scotland would have kept sheep, cattle, hens and perhaps pigs and ponies and the crops would have been made up of root vegetables like potatoes, carrots and turnip as well as grains such as barley and oats.
Chris's love of farm life stems from his time living and working in Yorkshire, where he would volunteer on a farm in the Yorkshire Wolds during his spare weekends. After moving north to Shetland, Chris continued this passion at a local farm on the island of Bressay, acquiring experience during busy lambing and shearing seasons. Now, since taking over Garths Croft, Chris's passion has continued to flourish as he has branched out into different aspects of agricultural life.
"I supply sustainable produce to a number of local businesses and deliver this produce by hand in a cool box. It's pretty cool getting to deliver sustainable food on foot and by hand direct to the door of the restaurant – and not only that, the meat we produce travels only two miles, meaning it's better for the planet too!"
Garths Croft is so much more than just a supplier of fine, locally sourced produce. Since taking over the croft, Chris has built more than 500 tons of drystone dykes – by hand – providing shelter for newly planted woodland and creating an environment that allows nature to thrive. The development of a greenhouse structure also provides the opportunity for Chris and his family to be largely self-sufficient in terms of fruit and vegetables.
As well as this, the couple have also diversified the croft to welcome visitors to the island who are keen to experience island life. Thanks to his combined set of skills and experience, today a visit to Garths Croft provides the unique opportunity to experience an exclusive walk through history and the traditional agricultural year. It is a place where you can sift through fleeces and see the principal tools and equipment that are used by a traditional Shetland crofter.
Unfortunately, as with many places around the world, Shetland has not escaped the impact of the coronavirus outbreak. From having to cancel or postpone many of their own bookings for the year to restaurant and hotel closures meaning they can't sell as much of their wonderful produce. However, despite these setbacks, Chris remains positive and upbeat, using the time to undertake various improvements around the grounds, so that when visitors are able to come back – they'll get a better experience than ever.
"I've been using the time to lay flagstone paths and build more dry-stone enclosures and seating areas to protect and benefit newly planted trees, alongside animal husbandry and crop planting. Many things and timings in the agricultural year continue unaffected – lambing has just finished and I've had a sow farrow with colourful piglets."
With such a unique existence on the remote island of Bressay, we knew that Chris had to have an interesting anecdote to share with us of his time since his move – and he didn't disappoint…
"Shortly after my wife and I purchased the croft, there was a knock at the door one October night. A neighbour and his wife had come to the door and said they had a croft-warming present. Brilliant, I thought, it's perhaps a good bottle of whisky. But they said, no, it's in the trailer. We put on hats and coats and inside the trailer were two ewe lambs from the island of Foula, 25 miles out in the Atlantic, where my friendly neighbour had been working for Scottish Water. He'd got talking and befriended a local crofter and brought these two sheep to us, via two ferries and a road trip!"
This wonderful story left us with only one last thing to enquire of Chris – how would he describe Scotland to someone who had never been here before?
"A welcoming community; celebrating heritage traditions but outward looking and enthusiastic to embrace friendships across Europe and beyond".
Well said, Chris. Well said.