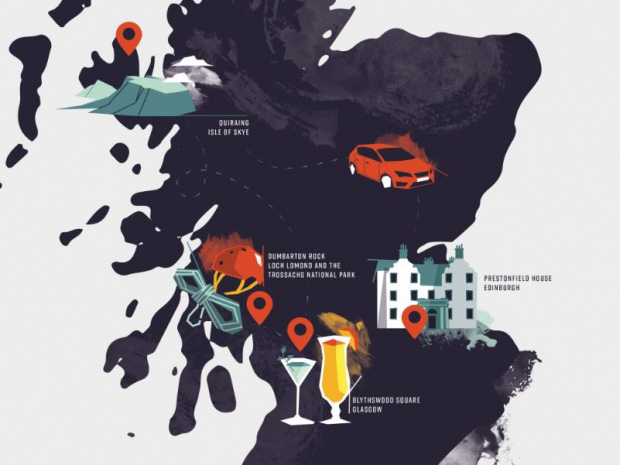 click on the map to view in full
We welcomed US-based vloggers Mark Miller and Ethan Hethcote across the pond for the latest instalment of Scot Story. As avid hikers and climbers, the boys made the trip from L.A. to sample some of the breath-taking hiking routes and unforgettable climbing locations. The two explorers brought their unique skills (and drone) to our fair shores to capture their exploits.
Mark and Ethan were recently referred to as 'an online power couple'. Technology has played a huge part in their relationship, and was actually responsible for the two getting together - through Facebook's 'people you may know' algorithm.
Mark has long held a desire to explore Scotland and jumped at the chance to visit. Ethan revealed that Mark had been talking about Scotland for years and that whenever the question of 'If you could go anywhere' would come up, the answer was always Isle of Skye in Scotland. With that in mind, we challenged them to bring their bags of equipment (and bags of enthusiasm) to showcase Scotland's spectacular sights. Check out their diary below, for a taste of what they got up to.
Days 1 & 2: Loch Lomond and The Trossachs
After landing in Edinburgh, Mark and Ethan made the 90 minute journey to Cameron House Lodges in Loch Lomond. The loch is one of the crown jewels of Scotland's scenery, and the largest inland stretch of water in the UK. The loch itself forms part of the Loch Lomond and The Trossachs National Park, and Mark and Ethan's first two nights in Scotland were spent on its 'bonnie, bonnie banks'! The National Park has formed the inspiration for songs, poems, literature and art, and was the perfect starting point for their Scot Story adventure.
They got time to explore the surrounding area and remarkable sights, as well as soaking up the atmosphere of small town life in the nearby village of Luss. Luss is the ancestral home of Clan Colquhoun and is a recognised conservation area. Incredibly charming, Luss is also the gateway to the Loch Lomond islands via a short ride with Cruise Loch Lomond. The village also boasts its own kilt maker and bagpipe works; it doesn't get more Scottish than that!
Day 3: Climbing at Dumbarton Rock
After some rest and relaxation, the couple were ready to take on their first adventure. For this we set them up with Dave MacLeod, Scotland's leading rock climber. Dave is one of the most well-respected climbers in the world today. He was also the subject of the movie E11, which documented his attempts to climb his own route, Rhapsody, on Dumbarton Rock - the toughest traditional rock climbing route ever designed.
Dave took Mark and Ethan to Dumbarton Rock, to explain the climbing landscape in Scotland and share some of his experiences. They also got to spend some time climbing with Dave. Dumbarton Rock is the site of Dumbarton Castle, which has the longest reported history of any stronghold in Scotland. The first recorded presence of a settlement dates back as far as the 5th century.
Watch Mark and Ethan's Q&A with Dave:
Day 4: Glasgow
After a night at the luxurious Blythswood Square Hotel in Glasgow, Mark and Ethan were given an opportunity to wander around Scotland's largest city, and experience some of the sights. Top amongst these is the Kelvingrove Art Gallery and Museum. The museum has welcomed tens of millions of visitors through its doors and is one of the top 15 most visited museums in the world.
However, it's not all museums and art, Glasgow is a bustling metropolis filled with something to suit all tastes. The duo also visited the West End, home to the picturesque University of Glasgow, and features the buzzing areas of Byres Road and Ashton Lane.
Wandering around all these amazing locations can be thirsty work, and luckily for Mark and Ethan, we had them covered. The two made their way back to Blythswood Square Hotel for a cocktail master class. As this coincided with #WorldWhiskyDay, their cocktails were all whisky-based. After all "when in Rome" or in this case, Glasgow!
No better way to enjoy #WorldWhiskyDay than with an old fashioned thanks to the ok_hand bartenders at @BlythswoodSQ. pic.twitter.com/UzJNT4bMsF

— Ethan Hethcote (@ethanhethcote) May 20, 2017
Day 5 & 6: The Isle of Skye
Next stop for the vloggers was the enchanting Isle of Skye, the largest and northernmost of the Inner Hebrides. Skye is home to spectacular mountain ranges, dramatic coastlines and is filled with captivating history. The couple put their drone to excellent use, capturing remarkable footage of the surrounding landscape, or, as Ethan put it, 'hunting dragons'! Based on some of their footage, it's easy to believe you've been pulled into that kind of mythological location:
Amongst Skye's many well-known highlights is the 'Old Man of Storr', a rock formation rich in myth and folklore. Giants occur frequently in Scottish folklore, generally coming off worse in conflicts with humans. One story suggests that whilst fleeing from attackers, two giants, an old man and his wife, made the unfortunate decision to look back and as they did so were turned to stone. It's a landscape so otherworldly it has been used as a setting in countless movies, including sci-fi epics like Ridley Scott's Prometheus.
Other gems can also be found off the beaten path. This was literally the case when the boys traversed a six-inch wide trail round the curves of the mountainside to find 'Quiraing'. Ethan described it as:
"Easily the most epic hike I've ever done, and maybe will ever do. I took a seat to gaze out at the landscape around me. I couldn't put into words what it felt like even if I tried, I was at the edge of the world, staring out at the infinite".
Ethan's words perfectly sum up the sheer majesty that can be found whilst navigating Skye, and the rest of Scotland. Around every corner is an opportunity to be transported to another world.
Day 7: Edinburgh
No visit to Scotland is complete without a trip to the capital, and this was Mark and Ethan's last stop. The couple spent two nights in one of Edinburgh's most iconic venues, Prestonfield House. Opulence, theatre and luxury are combined in this unique 5-star hotel in one of Edinburgh's finest historic buildings.
The main reason for their time in Edinburgh was the opportunity to meet with the folk at Skyscanner. Skyscanner is world's leading travel search engine, and one of Scotland's biggest tech success stories. They are also industry leaders when it comes to content creation, and Mark and Ethan spent some time with their social media and community managers. After the tour, they had time for a quick Scotland themed quiz against the (questionably) finest minds of Scotland's residents, before heading back to the hotel.
After a trip filled with wonder, adventure, climbing, hiking, good food, good drink and great company, the boys were reading to head home. Along the way they got to experience the culture of Scotland and learn not only about Scotland's history, but also its future.