These inevitably take various forms, as we imagine the things we might like to change or improve. Most likely because we're all still stuffed full of good food, good drink and good cheer, New Year's resolutions tend to revolve around the desire to get out, be more active and get in better shape.
However, in Scotland and Canada, we're faced with a similar problem at this time of year, in the form of a bitterly cold winter. Even the strongest desire can be tested by a freezing January morning and this dilemma is also at the heart of January's Canada 150 profile. James Naismith is the inventor of basketball, a game borne out of a need to keep his athletes fit during cold winters. Its popularity sky-rocketed overnight and has since grown into one of the most popular sports in the world.
Unlikely inspiration
Naismith was born in 1861 in Ontario, the eldest son of Scottish immigrants. His upbringing wasn't easy; both parents died within three weeks of each other, leaving him orphaned aged nine. He also struggled in school, dropping out of high school twice. However, what he lacked in academic ability, Naismith more than made up for with his athleticism. His free time was spent outdoors and it was one of his favourite games that would eventually play a massive role in his later fame.
'Duck on a Rock' is a medieval game where players throw stones at a large flat target in order to make it fall over. While playing, Naismith discovered that hard, straight throws were not doing a very good job. Instead he adopted a lob-type shot, which proved to be to be far more effective. It was this discovery that proved essential for his invention of basketball many years later.
Naismith's passion for education finally caught up with his love of sport and he went on to study physical education at McGill University. He represented McGill in several disciplines during his studies including rugby, soccer, lacrosse and Canadian football. After achieving his degree, Naismith then joined McGill's staff, where he taught physical education. He also had the honour of becoming the McGill's first Director of Athletics.
A 'peach' of an idea
At 30 years old, Naismith accepted a position at the Y.M.C.A. in Springfield, Massachusetts – a move that would change his life forever. His first challenge was to find a way to keep his students active during the winter. However, a strict set of guidelines meant his creation had to be played within the small confines of the gym and could not be too physical in nature, to ensure the elite athletes weren't injured.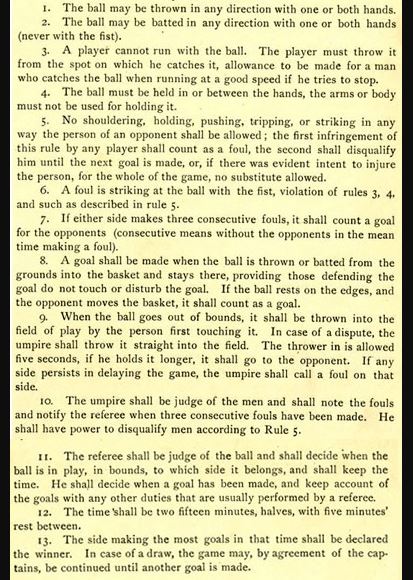 After searching for inspiration in the most popular sports of the day, Naismith settled on the basis of his new game. The next morning he pinned the rules outside the Springfield gymnasium - it was January of 1892. The original rules for the game were completely different to the modern game. For example, the original set of rules consisted of less than 600 words, whereas the modern rulebook is made up of more than 30,000!
No dribbling, no dunking and no three-pointers were just some of Naismith's surprising original rules. Little did he know that these 'violations' would go on to be perhaps the most exciting elements of the modern game. As well as this, the basketball hoop was actually a peach basket, meaning that every time a point was scored someone had to climb up and retrieve the ball.
Play ball
The first match ever played saw two teams of nine feel their way through Naismith's unusual creation. The game surprisingly became an overnight success and within a year journalists were waxing lyrical about it. As its popularity continued to rise, many called for the game to be renamed 'Naismith Ball'. Naismith, however, shied away from this idea, preferring the name he chose: 'Basket Ball'.
Despite its humble origins and the relatively slow pace of the game, this new pastime continued its meteoric rise. The YMCA quickly began promoting it internationally and by 1894, basketball was being played in France, China, India and more than a dozen other countries around the world.
In 1895, Naismith moved to Denver to continue his studies, and the Y.M.C.A. quickly offered him a position there to allow him to continue developing the sport. Just three short years later, he received his doctorate and was on the move again. His next, and final stop, was Kansas, where he'd been offered the position of chapel director and physical education instructor.
A legacy unlike any other
At Kansas, Naismith created the first-ever college basketball programme. However, being the only college team, The Kansas Jayhawks were forced to play against Y.M.C.A. teams in those early years. Unfortunately despite inventing the sport, Naismith has the dubious honour of being the only coach in Kansas University history to hold a losing record (55 wins – 60 losses).
In 1904, 12 years after Naismith invented the game, Basketball was chosen as a demonstration sport for the Olympics. By 1936 it was selected as an official Olympic sport for the Games in Berlin. Today more than 400 million people play basketball, making it the world's second-most popular sport. Despite the many changes that have been made to the sport, Naismith's legacy remains intact. The NBA's Hall of Fame is named in his honour, with the building constructed just a stone's throw away from where the first game was played.