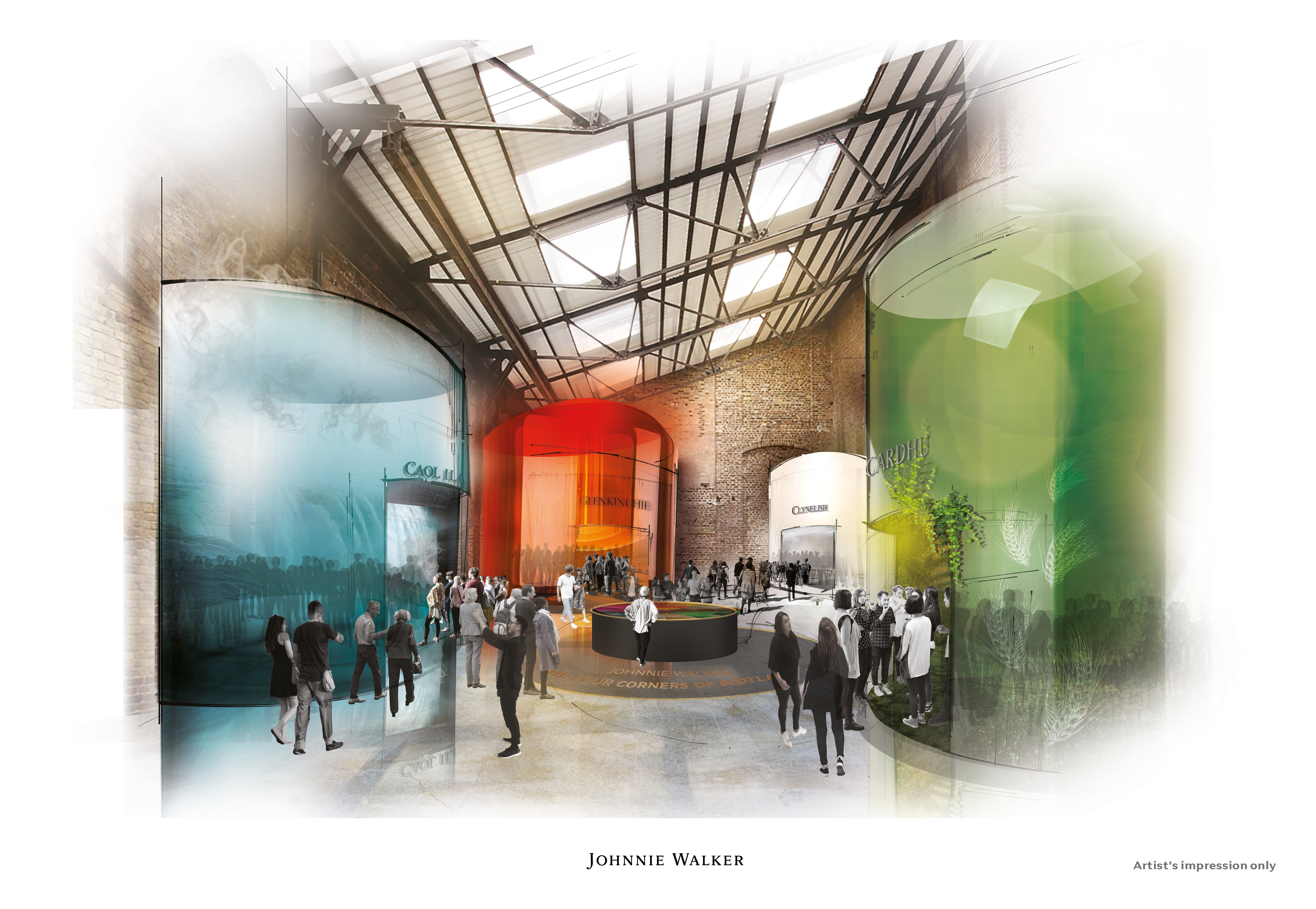 Over the next three years, £150 million will be invested in transforming Scotch whisky visitor experiences by global drinks producer Diageo, at the distilleries of some of Scotland's biggest Whisky brands.
A new state-of-the-art Johnnie Walker immersive visitor experience will open in Edinburgh, bringing to life the story of the world's most popular Scotch whisky and creating a unique welcome for millions of Scotch fans around the world.
Four distilleries, Glenkinchie, Cardhu, Caol Ila and Clynelish, will be linked directly to the Johnnie Walker venue in Edinburgh, representing the 'four corners of Scotland' and the regional flavour variations of Lowland (Glenkinchie), Speyside (Cardhu), Island (Caol Ila) and Highland (Clynelish) crucial to the art of whisky blending. Together this will create a unique Johnnie Walker tour of Scotland, encouraging visitors to the capital city to also travel to the country's extraordinary rural communities.
In total, 12 distillery visitor centres will be upgraded, to create a new generation of Scotch attractions where people can meet the craftsmen and craftswomen who make the world's greatest distilled spirit.
This investment is additional to the £35 million already committed to re-open the 'lost distilleries' of Port Ellen and Brora, taking Diageo's network of distilleries with specialist visitor experiences in Scotland to 14.
Welcoming the investment, First Minister of Scotland, Nicola Sturgeon MSP, said: "This significant investment will not only help attract more tourists to Scotland, offering world class visitor experiences, but it also underlines the fundamental importance of the whisky sector to Scotland's economy. Last week, I launched Scotland is Now, a new campaign that will put Scotland in the international spotlight and showcase the country's world-leading assets, such as whisky, to a global audience. Today's announcement highlights to the world that Scotland is a leading destination for tourists and business investors."
Thinking of booking your trip? Click here to explore Scotland's Whisky trails