Everyone already knows that Scotland's world-leading reputation when it comes to whisky is unmatched around the world. After all, we've been producing the stuff for more than 500 years – since way back in 1494. But, did you know that we're also a dab hand when it comes to producing incredible gins too, with Scottish gin actually accounting for 70% of the entire UK's total gin production.
In fact, the iconic gin and tonic can be traced all the way back to a Scottish doctor named George Cleghorn in the 18th century, who prescribed tonic laced with quinine as a cure for malaria. Fast forward more than 300 years and Scots are continuing to innovate the drinks industry, with gin still very much at the forefront of this innovation.
Just look at the team from Arbikie distillery. Like Cleghorn before them, they're also focused on health, only they're thinking about the health of our planet, with their new climate positive gin, Arbikie Nàdar.
This family-run farm and distillery, which has roots in the Angus area of Scotland that date back more than 400 years, is run by Iain Stirling and his two brothers, David and John. Iain tells us that their innovative creation starts with the fact that they are one of the world's few field-to-bottle distilleries. This means that they grow, distil, mature and bottle their award-winning spirits all on their property in the picturesque surroundings of Lunan Bay on Scotland's east coast.
"Nàdar Gin was the brainchild of our Master Distiller, Kirsty Black, who created the gin as part of her PhD, in association with Abertay University and the James Hutton Institute. Sustainability and the environment are very important to us at Arbikie, as our family have been farming here for over 400 years. Therefore, creating a carbon negative gin is exactly the type of innovation that inspires us – especially when it helps to protect our environment".
Nàdar – which takes its name from the Gaelic word for nature – is created by harnessing the power of science and nature, with the result being a revolutionary new spirit for the drinks industry. Each 70cl bottle has a carbon footprint of -1.54 kg CO2e, which is a fancy scientific way of saying that it avoids more carbon dioxide emissions than it actually creates. All this is thanks to an unlikely little hero – the humble pea.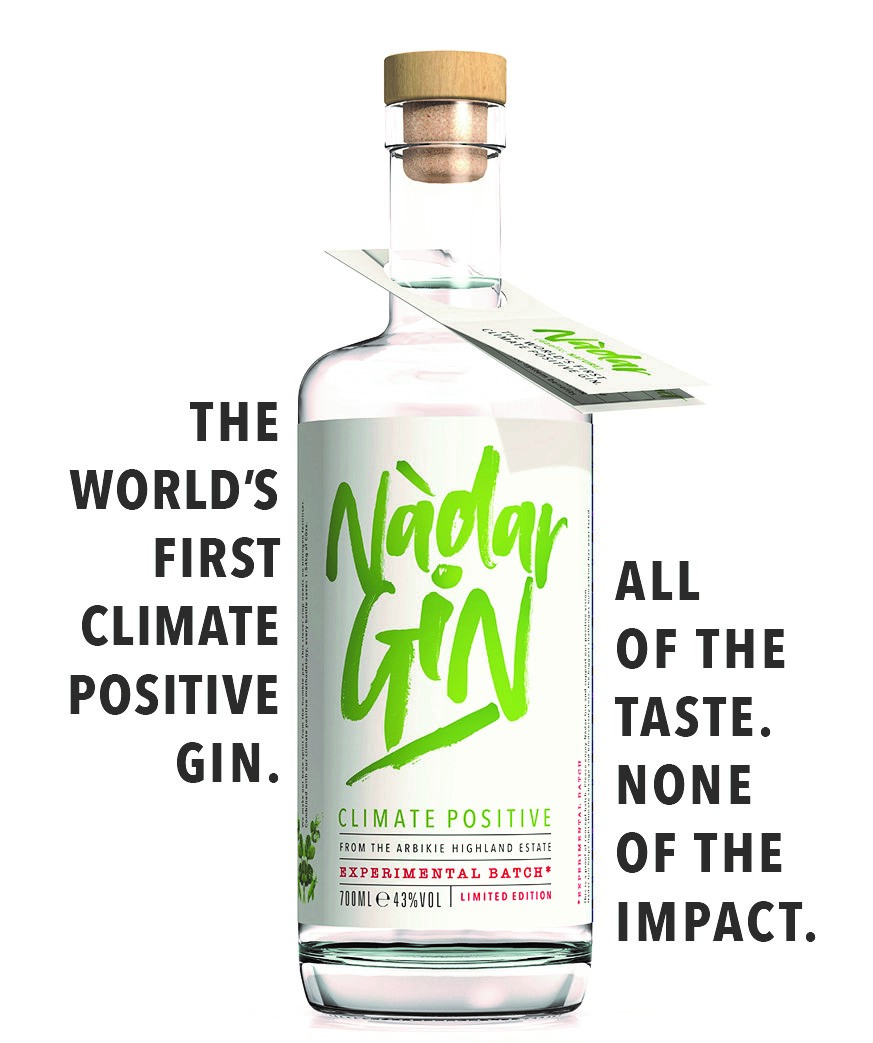 Small, but mighty
Where most gin products are made from spirit that is distilled from cereals, Arbikie use peas that are grown on their own farm.
By using peas, it means the company don't need to use a synthetic nitrogen fertiliser, which helps avoid a negative environmental impact on waterways, air and soils.
Not only this, the peas also benefit the ecosystem as a whole, improving soil quality and offsetting the synthetic nitrogen fertiliser requirements of the crops that follow peas in the crop rotation.
Creating such an innovative product – one that could well have a huge lasting influence on the entire drinks industry – Iain admits that they've had one or two surreal moments where they have had to pinch themselves.
"We've had more than a few, but the biggest was when I first tasted Nàdar – it just tasted amazing. A beautiful gin: neat, fresh, subtly fruity and reflecting its lemongrass and lime botanicals. Another was when I was talking live on the BBC Network in the US, not an every-day occurrence, but the interviewers were fascinated by the world-class science and innovation involved".
Of course, innovation and Scotland are two words that go hand in hand. For centuries, we've provided the world with countless innovations and inventions – of which Arbikie Nàdar is just the latest. From the television and the telephone to penicillin, colour photography, whisky & even the flushing toilet, Scotland has a proud history of innovation and Iain points out that this helped inspire their own project.
Having grown up and lived in Scotland, but also taking time to travel to countries around the world, Iain believes they have been incredibly lucky to be a product of such an innovative and outward looking nation. He tells us that both he and his brothers were always encouraged to embrace new cultures, experiences and ideas – fully embracing Scotland's nature as an open and inclusive nation.
It's this determination to experience new things – and crucially, learn from them – that puts Arbikie distillery in the perfect position to succeed as it moves forward. As an ever-increasing focus on the current climate emergency rightly becomes more and more prominent in the global consciousness, Nàdar gives Arbikie a head start on the rest of the competition. A head start they can build on with the help of Scotland's amazing infrastructure.
"We are very lucky that Arbikie Distillery is based in Scotland, where innovation is the norm and we have an abundance of world-class research and academics to support innovative businesses who want to adopt a low carbon approach. Kirsty – our master distiller – worked with some fantastic people at both the James Hutton institute and Abertay University, and we are incredibly grateful to them for helping us on our 5-year journey to produce Nàdar".