Curious about what it's like to study in Scotland during the current pandemic? We asked some of our international students to tell us all about it.
It's a tricky time to be a student – especially if your heart is set on studying abroad. However, every year, Scotland welcomes over 50,000 international students from more than 150 different countries. So, you know that no matter what the conditions are, we're well prepared when it comes to looking after our students – because nothing is more important to us than ensuring you get the most out of your student experience.
Right now you're probably thinking – "that's easy for you to say", but you don't just have to take our word for it. We went right to the source, speaking with international students currently in Scotland, to get their opinions on student life during the coronavirus pandemic. These individuals all saw Scotland as the perfect place to achieve their academic goals and it's clear that despite the pandemic, they're still very sure that they've made the right choice.
Find out what their experience has been like – and what yours could be like too!
Meet the gang
Name:
Emma
Nationality:
Canadian
University:
The University of Glasgow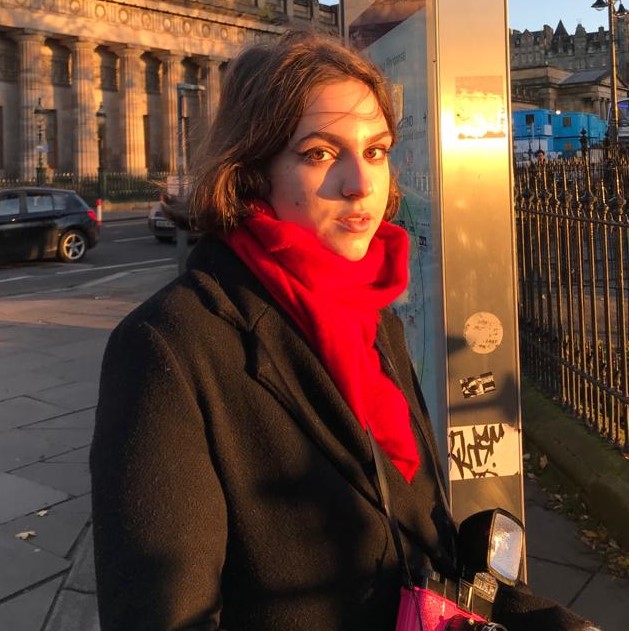 Name:
Roxana
Nationality:
Romanian
University:
Queen Margaret University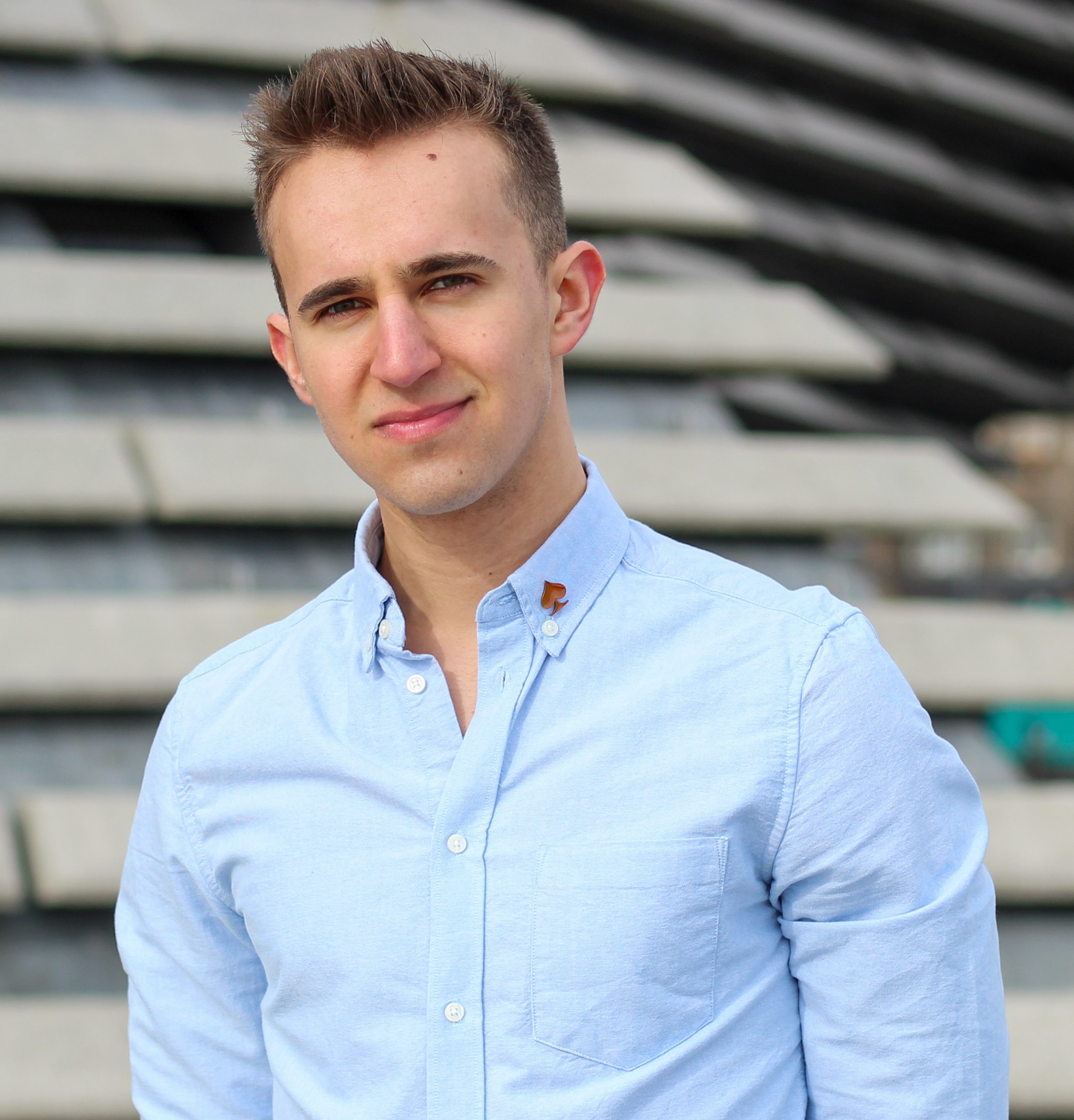 Name:
Daniel
Nationality:
Finnish
University:
Abertay University
Name:
Junqi
Nationality:
Chinese
University:
The University of Dundee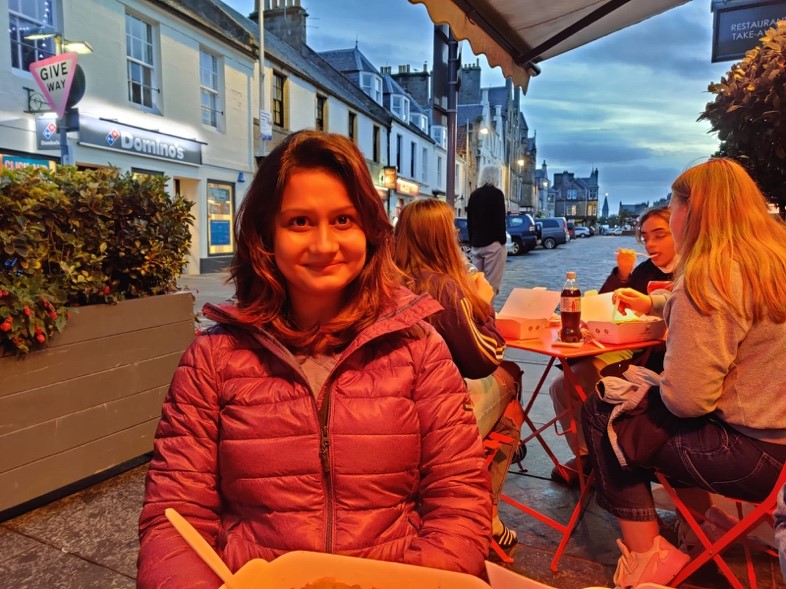 Name: Sakshi
Nationality: Indian
University: The University of St Andrews
Question:
What advice would you give to someone who wants to study in Scotland?
Daniel: Keep an open mind and experience the land you live in. Try not to worry too much and enjoy the journey you're about to embark on. Scotland is a magnificent country and there is so much beauty to be found in its nature, its cities and its people.
Sakshi: Yes, so much beauty, but I'd also add that you might want to bring a jacket with a hood, because you need to see the beauty of this country while being warm and dry…
Emma: Haha – I actually don't think the weather is as bad as everyone says, but bringing a warm jacket is still good advice! Other than that, I'd also say don't be afraid to chat to people. Scots are absolutely the nicest people you'll meet – and I'm Canadian, so that's saying something.
Question:
Can you tell us a little about the support you have received from your university during the pandemic?
Roxana: Since I just started my degree in autumn 2020, I wasn't in Scotland when the pandemic hit. However, something that has really helped me through these difficult times is the concise and quick updates that my university provides whenever there are any changes to restrictions or our courses. As someone who suffers from anxiety, knowing exactly what's going on and what the plan is helps me a lot.
Sakshi: I completely agree, my university has been incredibly sensitive towards students going through COVID-induced stress & anxiety. Everything from providing support such as counselling and being empathetic towards students to offering extra time to finish assignments.
Junqi: Yes, we also get regular updates from our university and the help of staff at the university has been amazing at ensuring that everyone's mental health is in good condition.
Emma: What's been impressive is that the universities were figuring out how to manage just like the rest of us and I think they've done a really good job staying connected and present. I've had drop-in sessions over zoom to chat about how I'm doing, free online social and exercise events and lots of access to online supplementary material.
Question:
So would you say that your university has handled the pandemic well?
Sakshi: I think my university has handled the pandemic very well. Long before students arrived for their terms they had all the guidelines in place and created a free walk-in COVID test centre.
Junqi: My university has also made lots of effort. They implemented a one-way system in all buildings and almost half of the seats were removed from places like the library to maintain social distancing.
Emma: To be honest, I think the same can be said of the country as a whole. Scotland has been very active in reducing the spread of COVID. It's a delicate balance managing the virus and the economy at the same time but the way it's been done here has been quite commendable. I am very happy to be living here.
Question:
What about when you first arrived in Scotland - did you find it easy to get settled at your accommodation?
Daniel: I think that moving to a new country is always challenging. But the warm welcome of the staff – who showed us our halls, how to access and use all the facilities and introduced us to our flatmates – made it easier and clear. If I had the slightest doubt on how something was to be done, I could go to the reception and get guidance.
Junqi: Yes, I think this is not a problem. In my first year in Scotland, I also chose to live in school accommodation, and I would advise everyone to do the same. You don't have to worry about the quality of life in school accommodation and it's a great way to meet new friends.
Question:
Speaking of friends, what do you do with your free time when you're not studying?
Roxana: Well, before lockdown, I tried to see as much of Edinburgh as possible – the city is breath-taking. However, since lockdown, I've tried to stay away from busy areas, so, since finding out you can see the Northern Lights in Scotland, I'm on the hunt for the Aurora Borealis!
Sakshi: Similar to Roxana, St Andrews is also such an historic town and I've take this opportunity to learn about every nook and corner, taking long walks, pictures, and making videos. However, sometimes I just love sitting by the beach in the sun and reading a book or just looking at the beautiful constellation of stars...
Roxana: …I definitely can't wait for the restrictions to be lifted – because I have a huge list of places in Scotland that I want to visit…
Emma: Me too – I loved travelling around Scotland! Even just hopping on a train to a national park to hike for the day is so convenient and inexpensive. This country is truly unique.
Question:
So would you say that you have adapted to life in Scotland during the pandemic?
Junqi: Even during the pandemic I've been very happy living in Scotland. COVID is taken very seriously and they do their best to make life as normal as before. It's very reassuring to see everyone wearing a mask on the street now.
Emma: Yes - it's been easier than I could have imagined. I've discovered all these parks that are walking distance from where I live and so many cute little businesses nearby. The sense of community I've found with my neighbours lately has also been really lovely.
Sakshi: I think we can all agree that life in Scotland is comfortable and easy. People here are incredibly open-minded and accepting. You shouldn't be afraid to ask for help if you need it, and saying 'cheers' instead of a "thank you" is a neat little trick I picked up.
Question:
What about campus facilities like the library? How did you find this process of accessing these resources?
Junqi: Ah, I don't know about you guys, but the library is my favourite place in the whole university. However, before going, I have to reserve a seat and I also have to wear a mask when entering the building. It's also great that there are free disinfection products for everyone to clean the computer screen or keyboard, etc.
Daniel: I must admit, I was rather worried at first about how I would be able to study during the pandemic, but the university ensured we had access to the facilities we needed. The library was open during the weekdays (and later even on the weekend) and implemented safety measures to keep us all well during this confusing time.
Sakshi: We have a similar system at my university. Only a certain number of students are allowed in the library per session and you have to book your seat before coming. It has now become a habit, cleaning the facilities before and after using them and wearing face coverings.
Question:
So, keeping all of that in mind, do you feel safe in Scotland?
Roxana: I do feel safe in Scotland, actually much safer than I would anywhere else.
Sakshi: Exactly! As an example, on the very first day out of my mandatory quarantine, I was walking through beautifully historical, cobblestoned lanes and I always felt safe and like I belonged. In fact, back home, I have noticed people staring and making me uncomfortable but it has never been the case here in Scotland. People are very nice and always greet with a smile.
Emma: I couldn't agree more about the people here. The sense of community has really blossomed and people here really seem to look out for each other. Also, in terms of general safety as a young woman – I've always felt safe here. I walk home after classes when it's dark sometimes and have never had any bad experiences or felt uncomfortable.
Question:
Finally, can you tell us what your favourite thing about being in Scotland is?
Roxana: My favourite thing about being in Scotland has to be how beautiful this country is!
Sakshi: Easy – the people. They are accepting of people from different countries, races or culture and will make you feel like you belong. They are one of the few countries who work to ensure comfortable living for everyone on this planet.
Emma: Oh wow – there definitely isn't just one thing for me! I love the people – those who I've met are so open and warm. I love the food scene here, the restaurants are so good (seriously make sure you budget for takeaway meals, it's worth it)! I love all the fun outdoor things you can do here. I love the proximity to other interesting countries and cultures. I can't possibly pick one thing over the others!
Daniel: Not only do I get to live in a culturally rich country, with people rooted in their tradition, but that has some of the most beautiful scenery I have ever come across. Scotland is well connected to the rest of the world and offers all its residents the opportunity for great success, both locally and globally. There is no other place I would wish to be studying at the moment than here.
If you're interested in studying in Scotland, check out the dedicated study section of our website – which has all the information you need to get your journey started.