But what makes Scottish Whisky so special? Sold in around 200 countries worldwide, it's beyond dispute that whisky is one of Scotland's most famous exports. While whisky can only be described as 'Scottish Whisky' if it has been wholly distilled and matured in Scotland for a minimum of 3 years, the special qualities of Scottish Whisky are a matter of more than country borders.
Our success in the whisky trade is partly down to Scotland's unique geography and excellent raw ingredients, as well as knowledge handed down for centuries. Scottish water, peat and the local climate all have a profound effect on the flavour of whisky. A source of good, soft Scottish water is essential to a distillery and this is why we celebrate the two in our 'welcome to Scotland' imagery across Scottish airports: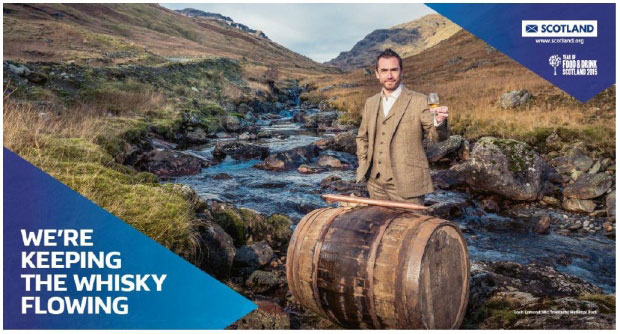 Scotland's whisky traditions are no accident. Our natural resources and diverse geology have helped make Scotch Whisky what it is today. Scotland has a reputation for having high quality water. Our rivers, lochs, estuaries and seas attract visitors from all round the world. They are key to the country's welfare, providing resources for water supply and hydropower generation as well as the raw ingredient for distilleries.

On average, forty bottles of Scottish Whisky are shipped overseas every second (yes, that's second!) and more bottles of Scottish Whisky are sold in one month in France than Cognac in a year. Whisky accounts for 80% of Scotland's food and drink export market. With a global value of £4.3bn in 2013, whisky exports earn £135 every second.
From the smoky peatiness of Islay malts through to the lighter but more complex malts of Speyside, our range of whiskies from 109 distilleries, is beyond compare.
You don't need to dress up to enjoy whisky but the rather refined outfit the gentleman is wearing is by Walker Slater, the Edinburgh based designers and outfitters. Click here to find out more about contemporary Scottish fashion.