Welcome to Scotland, a country estimated to have the largest oil reserves in the EU, the potential to generate one quarter of all Europe's offshore wind and tidal energy, and one tenth of its wave-power.
We are a nation that is bursting with energy and the talent to harness it.
The oil and gas industry employs over 200,000 people in Scotland. Leah Wood is one of those workers. From Aberdeen, Leah works for a company supporting Aberdeen's oil and gas industry. Aberdeen has the highest business inception rate in the UK after London and is home to 900+ energy companies supporting up to 40,000 related jobs.
It's people like Leah that give the Scottish energy industry its strength. That's why she, and Aberdeen Harbour, feature in the Scottish Government's new campaign to greet arrivals to Scotland: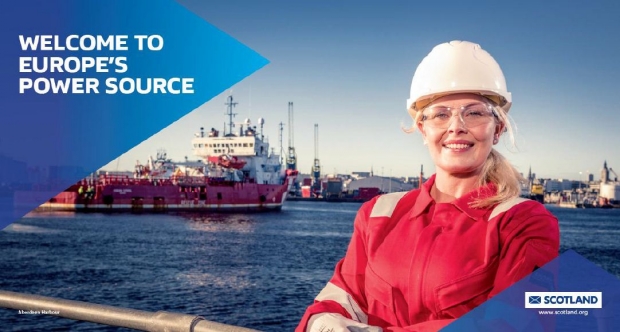 The Evolution of Aberdeen Harbour
Aberdeen Harbour is both one of Europe's most modern ports and, according to the Guinness Book of Business Records – one of Britain's oldest businesses. The sheltered estuary of the River Dee is a natural harbour and its first use is lost in the mists of time but for more than eight centuries, the harbour has contributed to Scotland's prosperity.
The first recorded reference was in AD 1136 when King David I of Scotland granted the Bishops of Aberdeen the right to levy a tax on all ships trading at the port. The evolution of Aberdeen has continued throughout the centuries. It developed into a world class port through the 1990s and into the 21st century, strengthening the fishing industry and attracting larger vessels operating in the offshore industry and container traffic.
Today, Aberdeen Harbour handles around 5 million tonnes of cargo annually and inputs over £1.5 billion a year into the local economy.
The oil and gas industry has strong ties to Scotland's universities. The Oil and Gas Innovation Centre brings together more than 2,300 oil and gas operators and service companies with 12 Scottish universities to fast-track pioneering oil and gas technologies.
Built on forty years of experience and innovation, our oil and gas industry is famous around the world – this experience is now being used to harness renewable energy and bring new green technologies to market to help the keep the world moving.