Being green is in Scotland's nature, we're blessed with great natural resources and are making the most of them. Welcome to Scotland, a country serious about renewable energy.
Scotland has set an ambitious target of meeting the equivalent of 100% of our electricity needs through renewable sources by the year 2020. We are already well on the way - 49% of Scotland's electricity needs come from renewables and we are a world leader in the fast growing green technology sector.
Around 60% of the UK's onshore wind is produced in Scotland and we are home to two of Europe's biggest wind farms, Whitelee near East Kilbride and Clyde near Lanark.
Another wind farm features in our new welcome campaign found in Scotland's airports: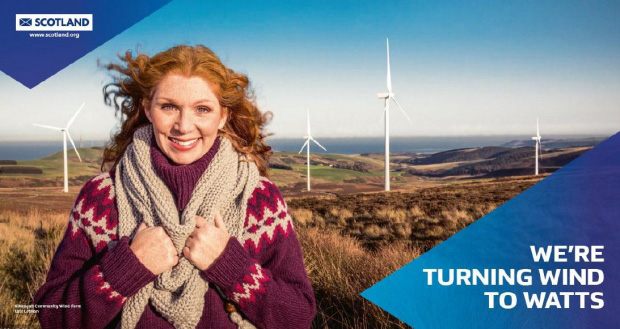 Renewable energy is not all about wind though.
Orkney's European Marine Energy Centre has the world's first grid-connected, accredited test facility for wave and tidal machines helping firms push the boundaries of new technology. In the Pentland Firth, construction on Atlantis/MeyGen's £51m tidal power project will begin soon. Once completed, the 269-turbine development could power almost 175,000 homes across Scotland.

Scotland is blessed with the geography and experience to drive the renewable sector forward for Europe and the planet. But as a relatively new sector it requires new ideas and links to academia are vital. Scotland is supporting the renewables industry with £200m of funding available for renewables innovation and development to bridge the gap between academia and practice.
When in Scotland it doesn't matter where you look, we are a green nation with a green future.