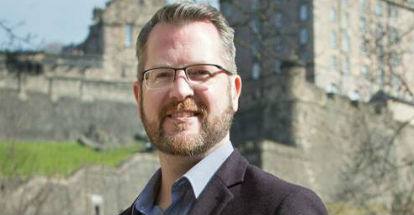 Scotland is home to a vibrant fintech community, which showcases both international players and fast-growing, ambitious Scottish start-ups like The ID Co. The firm's revolutionary approach to building trust and creating frictionless finance digitally has propelled it to the forefront of the Open Banking revolution.
The company is based in one of Edinburgh's most stunning offices, with the incredible Princes Street Gardens just beyond its walls and the world-famous Edinburgh Castle dominating the view. Sometimes 'iconic' is the only word to reach for.
Indoors is no less remarkable. The ID Co. shares its building with leading design house, Whitespace, whose creatives have had more than a casual hand in moulding a distinctive and appealing workspace for everyone to enjoy.
The power of Open Banking in Scotland
So why is The ID Co. making its mark at the very hub of Scotland's financial sector? Well, the company set out to solve an everyday problem that we all face: to have a convenient way of signing up to financial products and services online without the hassle of going into a branch or sending documents.
To do this, the company realised that a whole new source of data was needed. So, through the power of Open Banking, The ID Co. has found a way to leverage the data and identity people have already established through their current online bank accounts to speed up the process.
It's a brilliant idea, and it has helped position The ID Co. as a world-leader in Open Banking. Now they are a small but influential company poised to grow as its financial technology products help define the future.
We asked James Varga, the company's founder, about their journey so far. Not so much the practical landmarks of more people, more customers and new offices. Instead, the defining moments and achievements that illustrate the growing influence of the company. He came back with seven key milestones, which we wanted to share with you.
1: We were ahead of our time
"Seven years ago we were ahead of the curve and really, we still are. If you think about it, your bank holds detailed knowledge about you – and that knowledge can become a secure and reliable way to operate online. Our mission is to use the identity and data we already have with our banks to provide the convenience we all want - to sign up to new products and services in seconds."
2: We made choices to be bold and open
"When we started talking about using bank data, what we now call Open Banking in the UK, some people laughed us out of the room. This was always going to be the case when you are several steps ahead, but for us it just redoubled our efforts. Along with 100 leading professionals, I was involved in the UK's Open Banking Working Group, chairing the data sub-group. The thinking we did there is part of a revolution in banking which is having an impact across the globe. Open Banking is now a global trend and it's exciting to see the industry develop at such a pace."
3: We got caught up in a tsunami
"Open banking has become a tsunami wave of change, with all nine of the UK's main banks embracing the approach. As a small Scottish fintech start-up, we contribute important thinking. We've grown to 26 employees – still tiny alongside the companies we influence, but the impact we have had means we are now well-placed to grow."
4: We are thinking – and working - global
"While we are based in Edinburgh our view is international. We are already active around the world, contributing to the development of Open Banking in Australia, Canada, the US and elsewhere in Europe. Edinburgh is, and will always be our home turf. It's an ideal launch pad to the rest of the world."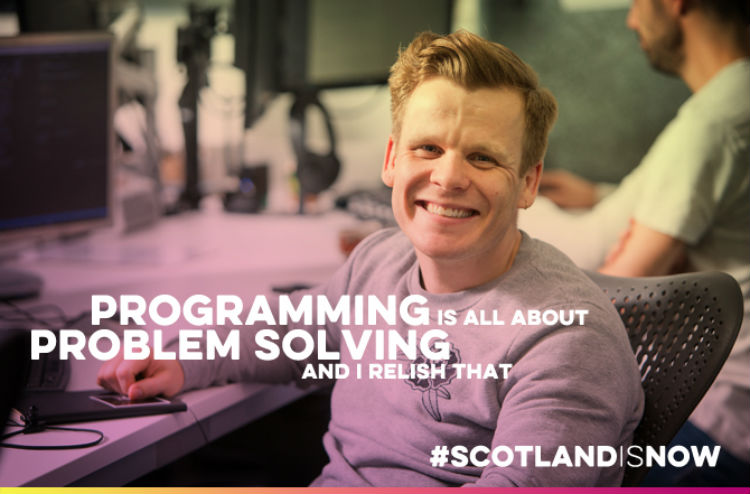 5: We are surfing into the future
"Our biggest challenge for the future is to ride the wave. We've helped to create the massive tidal wave of change that's revolutionising the banking sector. Our business product, DirectID, offers businesses a turnkey hosted platform to start leveraging Open Banking data in hours or fully integrate for a seamless customer experience. We think the company is ready to expand our business with banks and customers in every part of the world and we plan to do it from our Edinburgh base."
6: We remember to breathe out
"The pace of work does strange things to your perspective on time. We moved into Norloch House in early 2018 and, while it has gone past in a flash, we look back on everything that has happened since and it feels incredible how it has flown by. We arrived in one of Edinburgh's top offices and it has a good vibe. We've suggested installing a zipwire from the castle, which towers over our location. But with that one exception the team think it's pretty close to perfect here. We have everything. We're in EH1, at the centre of things."
7: We chose our spot with care
"Edinburgh is quite simply the right place for us to be. The Scottish capital is a hub of financial activity and a great city to live in. Scotland is a great fintech location. There's nowhere in Europe I'd rather live. I love the small city atmosphere with the big city vibe for culture, restaurants and activities. My home city is Vancouver, and Edinburgh stands up well in the comparison. Of our 26 people only two use a car to get to work. The rest walk, run, cycle or jump on a bus. The nature of the city means that it is easy to live and work in the centre."