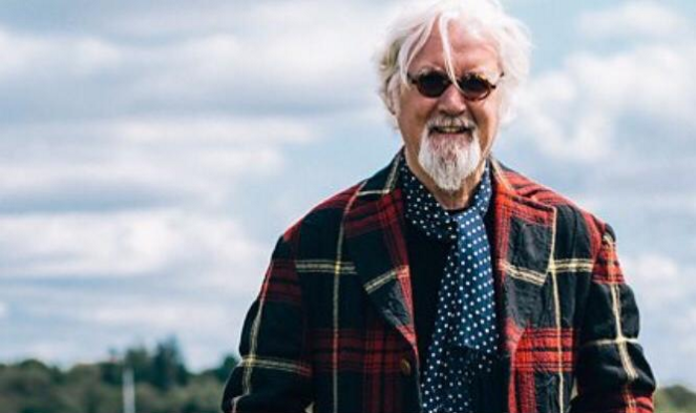 Sir William Connolly, to give him his full title, will now be able to add 'Grand Marshal' to his name, after being invited to lead the massed bands, pipers and drummers, Highland dancers, and Scots/American clan societies through the Big Apple on Saturday 6 April.
The 76-year-old, who has lived in the US since 2011, has accepted the role despite announcing in December he would retire from touring.
Previous Grand Marshals include Sir Sean Connery, Alan Cumming, Sam Heughan and Brian Cox, while KT Tunstall became the first woman to lead the parade last year.
It is the showpiece event of Scotland Week which brings a full programme of special Scottish-themed business and social events to New York from 3-8 April.
The parade regularly attracts over 30,000 spectators.
Speaking after his appointment, the Big Yin said he was thrilled to be this year's Grand Marshal of the New York City Tartan Day Parade.
"I can't wait to hear all those bagpipes echoing off the skyscrapers and to see Sixth Avenue awash with thousands of swaying kilts. It's going to be brilliant".
With a 50-year career, spanning folk music, comedy, theatre, films, and travelogues, Sir Billy is just the latest in a long line of enterprising Scottish expats to have made their mark in America. Sometimes referred to as the 'McMafia', Scottish-born and Scottish/American businessmen and women can be found at the heart of many major US enterprises. Those tartan connections, our trans-Atlantic bonds of business, family, and friendship, are as important and as valued today as they have ever been.
America is home to around six million people of Scottish descent.
Tartan Week is timed to coincide with the anniversary of the signing of the Declaration of Arbroath in 1320, which was used as a basis for the American Declaration of Independence.
Sir Billy certainly won't be the only native Scot joining this year's Tartan Day Parade, he'll be accompanied by some friends from Shetland. The Jarl Squad from the islands' annual Viking Up-Helly-Aa festival, complete with helmets and battle axes, will also be joining the fun
Kyle Dawson, New York Tartan Day Committee president, said: "We're beyond delighted that Billy Connolly will join us as Grand Marshal of this year's New York City Tartan Day Parade.
"For over half a century, he has entertained us all through his work and, because of this, he is beloved on both sides of the pond.
"We look forward to enjoying a big year with the Big Yin."
Find out more about the New York Scotland Week's aims and events