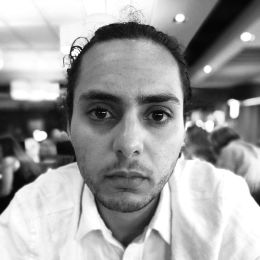 Adam Kashmiry is an Egyptian refugee. Originally from the city of Alexandria, Adam is now based in Glasgow – acutely aware of the fact that travelling back home could just get him killed. This is because Adam is transgender, and when he was unwilling to compromise on his own true identity, he knew that he had to leave his home in order to see his transformation through and begin a new life – in more than one way.
Adam is taking to the stage at this year's TEDx event in Glasgow, which is celebrating its sixth anniversary. One of 20 spectacular speakers, Adam will join a varied group at an event that will cover everything from the dark side of the universe, to understanding autism and so much more. Adam will share his incredible journey with the audience, detailing how he crossed borders, barriers and genders to find his true self. In anticipation of this, we wanted to share a little bit of Adam's story with you.
A new life
Adam has known almost all his life that he couldn't be the girl that everyone expected him to be. Suffering from years of abuse and hostility he finally moved to the UK at the age of 19 as an asylum seeker. After a troubled period in London, he was finally granted asylum in Glasgow – it was here that he was finally able to begin his new life.
Though there are no specific laws against transgender people in Egypt, their rights are systematically and violently threatened. The LGBTI community can be persecuted on the grounds of "debauchery" and there is a so-called morality police who employ dastardly means of entrapment to further persecute individuals.
Scotland is one of the leading countries in the world when it comes to LGBTI rights, and the LGBTI community is a hugely important part of Scotland's vibrant culture. ILGA Europe's 'Rainbow Index', which measures LGBTI equality and human rights legislation, has ranked Scotland as the number one country in Europe in 2015 and 2016, with us finishing a close second behind Malta in the most recent survey.
The Egyptian suppression had led Adam to genuinely believe he was the only person in the world who felt the way he did. However, revelling in a new found sense of freedom in Scotland, Adam quickly discovered that he was not alone in what he felt –and found a community that were ready to accept him with open arms and help him through his transition.
A star is (re)born
Today, Adam is an actor and performer, and in between appearing on stage and screen he also works as an LGBTI advocate and as an educator for transgender issues.