Joelle Murray is part of the Scotland Women's football team; a team that are guiding the country – and the sport – to new levels of success and inspiring the next generation of young female players at the same time.
Having signed for Hibernian Ladies Football Club at the age of just 12, Joelle has played her entire professional career for the Edinburgh team and is literally living her childhood dream. Born and raised in a small village called Chirnside, in the Scottish Borders, Joelle has been a die-hard Hibernian fan since she was a child. It's fair to say that she has come a long way from the five-year-old girl who used to kick a football around her local park.
This dream life was kicked up another notch this summer, as Joelle experienced a couple of months that she will probably never forget. Now captain of Hibernian Ladies, she led the team to its fourth straight Scottish Women's Premier League Cup in May and then – just a few days later – she was selected to be part of the historic Scottish Women's National Team that took part in their first-ever Women's World Cup in France this summer.
But what is an incredible few months looking back, was a completely different story in the lead up to those two events. While trying to prepare for one of the biggest games of her career, Joelle still wasn't even sure if she would be in the squad heading to France.
"When I found out when the squad announcement was, I knew it could be the best week ever or the worst. The cup final was being played on the Friday and the squad announcement was being made the following Wednesday. After the elation of winning the cup again, I knew I had an anxious few days ahead of me, so I just waited patiently for my phone to ring. The call eventually came and after a tense 4 or 5 minutes, Shelley (the Scotland manager) said the words I longed to hear "you're going to the World Cup". I was absolutely delighted and very proud".
Over the last few years, the rise of women's football in Scotland – and around the world – has been meteoric. Once overshadowed by the men's game, today women's football is experiencing an incredible renaissance. Where the senior men's Scotland team hasn't qualified for a major tournament in more than 20 years, the women's team has successfully competed in the last two major tournaments, narrowly missing out on advancing to the knock-out stages on both occasions.
It's a level of success that has been on the horizon for a while now. Amazingly, the team is paying homage to a tradition of women's football in Scotland that stretches back more than 200 years. There are reports of an annual women's football match being played in Scotland way back in the 1790s, so what does Joelle make of such a pioneering legacy?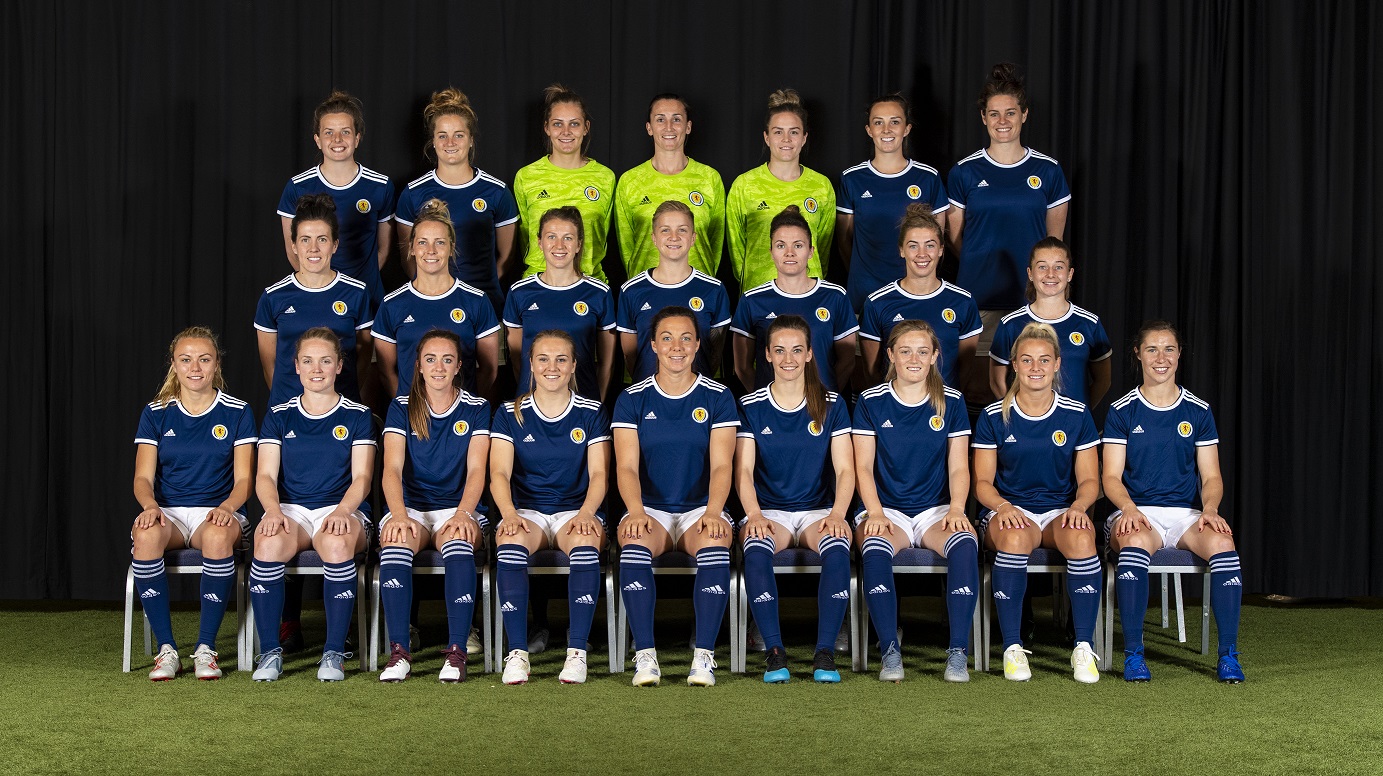 Joelle Murray (second row, second from left) as part of the Scotland Women's National Team for the 2019 FIFA Women's World Cup
"Scottish women's football has come full circle and I've been fortunate to play alongside so many great players – past and present. These individuals, along with so many more, have all contributed to the growth of the game and have created a legacy that will never be forgotten. The women's game in Scotland is growing and I can only see it getting bigger and bigger".
Now 32, Joelle has the benefit of 20 years' experience of top-level football and has seen a huge amount of changes in the sport as it has developed. However, her first experiences of playing as part of a team actually saw Joelle playing for a boy's club, as there was no girls club to play for.
That she was the only female playing in a male-dominated environment didn't faze Joelle one little bit. In fact, she actually believes that growing up in that culture helped her become more determined than ever to achieve her goals. She's quick to point out that her footballing talent was nurtured on an equal level, and she was never made to feel different to any of the boys on the team.
"I relished the challenge and believe that those early years gave me fantastic foundations. If there is any advice I'd give to young girls, it would be to play in a mixed environment whenever possible. However, it's great to see that the culture has definitely changed. It's no longer females playing male sports, its athletes dedicating their time and striving towards their goals within their given sport".
Joelle also points out that a large part of this change in representation has come from the fact that Scotland's women's team is becoming more successful and reaching new heights. It's fair to say that both media and public attention has certainly heightened since the team qualified for the World Cup. You need only walk down any main street in Scotland, or across the rest of the UK to see that people are noticing and appreciating this success and talking positively about women's football.
With such a positive mood currently surrounding the sport around the world, Joelle believes that it's the perfect tool to help young women and girls to reach their potential and dream big. Not only that she also points out that she fully believes Scotland is the ideal place to lead this charge.
"I certainly wouldn't change my upbringing and I think sport, whether it be at grassroots level, recreational level or national level, can provide so many transferable life skills. I grew up away from the hustle and bustle of the city and I loved it. In our village everyone knows everyone, and that close-knit community is what I love. Scotland is an incredible place and I wouldn't want to live anywhere else".
Throughout her career, Joelle has shown an incredible level of determination to achieve her goals. It's a trait that she believes is synonymous with Scotland as a whole and one of the defining characteristics of a strong, proud national identity.
"I think Scottish people are renowned for their grit and determination and I'm certainly no different. I had a dream when I was younger and I'm currently living it due to never giving up – even when times were hard. I'm proud to be Scottish, so to be representing our nation playing the game I love is a dream come true. Every time I pull on the national strip it fills me with immense pride".
With incredibly passionate role models like Joelle paving the way for the next generation of female sports stars to achieve their dreams, it looks like Scotland's place on the world sporting stage is built on firm foundations.
Find out more about women's football in Scotland at Scottishfa.co.uk