Eilidh Doyle is Scotland's most decorated track and field athlete. Now, as she enters the latter stages of her career, she looks back on her highs and lows, and the great strides women's sport has taken along the way.
Born in the town of Kinross, half way between the cities of Edinburgh and Perth, Eilidh Doyle was just a small town girl. Surrounded by the kind of close-knit community where everyone knows everyone else, Eilidh was perhaps known more than most – as her father was the local policeman. However, it wasn't long before the 400m hurdler and 4x400m runner was being recognised for a whole other reason – as a world-class athlete.
From leading out Team Scotland at the 2018 Gold Coast Commonwealth Games, in Australia, to winning Olympic, World and European medals, Eilidh has carved out an incredibly impressive athletics career. Along the way, she's spent more than a decade creating magical memories and amazing achievements that she will always treasure.
Thinking back to when she got started, Eilidh admits she was lucky to grow up during a golden period in British women's athletics – a legacy that the current generation of female athletes are still benefiting from today. It's fair to say those amazing female athletes had a real impact on young Eilidh. She caught the sporting bug early, and began competing in various sports at a national level from the age of just 12.
"For as long as I can remember I always enjoyed taking part in sports. There were so many female role models – Sally Gunnell and Cathy Freeman were two athletes I loved to watch. I never felt that I couldn't achieve or fulfil my ambitions, because I was already seeing women do that. For me to go on and have a career doing what I love and to become the most decorated track and field athlete in Scotland is something I'm incredibly proud of".
Eilidh is a self-professed proud Scot and admits that she enjoys nothing more than representing her country on an international stage whenever she can. She says that competing for Scotland gives her added motivation to give her all and succeed – and based on her impressive levels of success, it's clearly working.
It makes sense then, that one of Eilidh's biggest career highlights was the 2014 Commonwealth Games, which took place in Glasgow, just an hour's drive from where she grew up. She particularly remembers the build-up to the games, with the whole country buzzing with excitement. In some cases, random strangers in the street were even approaching Eilidh to offer their best wishes for the Games – something that had never happened before.
"When the Games started, I don't think any of us expected them to be as huge as they were. The stadiums were full every day and the support for the home athletes was phenomenal. For me, stepping out on to the track, having my name called out and hearing the 'Hampden roar' – that still gives me goose bumps when I think of it".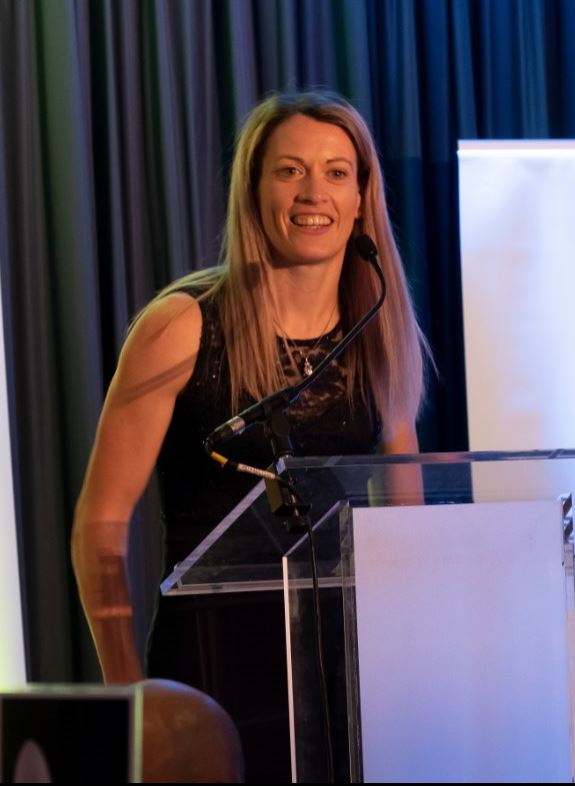 The success of the 2014 Commonwealth Games introduced sport into the consciousness of Scotland's youth in a completely new way. Suddenly Eilidh – and her teammates – had gone from being inspired by those female athletes of the past to being a new generation's inspiration.
As a former school Physical Education teacher, Eilidh appreciates even more how sport can be hugely influential in helping young women and girls in particular to develop and reach their full potential. In fact, Eilidh believes sport is the perfect teaching platform, even if you don't decide to pursue it professionally.
It's something that, as Eilidh begins to look beyond her professional career, she's become more vocal about - helping Scottish youngsters to achieve their full potential, not only on the track, but also in life.
"For me, as a young girl taking part in sport, I learned about my strengths and that gave me the confidence and desire to push forward and achieve more. Going forward, that's something I want to share. Sport has given me a far greater understanding of myself, which in turn enhanced my performances and the way I live my life. It has always allowed me to develop and learn new things, both about myself as an athlete and as a person, which is so important for any young girl or woman".
From the moment Doyle announced herself on the world stage – with a silver medal at the 2009 U23 European Championships – she has never looked back. In the decade that followed, she has climbed to reach the very top of the sport, amassing an incredible 19 major event medals.
Throughout her career, Eilidh has also seen the public, the media and sponsors' attitudes change towards women in sport. She firmly believes that, with women's sport rightly now more in focus that ever before, today's up and coming female athletes need to seize the opportunity to continue to make people take notice.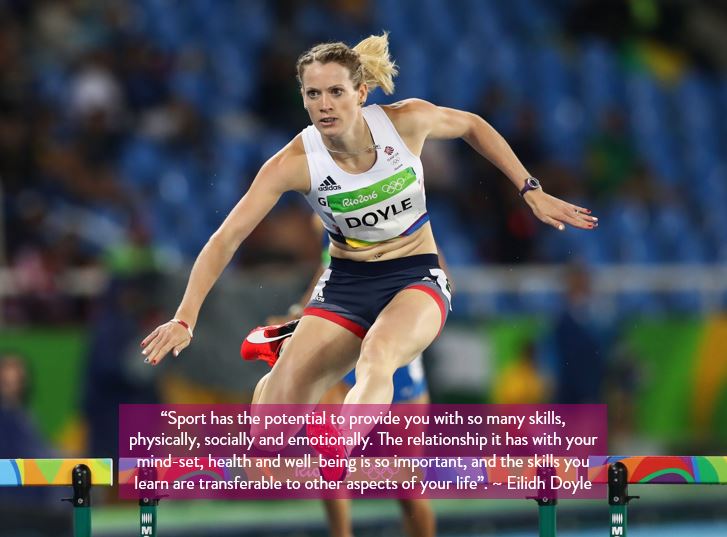 "I think it is important for female sportswomen to take their position as role models very seriously, to remember the audience out there and the messages they are portraying".
With Eilidh competing at such a high level, on a global scale, she is also well placed to see how the rest of the world thinks of her home country. And even though she is a little biased when it comes to pointing out the many positives about Scotland, she is still pleasantly surprised by its international reputation.
Eilidh says that, although she's not exactly a salesperson for Scotland, she just can't help but share photos on her social media of some of the country's hidden gems – a beach here, a castle there – and she's is always pleased at the sheer number of comments from her followers, all of whom say how desperate they are to visit.
That love for Scotland's hidden beauty, its wild places, and quiet corners is something Eilidh also shares with her husband, former 400 metre runner Brian Doyle, and their pet dog, Ben.
"The majority of people I meet from other countries seem to have a real love for Scotland and I feel very lucky to have grown up here. Our family holidays were always in Scotland and my parents would take us away every summer to stay in a cottage up north or on the west coast somewhere – I have fantastic memories of those holidays. Scotland is the most beautiful country in the world and there is still so much of it I have yet to explore".
With Eilidh's passion to be the best, her natural instinct to lead and encourage others, and her ambition to increase access and participation in sport for the next generation of young female athletes, who's to say another young Scot won't one day equal or surpass her medal tally.