Kindness comes in many wonderful forms, but imagine being given the gift of music from a full symphony orchestra!
That's exactly what happened when the BBC Scottish Symphony Orchestra (SSO) – the oldest professional orchestra in Scotland – and its partner Big Noise, touched down in Glasgow. Arriving in the Govanhill area of the city, which is one of Scotland's most racially diverse neighbourhoods, the two organisations brought everyone together for a magical week of shared music making.
Based in the area's Holyrood High School, the intensive five-day project saw members of the SSO work closely with almost 1500 young musicians from Holyrood and nearby Shawlands Academy, as well as pupils from surrounding primary schools. The ultimate goal: to stage a one-off, joint concert for supporters, family, friends and the local community.
Sharon Watson is the Head Teacher at Holyrood High School, and got to see first-hand the incredible power that music has to unite people :
"Music brings people together and this was a fantastic opportunity for both Holyrood and the community at large. We have over 60 languages spoken in this school and that brings with it an incredibly rich cultural offering, especially when it comes to music. On top of this, for many of our pupils, it was the first time they'd ever seen a full orchestra play".
Music with a mission
Big Noise Govanhill are part of the music charity, Sistema Scotland, and their mission is simple - to transform lives through music. The charity works with 2,800 children and young people across four orchestral programmes: Big Noise Raploch in Stirling; Big Noise Govanhill in Glasgow; Big Noise Torry in Aberdeen; and Big Noise Douglas in Dundee.
Results are already paying incredibly positive dividends – showing just how successful the programme is. Independent evaluation has shown that Big Noise helps foster confidence, develop teamwork, build resilience and promote aspiration in the children and young people who take part. These are lifelong skills that are transferable to almost any situation.
Big Noise tuition is delivered by specialist professional musicians and educators, who are also backed up by a brilliant group of volunteers, including parents, community-members, retired music professionals and music students. This provides an amazing opportunity for children and young people to learn from the experts, helping them prepare for their performance alongside the wonderful musicians of the BBC SSO.
"Sistema Scotland is committed to transforming lives through music and supporting children to take part in unique orchestral experiences that open new windows to the world. This BBC SSO residency will be a long-lasting memory for the children and young people of Big Noise Govanhill, other young instrumentalists and the families involved".
During the week with the SSO, the young people took part in a host of inspiring musical activities. From concerts and song writing, to side-by-side coaching – the pupils worked closely with orchestra members.
Sharing is caring
Welsh-born violinist, Elanor Gunn, is the senior musician at Big Noise Govanhill. She originally came to Scotland to study music, before deciding to stay in the country after finishing her studies. Elanor believes that inspiring and mentoring the next generation of young musicians is incredibly worthwhile. She firmly believes that the residency in Govanhill will provide the people there with a fantastic amount of inspiration as well as a lasting legacy.
"Music is ultimately about inspiring emotion in other people and I think the young people inspired the BBC SSO just as much as they inspired us. Once you get to know a little about someone, maybe even share some of each other's troubles, it means so much to make music together".
Mini maestros have their say
It's fair to say that the young Big Noise musicians enjoyed their time with the SSO, enthusing over the one-to-one tuition they received and the new techniques they learned from the professionals. Whether the young musicians go on to play professionally, or just as a hobby, those small acts of encouragement and kindness will live with them forever.
Here are some of the wonderful reactions by the participants:
Maleeha – violinist, aged 10
"I loved sitting with 'my' musician! He taught me lots of different bow skills; how to play tremolo, slurs and dotted rhythms".
Antoni - cellist, aged 10
"I don't think I taught them anything, but I did learn how to make a nice bow stroke. Playing side-by-side with them was really good".
Brothers Alin, 12, a bassoonist, and Andrei, 10, a trombonist, were equally enthusiastic, both delighted and excited to be playing beside professional musicians. While Alin picked up tips on better posture, Andrei learned how to play a glissando.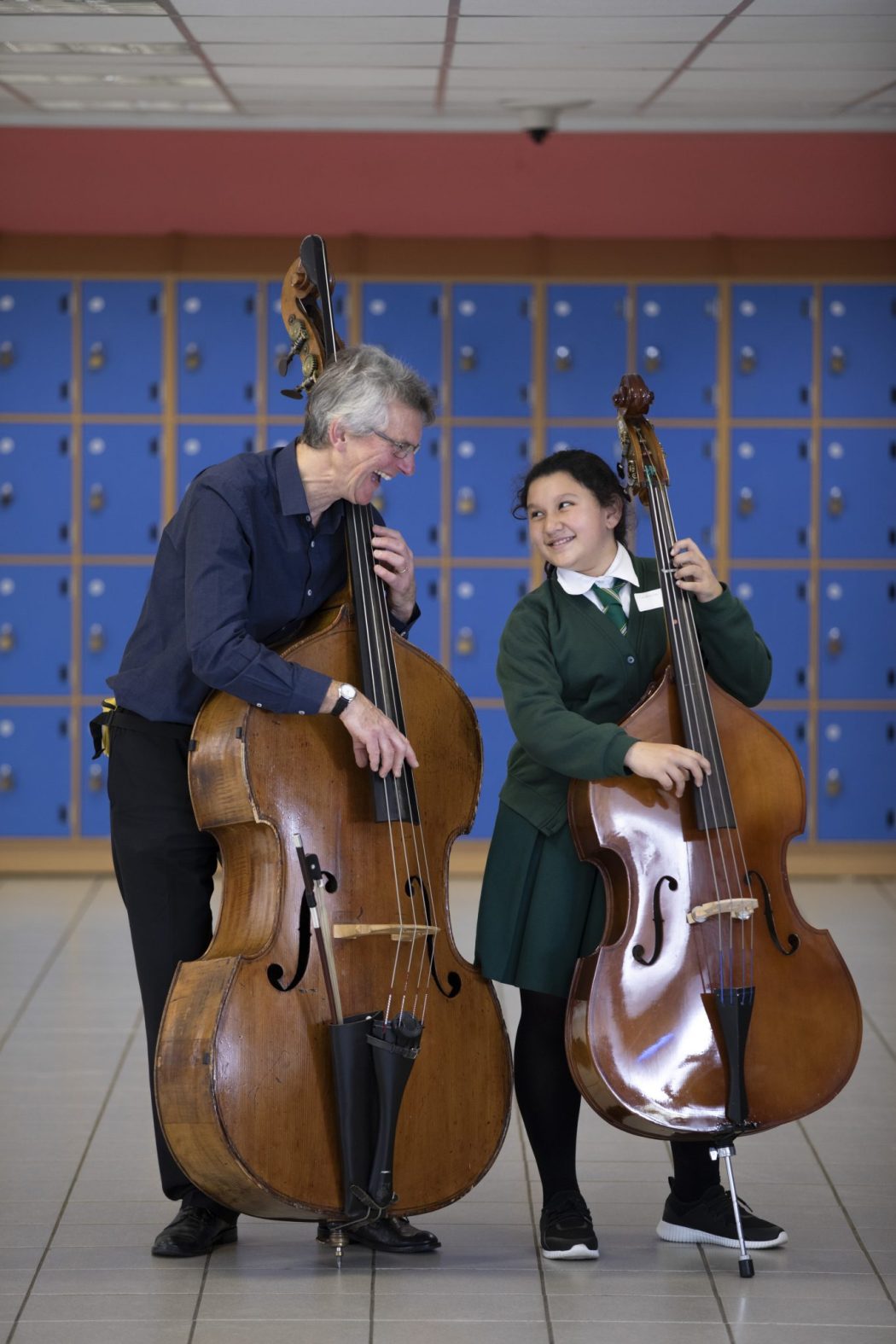 The grand finale
All that practice certainly paid off, when, led by young French conductor Chloé van Soeterstède, the 80-strong BBC SSO took to the stage with almost 80 Big Noise musicians to perform before a packed house of proud parents, friends and supporters.
Playing a 12-piece selection of classical favourites, including pieces by Holst, Bizet, Beethoven and Brahms, the two orchestras eventually came together to duet on a rousing version of Loch Lomond. When that received a standing ovation, they encored with Bernstein's 'Mambo', from West Side Story.
Dominic Parker, director of the BBC SSO, concluded that sharing music with people of all ages across the country is a vital part of the BBC SSO's mission. And to get the opportunity to do this in their hometown of Glasgow was particularly exciting.
"Taking up residence in a school is always inspiring for everyone - bringing the buzz and excitement of live orchestral music to as many pupils as possible - and the wider community as a whole".
The Holyrood residency was presented by the BBC Scottish Symphony Orchestra in partnership with Sistema Scotland and Holyrood Secondary with support from Glasgow's instrumental music service CREATE. Pictures: Martin Shields.