Manga comic books have been a staple of Japanese culture for hundreds of years. Their origins can be traced all the way back to the late 18th Century, with the publication of Santo Kyoden's picture book 'Shiji No Yukikai' in 1798. These days people of all ages read manga, with comics specifically created for different age groups. Shonen manga, for example, is made for children and Seinen manga is for adults. The range of different genres is massive - you can find anything from action-adventure and sci-fi, all the way through to historical drama and even business and commerce comic books. From these origins, the popularity of manga has grown internationally, with huge fan bases around the world, including here in Scotland.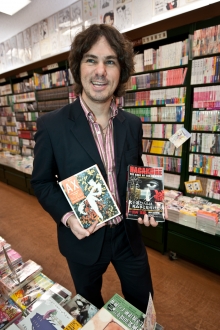 At first glance it is easy to think that the world of manga comic books and Scotland don't share many links. However, with the help of one Scottish writer, this is now changing. Sean Michael Wilson is a Scottish manga writer, and is the only Scottish professional comic book writer currently living and working in Japan. Since his first Japanese comic was published in 2008 Sean has garnered an impressive reputation amongst the Japanese audience. He became the first British comic book writer to have his work available on Japanese mobile phones. Sean is also the only British comic book writer to have a multi-book deal with the Kodansha publishing group, the largest publishing company in Japan.
Sean, who is originally from Edinburgh, doesn't just write manga, and in 2015 released 'Once Upon a Time in Morningside' an autobiographical comic set in Scotland. The book is made up of 14 stories and adventures from his childhood in Edinburgh. This release came just shortly after Sean was listed among the 'Ten Great Scottish Graphic Novel Creators' by the Scottish Book Trust in 2014.
Breaking more new ground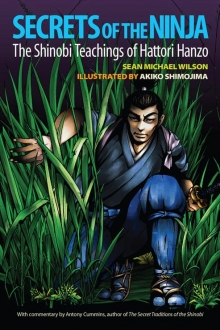 In February 2017 Sean achieved another first, as he became the first Scottish (or British) person to receive an award at the 10th annual Japan International MANGA Awards. The Awards are generally considered the most prestigious prize for non-Japanese manga writers and artists, and his work 'The Secrets of the Ninja' received a bronze award.
The award was created by the Japanese foreign ministry in a bid to enhance understanding of Japanese culture among overseas writers and cartoonists. Each year the judging panel is comprised of ministry officials as well as renowned manga artists. Amazingly, Sean's work was selected from a field of nearly 300 entries from 55 countries and regions around the world. Of these, Sean's was one of only 14 works that were selected this year for recognition.
Blending fact and fiction
Sean's historically grounded manga follows the ninja Nagata Saburo as he teaches his son in the ways of the ninja, 'Secrets of the Ninja' combines a coming-of-age story with a historically accurate background of Japanese culture. The story weaves real lessons, weapons, and skills used by ninja in feudal Japan, and is illustrated by Japanese artist Akiko Shimojima.
The basis for the story comes from Shinobi Hiden, the most famous of the 'Ninja Scrolls' written by Hattori Hanzo, one of the most famous warriors in Japan. These scrolls provided practical instruction for professional ninja, as well as giving insightful theories of social relationships and human interaction in ancient Japan.
Sean was invited to be a guest at Tokyo's second annual 'Scotland Day' in November 2017. The event featured visual arts and cultural performances, displays promoting Scottish products, and Scotland as a tourism destination and place to study, plus talks on Scotland and Japan's shared history. This is just another excellent example of the close ties between Scotland and Japan that continue to strengthen the two countries.