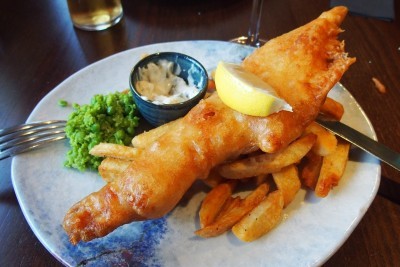 Acclaimed travel guide, Lonely Planet, have recently named Edinburgh's new Fishmarket restaurant amongst the top ten 'Best New Food Experiences' in their Best in Travel 2019 guidebook. With such a prestigious accolade being bestowed on the seafood eatery, perhaps it's time we took a closer look at Scotland's treasures from the deep.
Edinburgh's Fishmarket is a joint venture between head chef Roy Brett, of Ondine – another of the city's leading seafood restaurants – and local supplier Gary Welch, of Welch Fishmongers. They operate a 'less is more' model; preparing the finest Scottish fish and seafood simply, to let their freshness and quality shine through. From traditional fish and chips, to creamy oysters, meaty monkfish, and fabulous crab and lobster, freshness, and simple preparation is the key.
Housed in the former fish market on Newhaven Pier, the restaurant is well placed to haul in the best of the day's catch. Mind you, that doesn't stop the team casting their nets further afield in Scotland for their sustainable fish and seafood; sourcing lobster from Dunbar, squid from Peterhead, and scampi/langoustine from Scrabster.
Roy, a former head chef under seafood king Rick Stein, says:
"Our team has been working hard since we opened in May and it's great to see that our food and restaurant have been recognised in this way".
Fishmarket's success is a perfect example of the incredible seafood on offer around our shores. When it comes to world-class fish and seafood, Scotland already has a global reputation. For example, did you know:
Scotland is the largest producer of farmed Atlantic salmon in the EU and third largest globally.
Over two thirds of the world's langoustines are sourced in Scotland.
Scottish Salmon was the first foreign product to gain France's prestigious 'Label Rouge' quality mark.
Scottish lobsters are on the menu in over 20 Michelin-starred restaurants in Tokyo alone.
From the Scottish Borders and Lowlands, all the way to our Highlands and Islands, Scotland's cold, clean waters mean we are blessed with a well-stocked, high-quality seafood larder.
The world's top chefs put a premium on Scotland's produce. From prime shellfish to white and oily fish, the variety, quality and health benefits of Scotland's catch can't be bettered.
Scotland also has one of the most modern fishing fleets in Europe, with our global trade and transport links ensuring that produce arrives in the world's kitchens and markets as fresh as the day it was landed or harvested.
This is the first time Lonely Planet has included restaurants in their Best in Travel guide.
The listing puts the Fishmarket on the same footing as some of the top restaurants in the world, including René Redzepi's two-Michelin starred Noma, in Copenhagen, and Peruvian chef Virgilio Martínez's high-altitude eatery Mil, which offers breath-taking views over ancient Inca ruins.
Mind you, sitting on the outside deck at the Fishmarket, tucking into a perfect fish supper, while watching the sun set over the Firth of Forth, who would want to be anywhere else in the world?