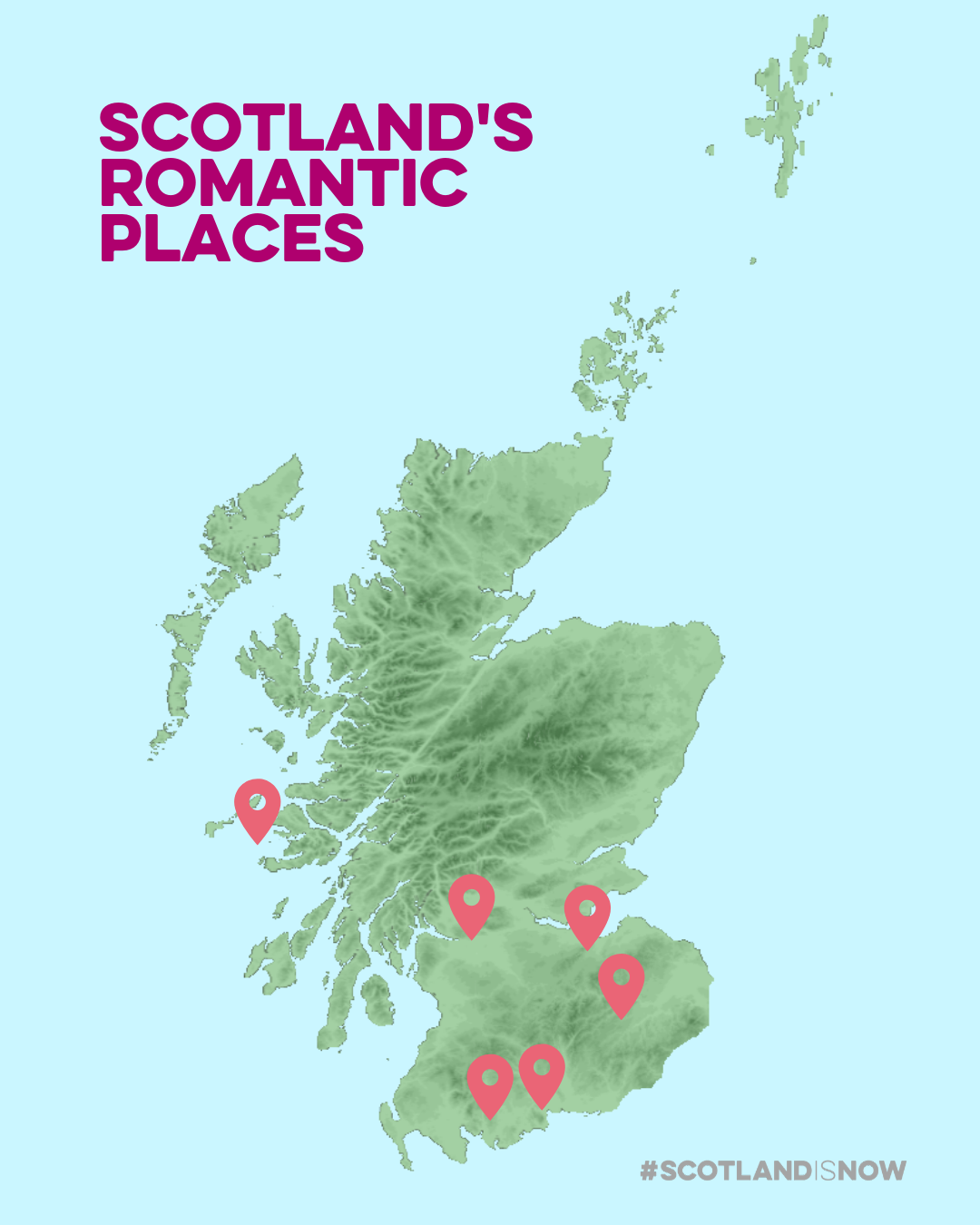 Valentine's Day is here – a day when lovers, young and old, come together and show each other their true feelings in varying degrees of showmanship. Whether you go in for the flamboyant gifts of roses, chocolates and giant teddy bears, or you just give your significant other a little squeeze and let them know you love them, Valentine's Day has captured the imaginations of couples – and wannabe couples – for many years.
Of course, love is always in the air in Scotland, and whether you live here or are just paying a visit, it's easy to find yourself swept up in the beauty and majesty of our stunning scenery and landmarks. So, to celebrate Valentine's Day this year, we wanted to take a little time to showcase locations in Scotland that are synonymous with love – enjoy!
Saint Valentine's relics
What better place to start than with a relic of the man himself! Yes, it might surprise you to know that a relic of St Valentine doesn't lie in The Vatican City, or in Jerusalem, but in a humble church in Glasgow. The forearm bone of St Valentine was brought to Glasgow by Franciscan monks, first being taken to St Francis' Church in 1868, before being moved to the former St Luke's Church in 1993.
Today, the relic is housed in a 3ft-wide decorative casket in the Church of Blessed St John Duns Scotus and attracts pilgrims and lovers from all over the world. The church has also become a popular spot for young lovers to propose to their other half. The presence of the relic even earned Glasgow the title 'The City of Love'.
Isle of Staffa
You might not think a hunk of basalt rock off Scotland's west coast would be romantic, but you'd be wrong! The Isle of Staffa, which consists of columns of hexagonal rock – some rising 40 metres above sea level –, is a wondrous sight; picture waves licking into dark caves and puffins flying past in summer months.
Seeing Staffa for the first time is truly breath-taking; which is surely why creatives like German composer, Felix Mendelssohn chose to visit more than once. The island – and particularly the famous Fingal's Cave – inspired him to create compositions such as 'Hebrides Overture'.
However, it's the story of Staffa's ownership that really warrants its place on this list. The island had several private owners until, in 1986, it caught the eye of notable New York advertising executive John Elliot Jnr. In an incredible show of love and philanthropy, Elliot charmingly bought and gifted Staffa to the National Trust for Scotland in honour of his wife's 60th birthday. He did so knowing the heritage organisation would help preserve the island for future generations, making this a truly eternal love story.
Sweetheart Abbey
As if the name didn't give it away, the ruins of this monastery hide a rather romantic — and heart breaking — love story. Located in the village of New Abbey in south Scotland, Sweetheart Abbey was built in 1275 by Dervorguilla of Galloway, the daughter of a local lord. She was determined to establish an abbey in memory of her late husband John de Balliol.
However, there's a deeper meaning to the 'sweetheart' name. It is said that, after her husband's death, Dervorguilla embalmed and carried Balliol's heart with her at all times in a silver casket. Her devotion endures to this day, and she is buried beside him in front of the high altar at the abbey.
Not only was the abbey built with loving foundations, but it was also crafted out of beautiful ruby-red local sandstone, making a visit to this place memorable in more ways than one.
Gretna Green
Synonymous with marriage here in Scotland, Gretna Green is somewhat akin to Las Vegas – just without all the flashing lights! One of the first towns you reach after crossing the Scottish-English border, Gretna became a popular wedding destination in the late 1700s when laws in England and Wales prevented marriage under the age of 21. However, in Scotland, you could legally wed at a younger age — so couples from down south began crossing the border to marry their young lovers.
Gretna has of course changed in the centuries since — as have the marriage laws — yet the town remains a popular wedding destination. Today, it's estimated that around 5,000 couples still tie the knot in the area every year.
These lovers are all keen to make the most of the romance of this iconic location – and the good luck you're supposed to receive if you touch the famous Gretna anvil. It's also home to a five-star visitor attraction where you can pick up incredible Scottish food, drink and gifts for your beau.
Edinburgh
There are many love affairs — both successful and star-crossed — that we could showcase from Scotland's capital city! From the loyalty of Greyfriars Bobby to the unlucky-in-love Mary Queen of Scots, and the similarly-fated fictional characters of novels like One Day, Edinburgh is one charming metropolis. In fact, its romantic credentials are just one of the reasons why it's the second most visited city in the UK after London.
But the capital is also home to the Scottish Parliament, located at the foot of the Royal Mile, where in 2013 the legislation for same-sex marriage was introduced. Another positive step in Scotland's support of LGBT+ rights, the new law came into effect on 31 December 2014 — and what better night to celebrate than Hogmanay?
One of the first same-sex couples in Scotland to be married noted that this was "an amazing chapter in Scotland's history" and that they were "proud" to live in a country that is prioritising equality for all. Because love is love, wouldn't you agree?
Find out more about Scotland's support for the LGBT+ community.
Abbotsford House
What links the 19th century Romantic Movement to a handsome mansion in the Scottish Borders? The answer is Scottish author, playwright and poet Sir Walter Scott (1771 –1832) – once one of the biggest-selling writers in the world.
As a boy, Scott became fascinated by the oral traditions of the Scottish Borders and was an obsessive collector of stories. At the age of 25, he began writing his own works, starting with poetry based on the ballads he heard in his youth. He soon found fame across Europe, with readers eager to enter his romanticised Scottish world of myth and legend.
As the money started rolling in, Scott decided he needed a home to reflect his newfound wealth, and began building Abbotsford House in the Borders. It's estimated that the building cost him more than £25,000 (£2.1 million in 2019), and the magnificent mansion soon became the toast of the literary world.
Now in the care of a trust, Abbotsford is open to the public, so why not pay a visit. Who knows, it might spark your own romantic story.
Dunfermline Abbey
The final resting place of medieval kings, queens – and even a saint – Dunfermline Abbey was founded in 1128. Back then, royalty rarely had a say in who they married, with partners chosen to further political, social or economic links. But not King Malcolm III and his princess, Margaret, who married each other for love.
Malcolm is said to have fallen in love with Margaret at first sight. He proposed, but she declined, as she wanted to become a nun. Rather than force her hand, Malcolm pursued her for two years until she said 'yes', and they were married at Dunfermline Abbey. Their marriage was a happy and loving one, and it is said the illiterate Malcolm would stare at and kiss Margaret's most prized books.
Years later, upon hearing Malcolm and their eldest son, Edward, had both fallen in battle, Margaret died from grief just two days later. In 1250, the year of her canonisation, hers and Malcolm's bodies were exhumed and placed in a new shrine in the Abbey - husband and wife united in death, as they had once been in life.
Today, romance is alive at well at the Abbey. Still a working church, it hosts weddings throughout the year.
Greyfriars Bobby
Last but by no means least, comes the story of the loveable Scottish dog known as Greyfriars Bobby. The saying goes that love and devotion come in all different shapes and sizes - well - this Edinburgh love story is certainly testament to this idea. When his master died and was buried in Edinburgh's historic Greyfriars Kirkyard, Bobby – a Skye terrier – sat by the grave for the rest of his life – guarding it for an incredible 14 years.
So taken by his loyalty, the Lord Provost of Edinburgh actually paid for Bobby's licence and gave him a special metal collar, which is now in the Museum of Edinburgh. As well as this, English philanthropist Lady Burdett-Coutts was so charmed by the story that she had a drinking fountain – topped with a statue of Bobby – erected outside the cemetery.
Today, Edinburgh – recently voted the most dog-friendly visitor destination in the UK – still welcomes thousands of animal lovers who want to walk in Bobby's paw prints. The story has also been recreated in countless books, TV shows and movies.