Meet:
Murray MacDonald
He's making waves in the charity game by turning his passion for sailing into an organisation that aims to raise awareness for autism, both at home and abroad.
"It was a cold, wet, windy November night in Edinburgh. I sat at my computer and randomly built up a Facebook page…"
When Murray explains how he founded Autism on the Water (AOTW), he always starts the story in the same way. Sure, the above quote might sound like the opening lines of a novel, but it's far from fiction. This 27-year-old Scot has transformed a spontaneous idea into something that's surged far beyond his dreams.
Growing up with his family in a rural area near Oban, Murray's parents knew he was autistic from an early age, but as a child, Murray just remembers that he was isolated and violent. It took until he was a teenager to realise he was "different" from his peers, and it was then that Murray began to see his hobby as therapy.
Murray is far from alone – it's estimated that autism affects over 50,000 people in Scotland. You may have heard it referred to as Autism Spectrum Disorder (ASD), with 'spectrum' highlighting the variety of ways in which people can experience the same condition.
Where one person might find it hard communicating with their peers; another could have sensory sensitivity or repetitive behaviours; and some autistic people may also have additional learning needs such as dyslexia. A person will live with autism throughout their lifetime, which is why initiatives like supported living, specialist education and a government-led strategy are in place for Scots living with autism. And now, thanks to Murray, there's Autism on the Water.
When I was sailing, I met people, my confidence got better, and I had to problem-solve. People in general clearly benefitted from sailing and I thought, why isn't there a charity to raise awareness of autism through sailing?
As Murray sailed more regularly in regattas and National Championship races under the AOTW banner – leading a fully autistic crew in 2017 – the follower numbers on his Facebook page began to swell. It wasn't just that sailing helped his confidence and communication, but it also gave him a "sense of freedom" that he wanted others to experience.
Murray decided that instead of AOTW being solely an initiative to raise awareness of autism, he wanted to actively help other autistic people – especially youngsters – to broaden their own horizons through sailing. And that's exactly what he's started to do. With AOTW only in its first year as a registered Scottish charity, Murray has nevertheless been making waves.
Alongside a summer of races, he's led several transits through the Crinan Canal in Argyll for autistic children. Although some were nervous and shy at first, the entire young crew soon embraced the experience by catching ropes, driving the boat and working the locks together.
We look for activities to do with autistic younger people so the canal was a perfect opportunity. The first time we ran it, four kids on the spectrum came with us. They got involved, made friends and all wanted to come back for more.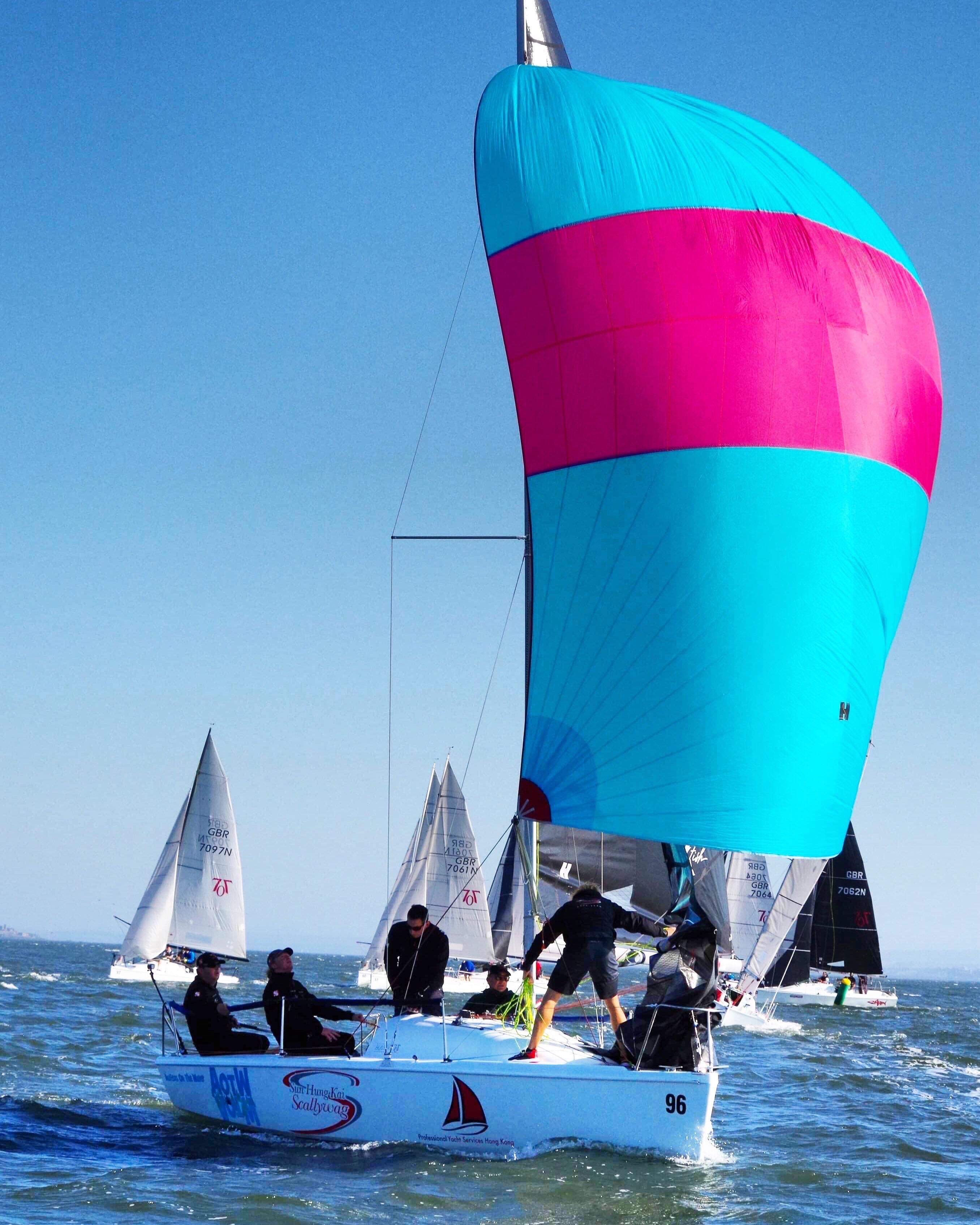 As well as repeating these sessions in local communities around the country, Murray's also hoping to fully train one autistic person as a crew member so that even if he's away, the yacht can continue to sail in regattas to raise awareness of ASD. With all these ideas to keep him busy, you might think Murray's sights are just set on Scotland. In fact, his determination goes way into international waters.
Whilst volunteering at the iconic round-the-world Volvo Ocean Race in Hong Kong back in 2018 – a place where he's also given talks about autism over the years – Murray had a chance meeting with professional sailor David Witt on the quayside. They struck up a conversation, with Murray handing David an AOTW wristband as a parting token.
A few weeks after their meeting, Witt discovered his nephew had been diagnosed autistic, sparking the Australian sailor to take to social media and promote Murray's initiative. This coincidence has fostered not only a friendship between the two men that crosses borders, but also a mutual drive to develop a greater understanding of autism. Witt even travelled to Scotland this year to race with Murray, supplying him a new suit of sails and helping him secure his first win in the Hunter 707 fleet.
Although we've had support from all over the world, it's been especially strong among the Scottish sailing community. I think it's because Scotland is a very peaceful and friendly country – people stay here because they think it's a great place to build something.
Charity has its challenges – AOTW will undergo its first financial assessment at the start of 2020 – but Murray says it's all worth it. From a simple Facebook page created in his flat, to the support he's received from the sailing network and sponsors both at home and abroad, Murray maintains that it's possible to build big dreams from very little with the right motivation and a passion for helping others.
Pursuing these altruistic ambitions has taken him to coastlines around the world from Argyll to Antigua – so why does he always return to the wild west coast of Scotland?
Scotland is always the place I would pick first. White-sand beaches, completely blue waters, dolphins, puffins – it's just stunning. You know you're lucky to live in a country where you can see all that.
The west coast is, he smiles, regarded by many as one of the best sailing spots on the planet. Even in the "bucketing rain", Murray says, there's always something to notice and immerse your senses in, from the wildlife and surrounding landscapes to the unpredictable weather.
For Murray, a man who's grown up with autism, his medicine is sailing – and sharing it with others could be his legacy.