Welcome to Scotland a country of unique food and drink. Food and drink is so important to us that we made 2015 the 'Year of Food and Drink', a 12-month celebration of our fantastic produce.
Many people are aware of the protected status of Scottish Whisky but did you know that 10 other products have protected status? Protected Geographical Indication (PGI) or Protected Designation of Origin are internationally recognised labels that restrict where or how a product can be made.
We are proud of our very special produce, and that's why Ian R Spink one of Scotland's finest producers of Arbroath Smokies stars in our welcome to Scotland imagery: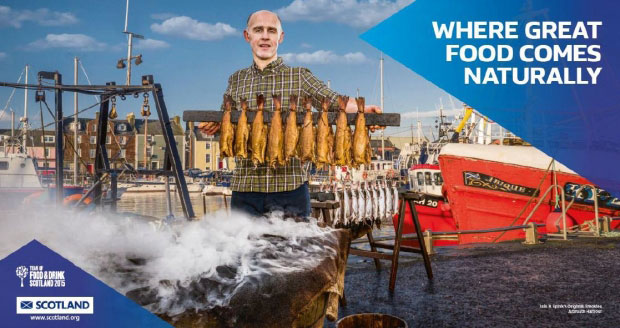 Ian explains why the protected status of Arbroath Smokies is so important,
"It was my father Bob Spink who virtually single-handedly spearheaded the campaign for the Arbroath Smokies PGI protection, something he achieved back in 2004. This came about after seeing grossly inferior products being sold in a national supermarket that had been made south of the border and clearly labelled, and sold, as 'Arbroath Smokies'. My father immediately realised the damage that was being done to the real Arbroath Smokies via these poor imitations and that something had to done in order to preserve its good name and its long term future."
Thanks to Bob, nowadays an Arbroath Smokie has EC 'Protected Geographical Status' which means only haddock smoked using traditional methods within a five-mile radius of Arbroath can use the name 'Arbroath Smokie'.
This has been a real boost to the area, as Ian explains,
"The displaying of a PGI logo effectively gives consumers a 'stamp of reassurance' so that anyone buying an Arbroath Smokie anywhere, can do so with complete confidence that they are indeed getting the 'real thing'.
"The PGI benefits not only the fish processors of the Arbroath but also the town as a whole, as many visitors and tourists flock to the town every year to purchase the Arbroath Smokie and also to seek out more of its fascinating history. This has a direct spin off for other shops and businesses in the area as well as those in the accommodation related industry.
"Without the PGI protection I have no doubt that the Arbroath Smokie would suffer hugely as many others in all areas of the country would seek to capitalise on its good name and mass produce inferior quality products that would permanently damage the Arbroath Smokie, possibly even leading to its ultimate demise eventually."
Watch Ian work his magic:
Arbroath Smokies produced by Arbroath-based Iain Spink has been named as one of the Top 50 Foods within the UK by the Guild of Fine Food's annual Great Taste accreditation scheme.
Other Scottish products with protected status include Scotch Lamb, Scotch Beef, Scotch Whisky, Scottish Farmed Salmon, Stornoway Black Pudding and Orkney Cheddar. In fact, we are applying for more with Dundee Cake and Baremill going through the process towards protected status.
In Scotland we're naturally very proud of our quality produce and, over the years, we've worked hard to preserve and protect our status as a producer of exceptional food and drink in the world. Thriving food and drink businesses play a vital role in Scotland's economic success and future prosperity as a nation, and food is a key part of what makes the people of Scotland proud of their country.