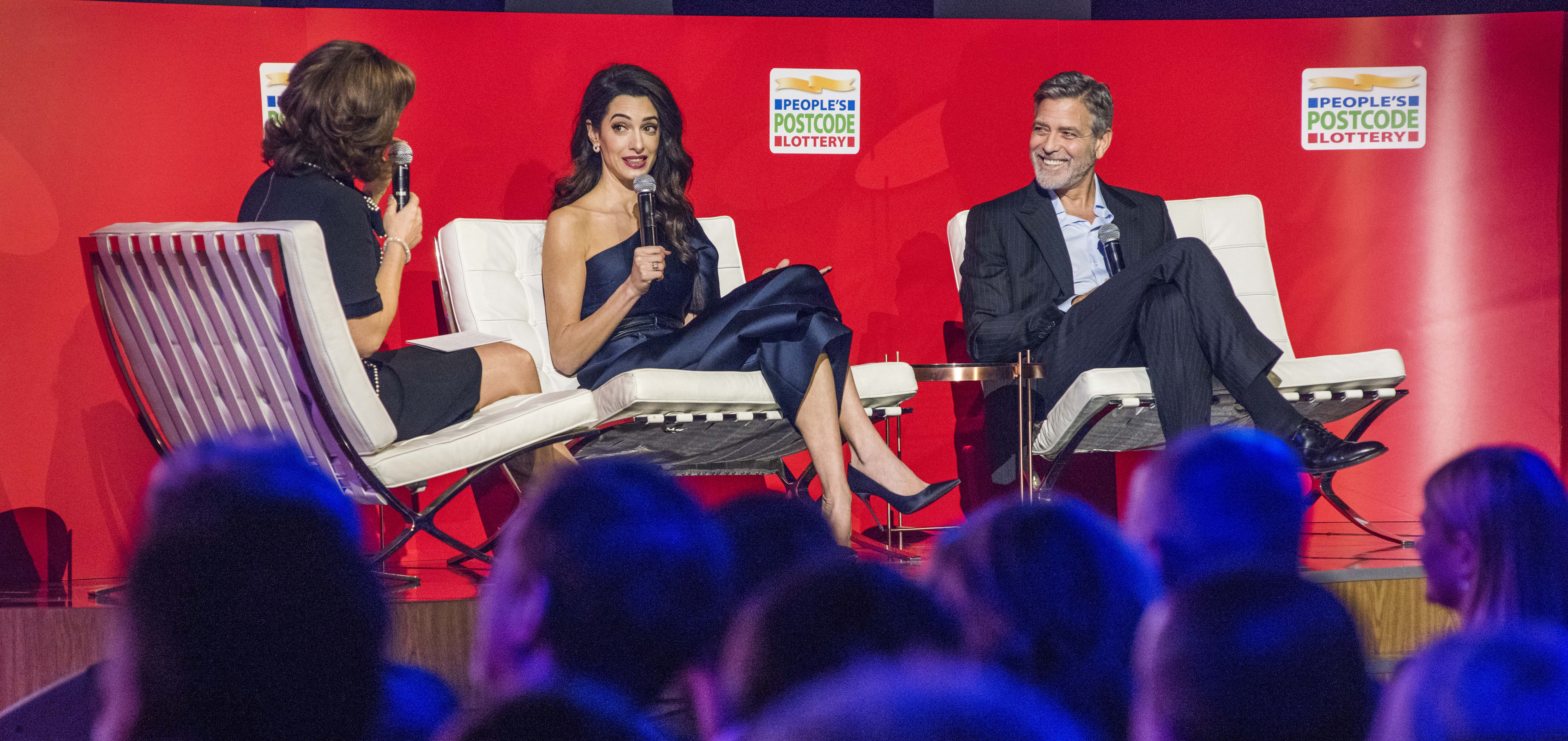 George and Amal Clooney were presented with a prestigious Postcode Hero award last night in Edinburgh to recognise their work to safeguard human rights by Scotland's First Minister, Nicola Sturgeon.
Scotland has a globally-renowned reputation for being a warm and open country, welcoming everyone who must receive fair treatment wherever they're from in the world. The People's Postcode Lottery, which has an Edinburgh office, rewarded the couple's significant contribution to human rights.
They received a £1 million cheque raised by People's Postcode Lottery players, which will help fund TrialWatch – a project run by the Clooney Foundation for Justice to advance justice for marginalised or persecuted groups, refugees and displaced children.
The Foundation plans to increase its monitoring of trials in countries where human rights are at risk; this was highlighted at the People's Postcode Lottery's Charity Gala, held at the University of Edinburgh's McEwan Hall. Amal Clooney said:
"The scale of the problem can seem enormous, and the stories you hear are unfathomable, and you think: how do you begin to confront something like that. It's individuals who can make a difference in even the most grim circumstances."
Since it began, People's Postcode Lottery has raised more than £400 million for good causes. The prominent women's rights campaigner, Nice Nailantei Leng'ete, was also presented with a Postcode Hero award in recognition of her work to end female genital mutilation / cutting amongst Maasai communities in Kenya.
The Clooneys were presented with their awards by Nicola Sturgeon, who said:
"Amal and George Clooney are worthy recipients of these Postcode Hero Awards which recognise their outstanding commitment to improving people's lives and ensuring some of the most vulnerable people in our world get the justice, opportunities and support that they need."
The annual Charity Gala celebrates the vitally-important work done by the charities which are supported by the lottery's players. In 2018 alone, more than £100 million was awarded to charities working in Britain and beyond. In total, players have now raised more than £400 million for charities and good causes.
Clara Govier, Managing Director of People's Postcode Lottery said:
"It was our honour to welcome George and Amal Clooney, Nicola Sturgeon and Nice Nailantei Leng'ete to our Charity Gala. The event was a powerful demonstration of how players are changing lives for the better here in Britain and around the world."
Ulitmately, the awards and the event endorse Scotland's own commitment to protecting human rights, again as a welcoming country. From supporting LGBTI rights, gender equality to welcoming refugees and people from Europe and across the world, Scotland is an advocate of human rights.