Doors Open Days is Scotland's largest free annual architectural event. It's been celebrating Scotland's built environment since 1990, and this year marks its 30th birthday. From tenements to factories, castles to private homes, Doors Open Days is your chance to explore Scotland's unique built heritage.
Coordinated nationally by the Scottish Civic Trust, the Doors Open Days festival is part of the European Heritage Days program alongside Scottish Archaeology Month. European Heritage Days is a pan-European project that brings citizens together and highlights the European dimensions of our shared cultural heritage.
Aims and ambitions
Both Doors Open Days and Scottish Archaeology Month take place in September annually, are month-long events, and are supported by Historic Environment Scotland.
The aim of Doors Open Days is to ensure that Scotland's built heritage, new and old, is made accessible to people living and visiting the country on weekends in September. Even if you don't have any interest in architecture or design, the event – and the thousands of buildings involved – can provide a great stepping off point to explore your town or city's history, or even your own family history and genealogy.
After all, who doesn't enjoy a good nosey around a previously unexplored building?
As well as opening their doors, many venues also offer a range of free public talks, historic walking tours, workshops and children's events.
Go West!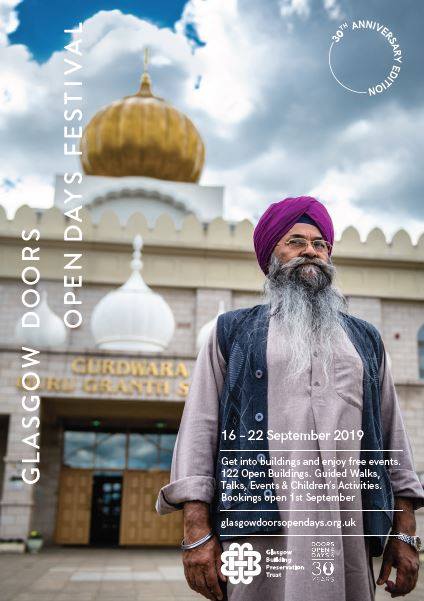 In Glasgow, the city's Building Preservation Trust will be running a talks and walks hub in The Garment Factory a former Victorian tailoring warehouse in the heart of the Merchant City, now transformed into a hi-tech, 21st century creative workspace.
Pop next door to the city's historic Ramshorn graveyard, and you can say 'hello' to some of the 18th century merchants who helped build Glasgow's historic wealth and fame. The graveyard is also home to historic, wrought iron 'mort safes', designed to protect the freshly deceased from the clutches of body snatchers!
What was originally a weekend of open buildings has grown to become a week-long programme with a diverse range of events engaging with the city's-built environment in different ways. Glasgow also has a dedicated children's programme of activities and pulls together a programme of over 100 other events, exhibitions, guided walks and talks. During this year's festival, you'll have the opportunity to participate in a guided tour investigating ghost signs throughout the city, workshops in one of the city's most popular nightclubs, historic tours of Glasgow's Golden Age and a talk about the city's interwar queer underworld.
The Glasgow event has welcomed over 89,000 visitors in the past five years alone. As well as the regular events, with this year marking DoD's 30th birthday, there will also be a host of unique, one-off events.
Click here for full Glasgow building and events listings.
Eastern promise
In Edinburgh, new DoD venues this year include: Castle Mills, Collective at the City Observatory, Dean Gardens, Drumsheugh Baths Club, Informatics Forum, MRC Institute of Genetics and Molecular Medicine, Panmure House, and the Seafield Treatment Centre.
From heritage landmarks to the city's newest architecture, Doors Open Day offers free access to properties that are either not usually open to the public or would normally charge an entry fee. The event also offers the public an opportunity to find out more about the capital's public buildings.
All venues feature behind the scenes tours, activities, exhibitions and/or talks which bring the history of the building and its everyday use to life. Many sites organise additional free activities for children and families.
The Edinburgh event is co-ordinated by the Cockburn Association, founded in 1875, which is named after the late Lord Henry Cockburn (1779-1854) who campaigned to protect and enhance the beauty of the city.
The Northern Lights
In Aberdeen, where over 50 buildings will open their doors, there are two must-see's for this year. First of these is North East Scotland College, who have so much to show people from their planetarium to their training restaurant, where students learn to cook and to serve (and refreshments will be available courtesy of the students).
The second is one of the most beloved buildings in Aberdeen: The Beach Ballroom. This year the venue celebrates its 90th birthday and it holds a special place in the hearts of many Aberdonians. They will be offering tours and a rare chance to peak behind the scenes.
Freedom to explore
The brilliant thing about all the Doors Open Days events is that they are free and are often led by experts in their field; historians, architects, social historians, and the very people who live and work in the buildings.
Due to the nature and size of some DoD sites, spaces can sometimes be limited, with places snapped up almost as soon as bookings open.
The great thing is, with different towns and cities staggering their DoD events across the month, visiting one location doesn't mean you have to miss out on what's on offer just along the road. Plan your days out, and, in the space of one month, you can travel right across Scotland, and through time, to visit a whole range of historic buildings.
The event helps build connections between people and places and provides a platform for people to share their love of buildings, history, region or subject with the public, whether local or visiting.
Find your own story
Although free to the public, the event relies on a huge amount of in-kind support from thousands of volunteers and a network of area coordinators who work for councils, preservation trusts, charities and local civic societies.
As interesting and intriguing as the open buildings are, often it's the stories they hold that are the real joy and help bring the buildings to life. And, often, visitors bring their own personal or family stories back to the buildings – tales of hard work, first meetings, and even of love and romance.
Why don't you open the doors on Scotland's fascinating architectural legacy? Who knows what you might discover…
Find out more about all the dates, regions, and participating buildings.