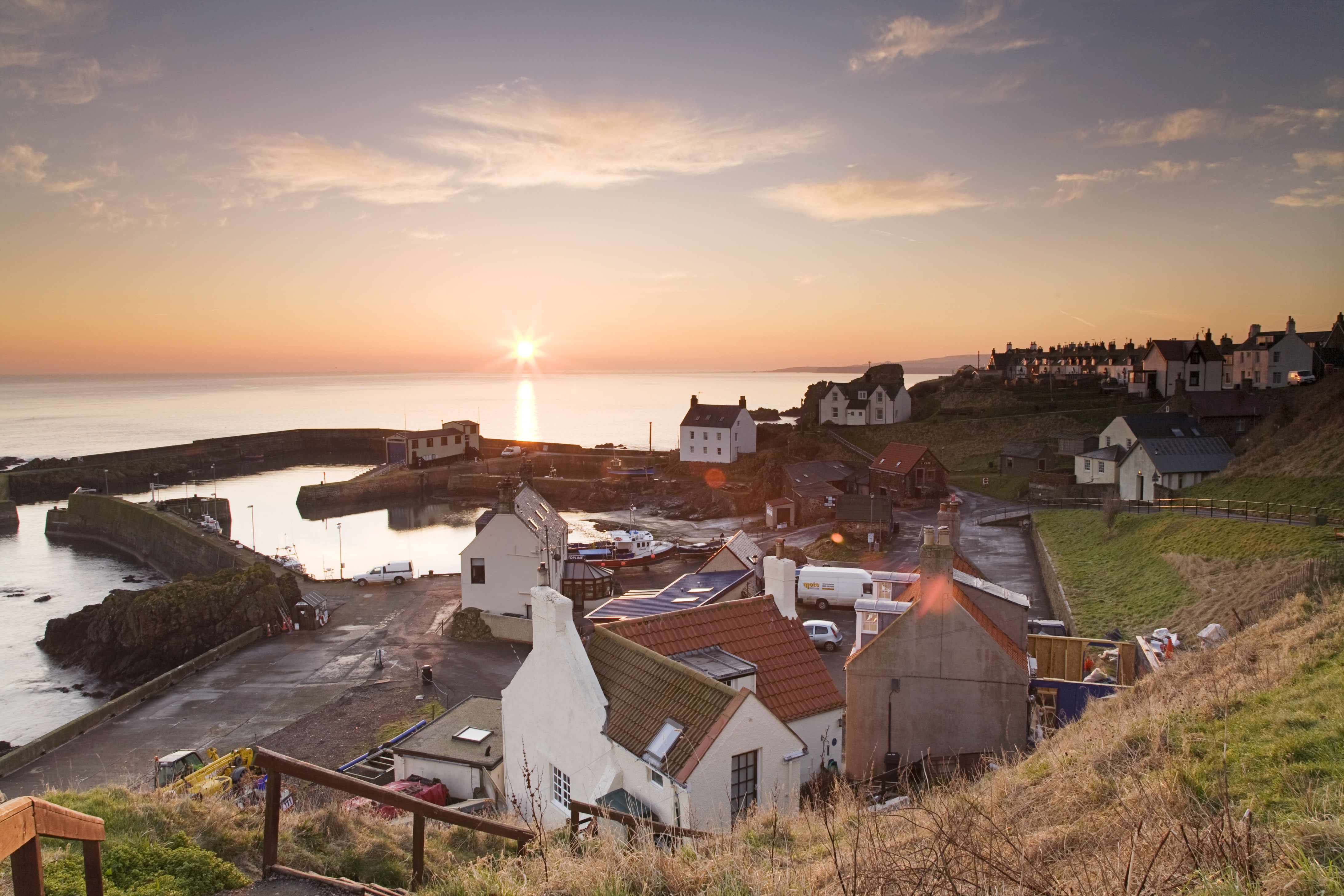 Scotland has a habit of leaving an impression on the people who come here – we just can't help ourselves. Whether it's our warm, friendly welcome, our vibrant cities or our stunning scenic landscapes, Scotland has a unique ability to live in the memory long after people have left. This might explain why, when millions of cinemagoers headed to see Marvel's latest Avengers movie, they were treated to another couple of scene-stealing Scottish cameos.
Of course, Marvel fans are already familiar with Edinburgh's starring role in Avengers: Infinity War. In it, iconic landmarks like Cockburn Street, Waverly Station and the Royal Mile act as the stunning backdrop to a battle between Earth's mightiest heroes and the forces of evil. However, not content with stealing scenes from Hollywood A-listers like Chris Evans and Scarlett Johansson, Scotland is back at it again in Avengers: Endgame.
Despite being out in cinemas for less than a week, Marvel's Avengers: Endgame has destroyed all box office records and is well on its way to becoming the highest grossing movie ever. But in Scotland, many eagle-eyed viewers took an extra bit of joy from seeing one or two of their best-loved products on display.
A home fit for a god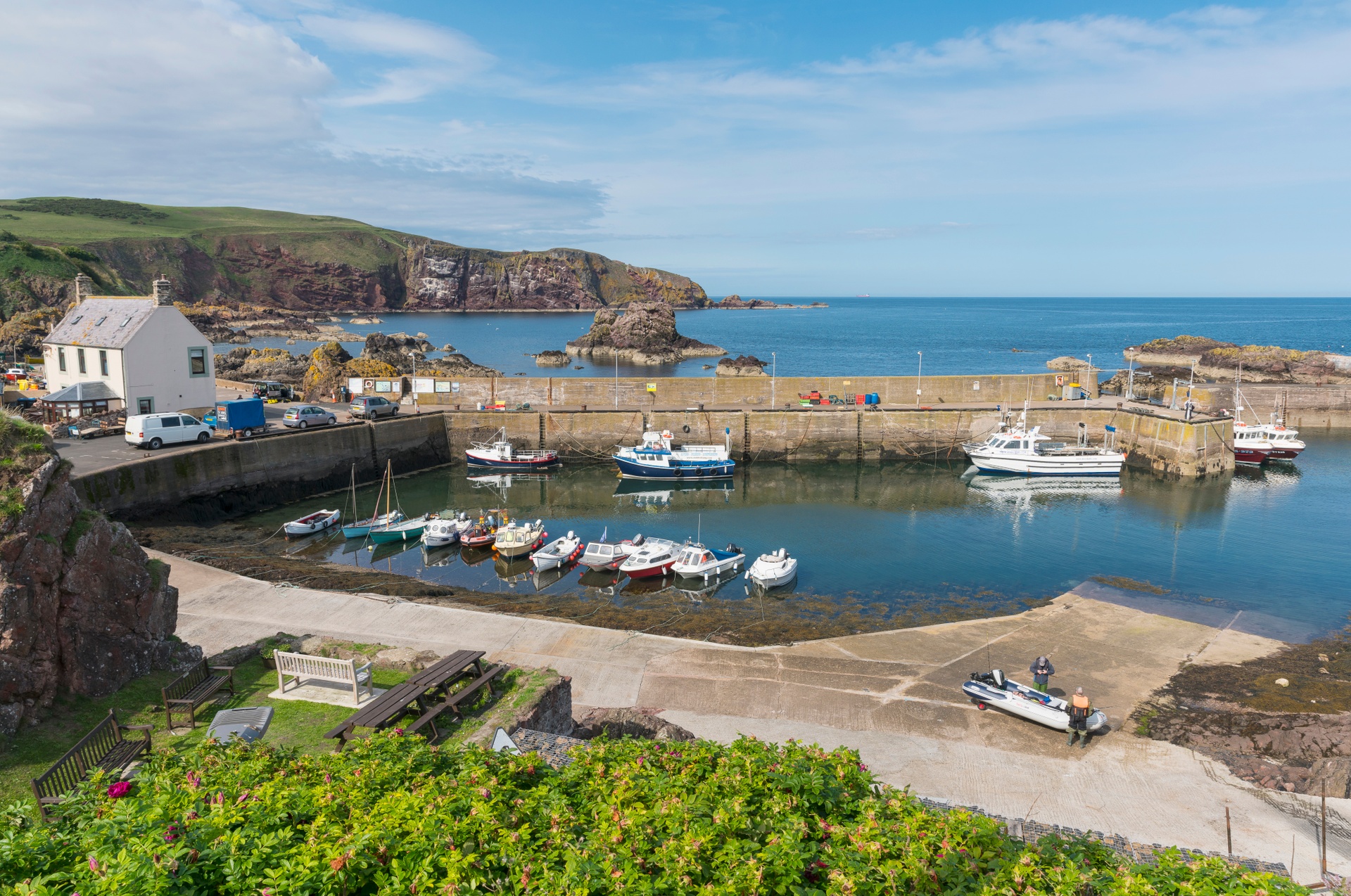 Fans of the franchise won't need reminded that Thor's planet has been destroyed, with him and his people searching for a new home – and what better place to call home than Scotland. With an enviable work/life balance, more world-class universities per head of population than almost any other country in the world and the honour of being voted 'the most beautiful country in the world', Scotland is officially 'fit for a god'.
Doubling as the site of New Asgard – the adopted home of Thor and his people – is the tiny fishing village of St Abbs on the south east coast of Scotland. Just an hour's drive from Scotland's capital city, today St Abbs is a hotspot for scuba divers, with those brave enough to face the cold North Sea treated to some astonishingly clear waters.
The town takes its name from a 7th century local princess named Æbbe, who established a nunnery – the ruins of which can still be found – after her ship sunk and she struggled ashore in the area. For centuries, it has been home to an impressive fishing industry and this proud tradition still continues to this day.
Though the town is home to just a couple of hundred people, it is also the home of a 60,000 strong seabird colony. Playing host to guillemots, razorbills, puffins and many more means that today the land is protected by The National Trust for Scotland as a nature reserve consisting of 200 acres of stunning rugged coastline.
The nectar of the gods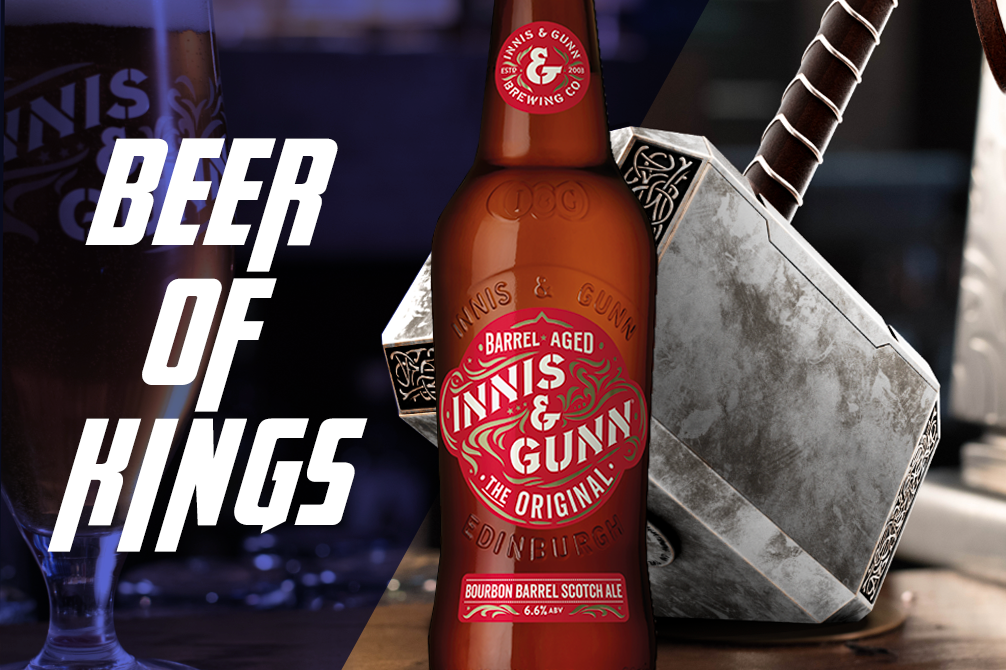 St Abbs was not the only scene-stealer in this movie, with two of Scotland's most iconic drinks brands showing up front and centre in the home of our friendly god of thunder. Inside Thor's home, we see the man himself reach for a beer, cracking it open on the side of his axe before taking a long swig - that beer, is none other than Innis & Gunn's The Original.
Mythology lesson time: Norse mythology tells of a legendary party held by a giant called Aegir, with Thor, Loki and all the other gods invited to the event. Apparently, the highlight of the party was Aegir's drink, as he was said to brew 'the best beer in the nine worlds'. Now, we can't tell you whether that party was any good, but one thing we can tell you is that Marvel's own Asgardian, Thor, seems to have found the next best thing.
Dougal Gunn Sharp, Innis & Gunn founder and Master Brewer, said:
"As brand endorsements go, this one is pretty good. Avengers: Endgame is amazing, and to see one of the best-loved characters enjoying one of our best-loved beers is pretty special. We're so pleased we made it into what is undoubtedly one of the major cultural events of the year".
Innis & Gunn are just one of the many Scottish craft brewers at the forefront of this ever-expanding industry. As recently as 1970 there were only 11 breweries in Scotland, but today we are home to more than 100 craft breweries. Amazingly, across the whole of the UK there are now more breweries per head of population in Scotland than anywhere else in the world.
Today Innis & Gunn export their products to more than 35 countries around the world and with plans to open the first new large brewery in Edinburgh in more than 150 years, it's clear that their success is showing no signs of stopping.
Made in Asgard, from girders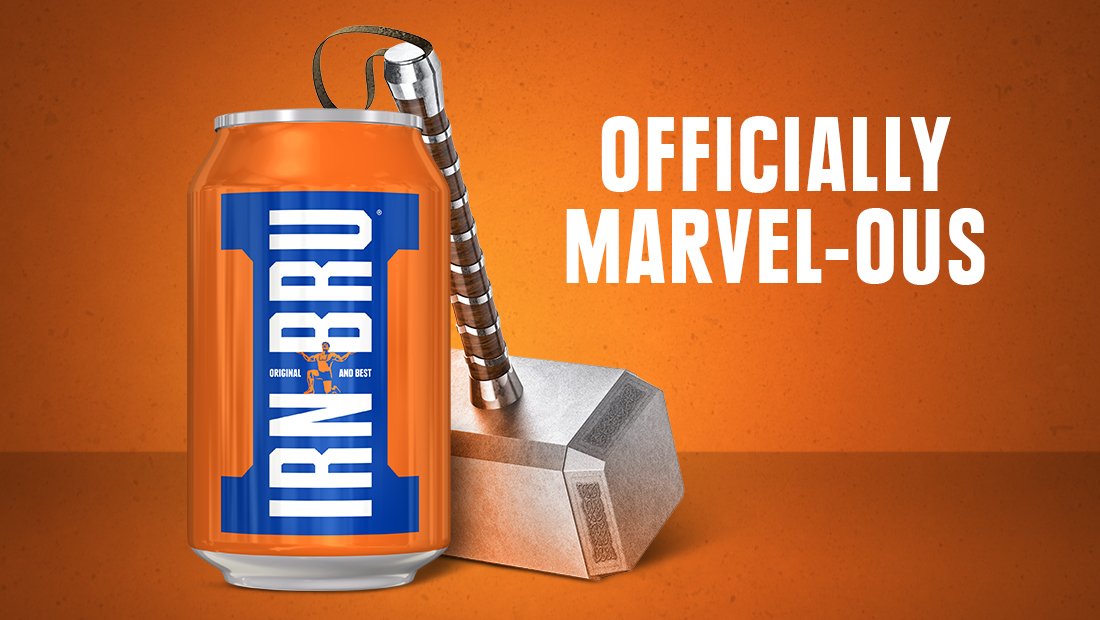 If beer isn't quite your thing, then the good news is that it seems Thor is partial to our soft drinks too. The scene inside his home also shows a bottle of Irn-Bru – the soft drink affectionately known as 'Scotland's other national drink'.
Irn-Bru has been a staple of the Scottish diet since it was introduced way back in 1901. Back then, steel workers tasked with rebuilding Glasgow's Central Station found they were drinking too much beer to quench their thirst. Happily, a local soft drinks manufacturer by the name of AG Barr came along with a tasty new drink to help get the workers through the tough days. Irn-Bru was born and its place in Scotland's national identity has never moved since.
Irn-Bru's unique recipe – made up of 32 different flavours – has remained a family secret since its creation. This recipe is closely guarded, and passed down through the generations to ensure people enjoy the drink for years to come.
Scotland's stunning scenery has long been the focus of Hollywood movies, with Marvel's Avengers saga being the latest in a long and impressive line-up that includes everything from Harry Potter to James Bond. But it is also great to see that some of our iconic brands are getting the big screen recognition that they too deserve.