These companies are so vital because they provide a dynamic, ethical and more sustainable way of doing business. As well as this, social enterprises are incredibly innovative, independent businesses that exist to deliver a specific social and/or environmental mission.
Scotland is currently home to more than 5600 different social enterprises, with approximately 300 new ones formed every year. The great thing about all of these businesses is that their profits are reinvested back into their missions, helping to create a better world for everyone. At the forefront of the social enterprise revolution in Scotland is the Social Enterprise Academy. Created by social entrepreneurs, for social entrepreneurs, the Social Enterprise Academy has a 12 year track record of delivering excellence.
As well as providing programmes in leadership, enterprise, personal development and social impact, they also support the people and organisations enabling social change. Since 2012 the Social Enterprise Academy has also been expanding internationally, sharing its model and experience. This has enabled people around the world to benefit from dynamic peer-support programmes situated in their own communities.
Scotland's social enterprise support eco-system is recognised as being one of the best in the world. We have more than 15 years of experience in providing investment, procurement and partnerships between the Scottish Government and a range of organisations. Last week it was announced that the Social Enterprise Academy will be adding another partnership, this time with India. Social enterprise in India has grown on a massive scale in a fairly short space of time, expanding across the country in less than 10 years.
Growth in India
Amazingly, in 2015, the British Council estimated that there were roughly 2 million enterprises in India. Many of these are operating in areas with high levels of poverty and challenging business environments to reach millions of people. However, the majority of these enterprises are very young and their impressive growth plans can benefit from the experience provided by the Social Enterprise Academy's new set-up in India.
Scotland and India already share a wide array of strong links and this new partnership will only help to strengthen the close friendship. Although the scale of social enterprise in India is far larger than that of Scotland, many of the challenges faced by these companies are similar, regardless of the size of the country. This is because, at their heart, social enterprises in both countries use business as a tool for achieving a meaningful social impact. It's for this reason that the Social Enterprise Academy has created an offshoot in India as part of the Scotland:India Impact Link.
The Scotland:India Impact Link is a brand new range of support offered from the Scottish Government. This support will help connect social enterprises in Scotland and India, in a bid to tackle the challenges they face. In its first year, the Link aims to focus on a small number of emerging Indian social enterprises from a select group of incubators across the country. Together with the new Social Enterprise Academy India, these chosen few companies will then receive the necessary help to allow them to build their capacity and sustain their impact in their chosen area.
As well as direct financial support via a grant, the selected enterprises will also partner with a Scottish social enterprise mentor. It's hoped that this collaboration will allow them to share experiences and gain access to leadership development with the Social Enterprise Academy India. The programme will also create one big learning experience that will benefit both parties. This means that we can not only offer our support to India's social enterprises, but also learn from the unique challenges that Scottish social enterprises have not had to face.
Planning for the future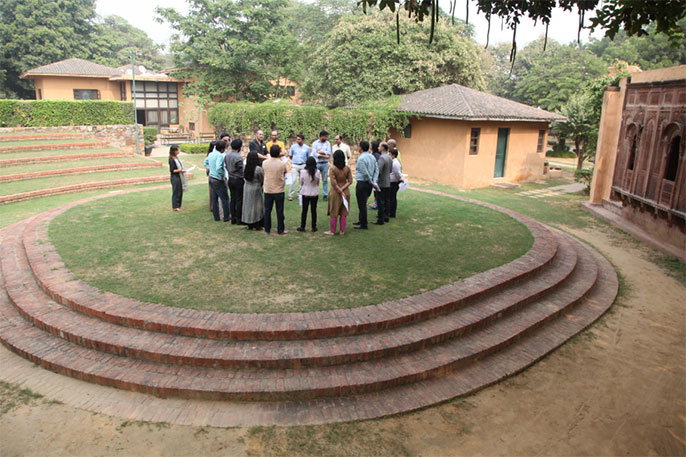 There is much to be learned for everyone involved in the project, but it is all built on a simple unifying idea. If we are going to tackle the world's social and environmental problems, then we need to work together. Enterprises all around the world will face their own set of problems, and so the best way to learn is by collaborating together. During the first year pilot of the Social Enterprise Academy India, the goal is to learn, adapt and, in time, be able to help more social entrepreneurs.
It's heartening to see the strong bond between Scotland and India move into the area of social enterprise. These businesses have a strong vision to make real changes in their environments. With great causes like greener energy, agriculture, water sanitation and education, it's important that we come together and learn from each other's unique problems and accomplishments.
Find out more about the Social Enterprise Academy.