Each year, many thousands of students travel from across the world to study in Scotland.
Why? Well we have more world-class universities per head than almost anywhere else in the world and the highest concentration of universities in Europe. Scotland has some of the oldest universities in Europe as well as modern campuses full of cutting edge technology. These a just a few reasons why international students choose to study in Scotland.
Our 19 universities and their graduates are important to us. We've always helped to develop great minds that have in turn helped shaped the world today. That's why they are part of the imagery welcoming people to Scotland at airports around the country: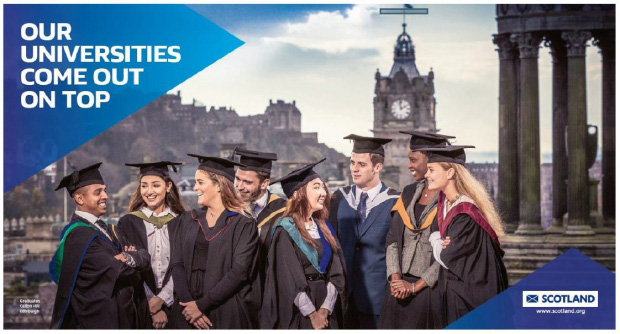 Many great thinkers have attended Scottish universities. David Hume, known as one of the greatest philosophers of all time, has attended Edinburgh University. The equally influential Adam Smith - the economist and philosopher - was only 14 when he entered Glasgow University.
Scotland's graduates have contributed heavily to the sciences. Aberdeen University's Robert Brown, the 17th century botanist, made one of the earliest detailed descriptions of the cell nucleus, and Edward Jenner, "the father of immunology", graduated from the University of St Andrews in 1792. His work is said to have saved more lives than the work of any other human being.
Scottish graduates contribute to a wide variety of other spheres from the arts to the technology - the possibilities on graduating are endless. Some go on to be sporting stars, such as Olympians Hannah Miley from Robert Gordon University in Aberdeen, and Dr Rhona Martin MBE, who studied at Glasgow Caledonian University and is now one of the top coaches in the international sport of curling. There are many other sportspeople with university connections including Scotland's Rural College graduate and Scotland and the British and Irish Lions rugby player Doddie Weir, and Craig Brown, the former manager of the Scottish Football Team who studied at the Open University.
Many graduates opt for competition in the business world and the challenge of the board room. Hamish Dodds, the President and CEO of Hard Rock International graduated from Robert Gordon University. There are currently 191 Hard Rock locations in 59 countries including 145 cafes, 21 hotels and 10 casinos.
Scotland's universities have a close ties to the arts and culture sector. No more so than Glasgow School of Art. The school is responsible for three of every ten Turner prize nominees since 2005 and a total of four winners; including last year's winner, Duncan Campbell who graduated with a Masters in Fine Art.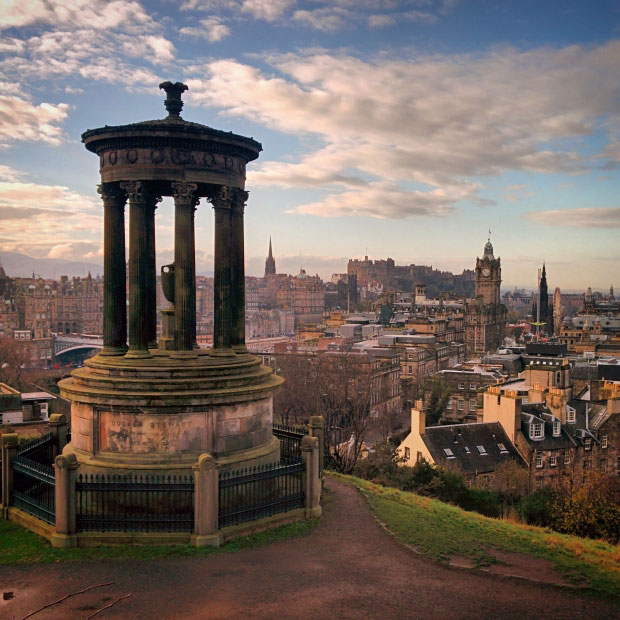 Some of our graduates take to the screen, such as Game of Thrones star Iain Glen who studied at Aberdeen University or Ugly Betty star Ashley Jensen and Grey's Anatomy star Kevin McKidd who both studied at Queen Margaret University in Edinburgh. International singer and songwriter Emeli Sandé studied Neuroscience at Glasgow University. Others include, University of Highlands and Islands alumni Julie Fowli and the Royal Conservatoire of Scotland's Karen Cargill - an internationally renowned mezzo-soprano.
Technology is at the forefront of university life in Scotland and its history. From the University of Dundee , Robert Alexander Watson-Watt, was a pioneer in the development of the radar. A century later, and down the road at Abertay University (also in Dundee), David Jones founded DMA Games which later became Rockstar North; the company responsible for one of the most successful computer games series ever, Grand Theft Auto.
Scotland's universities are beacons of equality and that is represented by the graduates blazing a trail for women internationally. Dame Stella Rimington was a graduate of Edinburgh University before becoming the first publically known Director-General of MI5. Dr Shamshad Akhtar Detho, who has a PhD in Economics from Paisley College of Technology (now the University of West of Scotland), was the first woman to hold the position of Governor of the State Bank of Pakistan. Closer to home, Dame Elish Angiolini graduated from Strathclyde and went on to become the first female Lord Advocate in Scotland, the country's chief legal officer.
Whichever university you choose and no matter what area of study, in Scotland you can be sure you will be walking in the path of giants, and with over 4,500 courses in more than 150 subject groupings at undergraduate and postgraduate level, Scotland has something to offer every student.