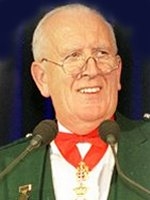 Written by Len Murray, Dean of the Guild of Robert Burns Speakers and author of The Pleader
There can surely be few songs that are more frequently sung throughout the world than Auld Lang Syne. Perhaps only 'Happy Birthday to You' exceeds it in popularity.
It was on 17th December 1788 Robert Burns wrote a letter to a friend of his (she was almost his patroness), a Mrs Frances Dunlop. And in that letter he wrote:
"Apropos, is not the Scotch phrase Auld Lang Syne exceedingly expressive? There is an old song and tune which has often thrilled through my soul. You know I am an enthusiast in old Scots songs. I shall give you the verses on the other sheet."
The song on the other sheet was Burns' first version of Auld Lang Syne. And beside the song he added:
"Light be the turf on the breast of the heaven-inspired poet who composed this glorious fragment! There is more of the fire of native genius in it than in half a dozen of modern English Bacchanalians."
He had not written it all, but it was one of the myriad of old Scots folk songs which he had collected in his travels and one which he had repaired and added to and polished and burnished till it shone like a gem. He sent it to his publisher but it was not published till about six months after Burns' death.
In another of his letters Burns tells of how he came by the song when he wrote that he "took it down from an old man's singing".
Since its publication, Auld Lang Syne has gone round the world countless times and is surely the greatest song of parting known to man.
Incidentally, the phrase "for the sake of" is NOT part of the song. One last thing – the word 'Syne' starts with the letter 'S' and NOT the letter 'Z'.