With a vast writing career that spanned six decades, Muriel has captivated readers around the world with her beautiful writing. Known as 'Muriel Spark 100', this programme will be an amazing year-long celebration of one of Scotland's best-loved authors.
The celebration will be led by Creative Scotland and the National Library of Scotland, in collaboration with several other partners, groups and organisations. One of the highlights of the year will be at the National Library of Scotland, where they'll be unveiling Muriel's incredible archive in a landmark exhibition. Muriel once famously stated that:
"Since 1949 onwards I have thrown away practically nothing on paper".
The result is one of the largest archives in the National Library of Scotland and for this first time ever this extraordinary collection will be opened to the public. The exhibition traces Muriel's life from Edinburgh, to Africa, London, New York, Rome and Tuscany, where she spent her final years. As well as this, a full re-publication of all 22 of her novels will be issued by publisher, Polygon.
Muriel's work continues to inspire new generations of readers and writers with its incredible originality. Her skills were internationally recognised throughout her career, winning her several prestigious awards. She also received an impressive eight honorary doctorates from universities around the world. To top it all off, Muriel also became a Dame in 1993, in recognition of her services to literature.
The early years
Muriel Spark was born in Edinburgh in 1918 and was educated at nearby James Gillespie School for Girls. She showed a natural gift for writing from an early age and by the age of 12 years old she'd already won several awards and had some of her poems published. Muriel went on to study Heriot-Watt College, before briefly spending time teaching English and working in a department store.
In 1937, at the age of 19, Muriel left Scotland for Africa with her new husband, Sydney. Just one year later she gave birth to a son, but her marriage was failing and she longed for a return to Britain. Unfortunately, the onset of World War II made travelling difficult and it wasn't until 1944 that she managed to return home. On her return to the UK, Muriel began working for MI6 during the latter years of the war, in the political intelligence department.
Though Muriel's difficulties during her time in Africa weighed on her mind, they also provided her with excellent creative inspiration, which would form the basis of much of her later writing. After the war ended, she began to write more seriously, beginning first with literary criticism and poetry. She published her first collection of poems in 1952 and also released literary biographies of iconic figures like William Wordsworth and Emily Brontë.
Hitting the big time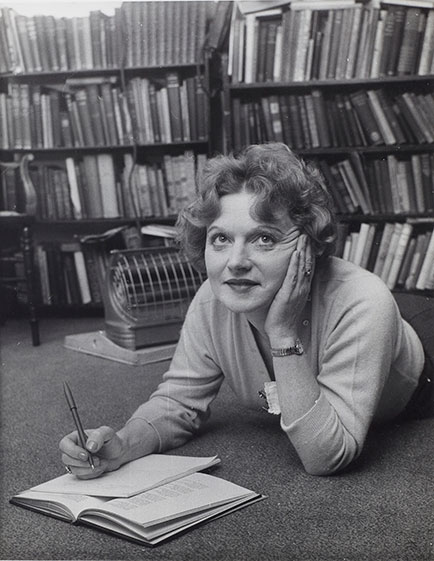 In the latter part of the 1950s, Muriel embarked on one of her most prolific periods of writing. The Comforters, her first novel, was published in 1957 and received rave reviews. From this, Muriel published a further five novels in a five-year period. The last of these, The Prime of Miss Jean Brodie, published in 1961, is arguably Muriel's most widely-recognised piece of writing. The story was steeped in Muriel's own past, with both the title character and the setting based on her own previous teacher and school.
By 1966 The Prime of Miss Jean Brodie had been adapted for both stage and screen. Hollywood legends Vanessa Redgrave and Maggie Smith portrayed the incomparable title character. Maggie Smith would actually go on to win the Oscar for Best Actress for her performance and few would argue that her spell as Harry Potter's Professor McGonagall didn't have an uncanny resemblance to a certain Jean Brodie.
Life in Italy
The unparalleled success of Brodie catapulted Muriel into new levels of fame and recognition, but did not get in the way of her further writing. After several years in New York, Muriel moved to Italy, dividing her time here between Rome and Tuscany. It was here that Muriel wrote what she considers to be her finest works. Chief amongst these was the 1970 novel, The Driver's Seat, which was her own personal favourite.
Muriel became enamoured with life in Italy, finally settling in Tuscany with her close friend, Penelope Jardine. Her time here was spent creating many more timeless characters and stories to delight her millions of avid readers. Her 22nd and final novel was published in 2004, a whopping 54 years after he first work was published. Muriel was working on her 23rd novel when she died in Florence in 2006.
The celebrations of 'Muriel Spark 100' are a fitting testament to Muriel's enduring legacy and a chance to secure her place on the pantheon of literary greats. A website has been created especially for the year, which provides information on all of the exciting events taking place. Make sure you visit www.murielspark100.com to keep up to date with everything that's going on.