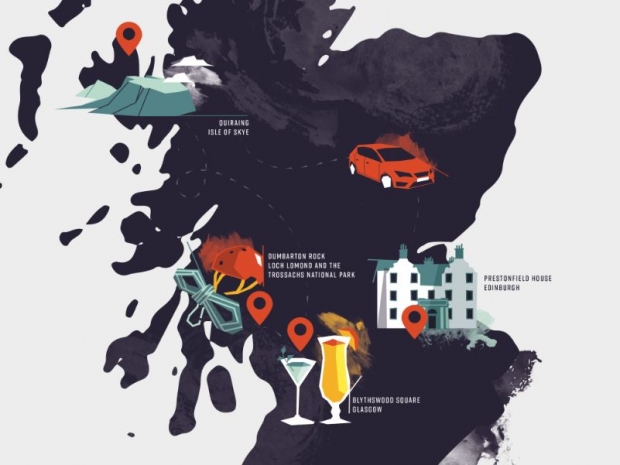 click on the map to view in full
We welcomed US-based vloggers Mark Miller and Ethan Hethcote across the pond for the latest instalment of Scot Story. As avid hikers and climbers, the boys made the trip from L.A. to sample some of the breath-taking hiking routes and unforgettable climbing locations. The two explorers brought their unique skills (and drone) to our fair shores to capture their exploits.
Mark and Ethan were recently referred to as 'an online power couple'. Technology has played a huge part in their relationship, and was actually responsible for the two getting together - through Facebook's 'people you may know' algorithm.
Mark has long held a desire to explore Scotland and jumped at the chance to visit. Ethan revealed that Mark had been talking about Scotland for years and that whenever the question of 'If you could go anywhere' would come up, the answer was always Isle of Skye in Scotland. With that in mind, we challenged them to bring their bags of equipment (and bags of enthusiasm) to showcase Scotland's spectacular sights. Check out their diary below, for a taste of what they got up to.
Days 1 & 2: Loch Lomond and The Trossachs
After landing in Edinburgh, Mark and Ethan made the 90 minute journey to Cameron House Lodges in Loch Lomond. The loch is one of the crown jewels of Scotland's scenery, and the largest inland stretch of water in the UK. The loch itself forms part of the Loch Lomond and The Trossachs National Park, and Mark and Ethan's first two nights in Scotland were spent on its 'bonnie, bonnie banks'! The National Park has formed the inspiration for songs, poems, literature and art, and was the perfect starting point for their Scot Story adventure.
I've never seen beauty like a sunrise on Loch Lomond. A chorus of birds sang me back to consciousness, where the rolling green hills and shimmering water were waiting patiently to wish me a good morning. Scotland, you are a dream. I can't wait to experience and learn more thanks to @aboutscotland. #MyScotStory
A post shared by Ethan Hethcote (@ethanhethcote) on
May 17, 2017 at 11:19pm PDT
They got time to explore the surrounding area and remarkable sights, as well as soaking up the atmosphere of small town life in the nearby village of Luss. Luss is the ancestral home of Clan Colquhoun and is a recognised conservation area. Incredibly charming, Luss is also the gateway to the Loch Lomond islands via a short ride with Cruise Loch Lomond. The village also boasts its own kilt maker and bagpipe works; it doesn't get more Scottish than that!
Day 3: Climbing at Dumbarton Rock
After some rest and relaxation, the couple were ready to take on their first adventure. For this we set them up with Dave MacLeod, Scotland's leading rock climber. Dave is one of the most well-respected climbers in the world today. He was also the subject of the movie E11, which documented his attempts to climb his own route, Rhapsody, on Dumbarton Rock - the toughest traditional rock climbing route ever designed.
Dave took Mark and Ethan to Dumbarton Rock, to explain the climbing landscape in Scotland and share some of his experiences. They also got to spend some time climbing with Dave. Dumbarton Rock is the site of Dumbarton Castle, which has the longest reported history of any stronghold in Scotland. The first recorded presence of a settlement dates back as far as the 5th century.
Watch Mark and Ethan's Q&A with Dave: